By Bryan McCormick
US stock index futures have fluctuated considerably overnight and are fractionally positive at the time of this writing. Most Asian markets, except mainland China, were higher overnight with Hong Kong finishing up 2 percent.
European markets started the day in the red but have since climbed to modest gains. That is similar to the course US futures have followed this morning.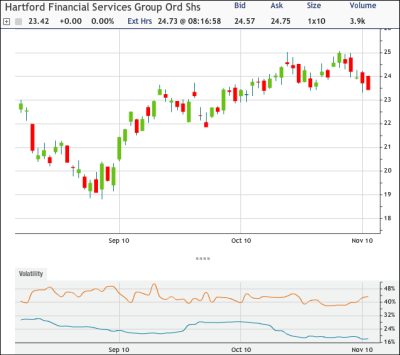 Trading volumes so far in the pre-market are extremely low. Currency markets are mixed, with the dollar down fractionally against its basket.
Crude oil is trading higher after last night's API inventory data and the Republican win in the House. Traders expect a better regulatory environment, or at least one that is more favorable to big energy. Industrial metal prices are also trading higher.
Traders have a full slate on the economic calendar to wade through this morning, as well as the FOMC meeting in the afternoon. Trading may be moderate in volume until that news is out of the way.
In earnings news, Time Warner (TWC) raised its outlook this morning and beat EPS estimates, coming in at $0.62 versus the $0.53 forecast. Earnings guidance for fiscal year 2010 was for percentage growth in EPS in the high 20s.
Hartford Financial (HIG) also turned in a good earnings scorecard when it reported last night, with EPS at $1.43 versus the consensus estimate of $0.97. It also raised guidance for fiscal 2010 to $2.60 to $2.70 a share, up from $2.25. The stock is up more than 5 percent in the pre-market, but on very light volume.
At the other end of the spectrum is EOG Resources (EOG), which turned in a essentially in-line report last night but lowered its production estimates for 2010, sending its stock down more than 6 percent. CVS Caremark (CVS) managed to meet earnings expectations for the third-quarter but lowered its 2010 full-year view with EPS in the range of $2.68 to $2.70, pushing shares lower by more than 2.5 percent.
Among today's reports after the close, Qualcomm (QCOM) will dominate after-hours news as far as the technology sector is concerned. Whole Foods Market (WFMI), Prudential (PUK), and Chesapeake Energy (CHK) will also report in the after-market.
S&P 500 companies reporting tomorrow include Apache (APA), CF Industries (CF), Fluor (FLR), Kraft Foods (KFT), Microchip Technology (MCHP), Public Storage (PSA), Starbucks (SBUX), Teradata (TDC), and Watson Pharmaceuticals (WPI).
Disclosure: No positions