Sales of the anti-obesity drug, Belviq, from Arena Pharmaceuticals (NASDAQ:ARNA) seem to be trying to buck the trend in seasonality in the anti-obesity sector. As a relatively new product on the market, we should anticipate that the growth curve in sales will indeed be able to buck the trend at this stage. Thus, the script numbers that we saw this week are another positive signal that Belviq is still indeed in a growth phase. The issue that we need to consider is whether or not sales are meeting the expectations of the street. The bottom line on that is that the street wants to see more sales more quickly. This is one reason that the equity has been challenged in maintaining any traction to the upward side. Beating the seasonality factor should be expected. What we want to see is a clear and present signal that the sales pace is increasing to levels that bring Arena more cash and get Arena closer to possible milestone payments and sales percentage adjustments. There are potential catalysts along the way, but potential pitfalls as well. Balancing these positives and negatives out is part of smart due diligence.
Early in the week, Arena inked a deal with a subsidiary of Teva Pharmaceuticals (NASDAQ:TEVA) for the rights to market Belviq in Israel. I covered that topic Monday in an Instablog. In terms of the equity, the Teva deal is a minor positive that will bring a small amount of up-front revenue to Arena. Belviq has not yet been submitted for approval in Israel. Arena will be hosting its quarterly conference call on August 1st to present Q2 results. There are critical elements that investors will want to watch for in the conference call. I will be publishing an outlook piece early next week.
As we begin to look at the sales figures, I find myself compelled to remind investors of a few things. The first is that sales will indeed impact the equity. If sales are meeting expectations, then the impact on the equity will tend to be very neutral. If sales are showing a trend that is beating expectations, then the equity will react in a positive fashion. With Arena now in Q3, another influence is the overall cash situation and whether or not the sales of Belviq will be high enough and fast enough to offset, delay, or even forego the need for a cash infusion in some manner. In my opinion, the street is building in a need for cash sometime in the next 9 to 12 months.
Some readers are hyper-critical of a rational discussion about cash and the potential need for cash. Personally, I would rather consider the various possibilities so that I understand the investment better. The fact that a small pharma company with a pipeline in early stages might need to be able to finance further development should not be a shock to anyone. The more potential that the pipeline has, the more palatable any financing activities might be.
What we need to consider is cash on hand, anticipated cash burn, and the potential revenues that come in. The structure of the deal with Eisai for marketing Belviq brings up-front cash to the company based on sales estimates. If the sales estimates are met, then neither Eisai nor Arena will need to do anything. If sales fall short of estimates, Arena will need to refund money to Eisai. If sales are ahead of estimates, then Eisai will need to pay Arena. Consider these points:
At the end of Q1, Arena had $203 million in cash. That number included $19.3 million that actually had to be refunded to Eisai in Q2 (the quarter which will be reported on August 1st). That would bring cash down to about $184 million.
In theory, Eisai will be fronting payments for this fiscal year, which began on April 1st. If Eisai estimated that sales between April 1st and March 31st of next year will be $200 million gross and $110 million net, then Arena would see a payment of about $35 million. That would bring the cash back upward and have it in the neighborhood of $219 million. It is important that investors realize that this would be categorized in the cash on hand, but as a liability in deferred revenue. In essence, there would be no more cash from Eisai as the quarters pass.
Arena gave cash burn guidance early in the year, and it is anticipated that the burn remaining will be $105 million by the end of the year. If we remove that amount, we would see the year finish at about $114 million.
In my opinion, the company needs to maintain at least $100 million to advance the pipeline and conduct the human trials needed to do so.
In my opinion, a savvy company is more proactive than waiting until they "need" the cash to try to obtain it. Their best negotiating power is before everyone on the street sees the "need". Thus, I anticipate that the company will be weighing options near the close of this year.
A wild card that Arena has is an investment in Taigen. That investment is worth about $50 million. Selling off that stake could allow the company to buy another quarter or two, if sold.
Arena is a long way away from seeing milestones from Eisai at this point (in my opinion, it is 2016 at the earliest). Gross sales need to be at about $460 million before the net sales figure is high enough to generate substantial milestone payments. New milestones happen at $250 million in net sales.
The bottom line on the cash situation is that it is something that most reasonable people can see as a pending need in the next 9 to 12 months. Certainly a big deal on one of the pipeline drugs could infuse cash, but do we, as investors, want to see a pipeline deal struck at a discount because these potential drugs are early and unproven, or do we want to see a pipeline deal when Arena has proven the value? That issue can certainly be debated.
Looking to sales this week, Arena has shown continued growth with a week-over-week improvement of about 5%, depending on whether you are looking at Symphony data or IMS data. As stated, this is good news considering that at this time of year, weight loss products are more challenged to see sales growth. For perspective, the competitor Qsymia from Vivus (NASDAQ:VVUS) saw sales as flat this week. Thus, the growth we saw is positive in that respect. Otherwise, the sales week was quite neutral in terms of impact on the equity. The reason for this is quite simple. The Arena "guidance" tied to gross sales in the neighborhood of $100 million this year. That is the pace that the company is still on. Simply stated, $100 million in sales is expected, and therefore, pretty neutral. What we need to see is a demonstrated inflection showing that sales can get to the next level. In my opinion, the early signals of that are being demonstrated and the street should begin to sense this in the weeks ahead. Investors that look at this rationally understand the dynamic.
I have seen a bit of communication about seasonality. It does exist. Evidence of that is all around us. If we look at the average weekly growth of Belviq in 2014, we see that overall the rate remains pretty constant. However, beginning in July, we have 200 additional sales reps coming off of a rha-rha POA meeting in Dallas and a substantial pick-up in advertising and quality of advertising placement. Simply stated, it is taking more effort to maintain the growth during this part of the year. I cover advertising for my readers weekly. The key here is not to debate whether seasonality exists. That it exists is very well-documented. The key is seeing to what degree the seasonality has an effect on Belviq. For perspective, 5% week-over-week growth numbers would actually bring about the inflection that we want to see, which demonstrates 2014 sales approaching $120 million rather than $100 million. That inflection could mean $3.5 million to Arena. Thus, before my detractors start to jump up and down stomping their feet, the growth we are seeing is good, but also expected. If you have followed my sales models over time, you will see this quite clearly. In my opinion, the street will begin to recognize the inflection to a higher sales level in the next three weeks. The bottom line is that there could be opportunity here, but I would wait until after the quarterly call is digested to pull any triggers. Remember, we have not seen analysts really offer any reports lately, and the expectations are for revenue to be at $9.8 million, which, in my opinion, will not be met.
Getting down to the sales data, we have the pace of Belviq sales still trending pretty much along the line of the $100 million in gross sales trend line I established months ago. As yet, the orange line in my chart that tracks the actual pace is still tucked behind the green pace line. That being said, the sales numbers this week have allowed that number to come in just above the pace on a cumulative basis. It is my opinion that over the next few weeks, we will see the actual pace line (orange) peak out above the pace. This is a good signal that the pace of $100 million can be beat in 2014. The caution I offer is that the second half of the year does include several holidays. I estimate that 2014 gross sales will come in somewhere between $110 and $120 million. When the street sees this inflection in a concrete manner, the equity can appreciate above the current levels.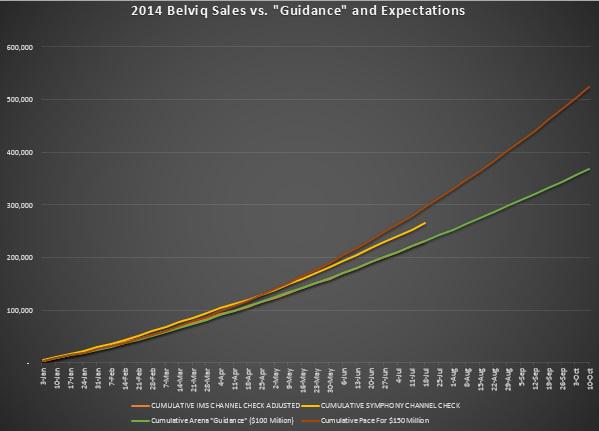 (Chart Source - Spencer Osborne)
Growth over the past 7 reporting periods has been quite modest vs. what we were seeing earlier in the year. From the week of June 6th to the current week, we have seen the script level grow by less than 700 scripts. Essentially, it has taken 7 weeks to gain 6% in the weekly number. Investors need to bear in mind that we had a holiday in that mix, so we can reasonably expect the flat trend we have seen of late to improve. This week, we saw that happen. The next holiday is still 7 week away, so the sales should have a good run before the numbers dip again. This is the time period in which the street will catch on to the fact that we will indeed see an inflection point and that sales for the year should beat expectations. One important factor is looking at the situation on a quarter-over-quarter and a year-over-year basis. At three weeks into Q3, the pace of sales is 44% higher than Q2 of 2014. The pace is an impressive 273% better than Q3 of 2013.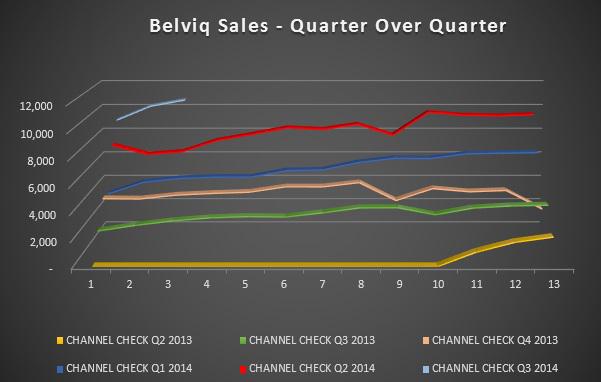 (Chart Source - Spencer Osborne)
As we all know, it is the revenue that is the important statistic here. This week gave us several "firsts" in terms of Belviq sales:
Highest weekly sales to-date. Not above 11,000 yet, but on the cusp.
Estimated net sales eclipsed $1.2 million for the week for the first time.
Estimated net sales eclipsed $25 million for 2014 on a cumulative basis. This took 29 weeks.
Estimates for Arena's share of 2014 net sales eclipsed $8 million.
Arena is on the cusp of $20 million in its share of revenue on an annualized basis.
The annualized gross sales run rate based on the numbers this week is over $115 million
These types of numbers would appear to give Belviq a shot at obtaining numbers that will really impress the street in 2015 and beyond.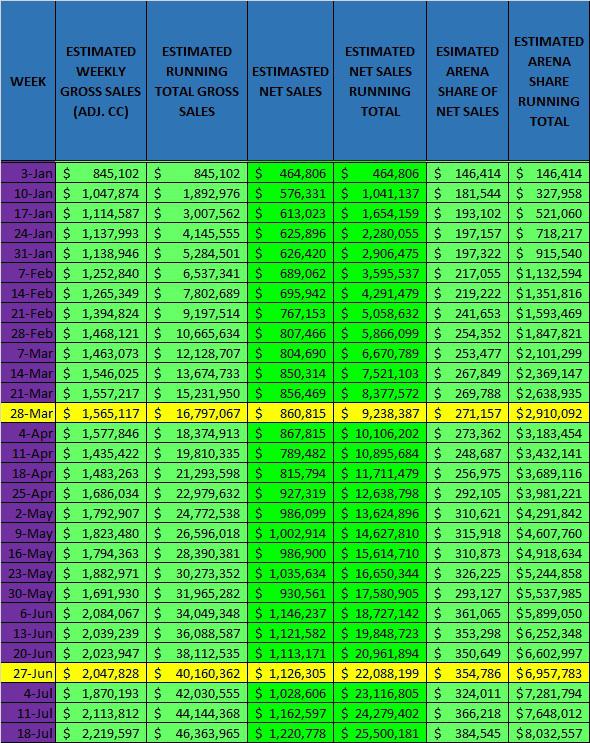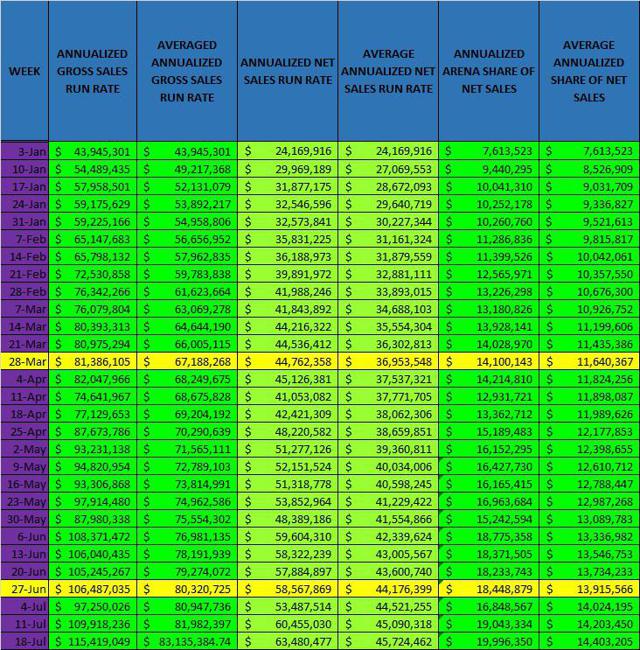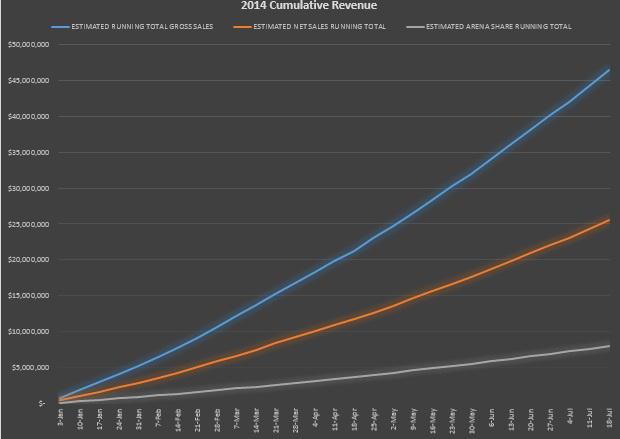 (Chart Source - Spencer Osborne)
Summary
The sales are indeed reflecting that Belviq is in a growth phase and that the growth will help to offset traditional seasonality that the weight loss sector faces. Eisai has a bigger sales force ramping up, and has stepped up its presence on television. These two marketing efforts should help ensure that week-over-week growth continues and that seasonality impacts are minimized. I suspect that revenues in the quarterly call will be lower than the dated analyst projections, some of which were based on a much more rosy picture. This could apply pressure to the stock, though the street seems to have already accounted for lower sales. With the next holiday 7 weeks away, Belviq should be able to post some growth that will demonstrate that it can pass the 11,000 mark that has been a ceiling for Qsymia, and illustrate that sales above the $100 million level are not only possible but very likely. I anticipate the company to look seriously at methods to raise cash or cut costs over the next few quarters. Stay Tuned!
Disclosure: The author is long ARNA. The author wrote this article themselves, and it expresses their own opinions. The author is not receiving compensation for it (other than from Seeking Alpha). The author has no business relationship with any company whose stock is mentioned in this article.
Additional disclosure: I have no position in Teva, Eisai, or Vivus