By David Russell
Latin American stocks continue to build momentum, and there are reasons to be extremely bullish on the region.
Our first exhibit is a report from Fitch Ratings yesterday, which listed a few positive factors:
Extremely Healthy Corporate Credit
Only eight major borrowers have defaulted on their debts since 2007. That's the same number of US companies that have gone down this year alone.
One of the main factors driving that strong lending environment has been foreign demand for Latin debt. Fitch credits this to "attractive emerging-market spreads relative to comparatively rated developed market corporate spreads, low levels of sovereign debt issuances, and a sharp decline in structured credit products."
In other words, low interest rates in the US, plus a shortage of mortgage bond origination, have driven money into Latin America.
Strong Opportunities for Growth
Fitch expects the region's economy to expand at a 5 percent rate this year, 3.9 percent in 2011 and 4.1 percent in 2012. On a per capita basis, it's even more impressive, climbing from about $7,343 in 2009 to $9,478 in 2012.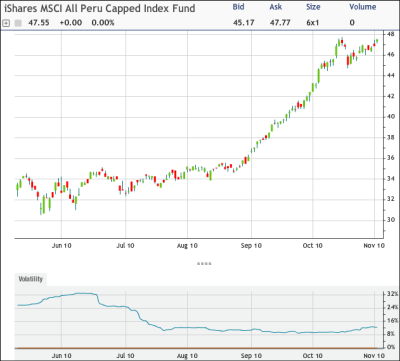 There are also reasons to think those numbers will be even stronger. One is that the biggest economy, Brazil, has frequently exceeded GDP forecasts. Economists usually base their projections on an underlying "trend" growth rate. And, just as a company routinely beats earnings forecasts when things are going well, macroeconomic indicators also tend to exceed expectations when conditions are improving. (The same applies in reverse, as we have seen in the anemic US employment market.)
Another factor that most economists don't seem to be counting is that many Latin Americans have been returning to their home countries after decades of finding better jobs in the US. That will provide a positive contribution in consumption, spending and population. Instead of Mexicans or Brazilians building houses in this country, they will do the same work in Mexico and Brazil.
Support From Regional Governments
Not only are Mexico and Brazil subsidizing homeownership, but many countries throughout Latin America have also spent the last 15 years implementing major reforms that make it easier to do business and to lend. Many have additionally established private pension systems that will channel billions of dollars in savings into useful investments.
Combined, these developments suggest that Latin America may be on the verge of a boom similar to what occurred in the US in the 1980s and 1990s.
One reasons is that the US entered that boom period with fundamentally strong companies and high interest rates. Borrowing costs then declined as the Fed cut rates starting in the early 1980s. That fueled a boom in leveraged buyouts, which also drew strength from the fact that many firms had overly strong balance sheets. (Some companies were trading for less than the cash on their balance sheets.) As I mentioned with the limited number of defaults and the inflows of foreign capital, Latin America now faces a similar situation.
A second common element is securitization--the practice of packaging home mortgages into bonds. It was relatively new in the US during the 1980s. But it flourished during that period. The result was a spread in home ownership that let the economy weather potential banking crises on more than one occasion. The same thing is now taking place in Latin America.
Disclosure: No positions