Many individual investors are leaving their money on the sidelines right now because the averages have been hitting all time highs. Some of the people that I contact are fearful of putting their hard earned money into the market. They have a reasonable fear that the market could swoon 10 - 15% leaving them with a capital loss instead of a gain. So they are placing their funds in CDs and/or savings to protect them from loss. I am convinced that they are making a mistake in this low interest rate environment because stocks offer much better returns as long as interest rates stay this low.
In this article I want to conduct a test of several methods of investing one's nest egg to see what the returns will be over a period of a year. Since many ETFs, CEFs and Mutual Funds use $10,000.00 as the base investment to show returns over a set period of time, it seemed reasonable to use it as the initial amount for each investment in this test. Furthermore, this will be a forward test rather than a back test of my thesis with real money in the stocks listed in high-risk, high-dividend portfolio.
The various investments I plan to use are listed below:
Investing in the overall American stock market by using an ETF (NYIYY)
Investing in certain Dow Jones stocks following Chuck Carnavale's article
Investing in Cohen & Steers Realty Majors REITs by using an ETF (NYICF)
Investing in Standard & Poor's 500 stocks by using an ETF (NYVOO)
Investing in high-risk, high-dividend stocks of my own choosing
IYY is the iShares Dow Jones U.S. ETF (CUSIP 464287846) that is managed by BlackRock. It seeks to track the investment results of a broad range of large and mid-sized U.S. companies. As of 7/23/2014 it had 1269 holdings with fees or an expense ratio of 0.20%. This ETF was chosen because it represents a good cross-section of the American stock market with a very low expense ratio. You can see the growth chart for 12 months below: (Taken from the BlackRock web site)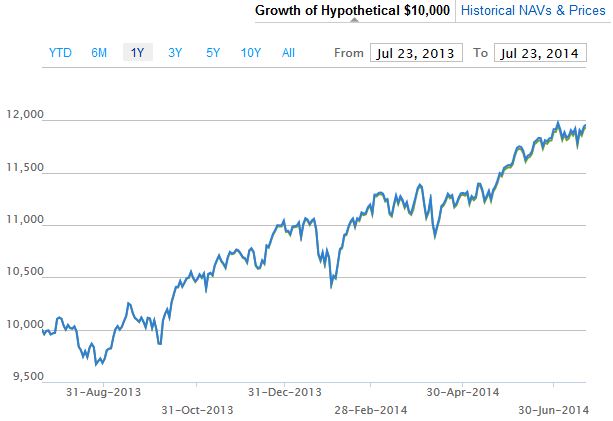 The closing price on 7/23/2014 is $100.18 so 100 shares of IYY will take us $18.00 over $10,000.00, but for that small amount of money, it is easier to have a round number of shares.
Several days ago Chuck Carnevale wrote an article in SA that demonstrated that 15 Dow components were fairly valued in spite of the record territory recorded by the Dow Jones Average. I found his analysis compelling and thought it worthwhile to use these stocks in this comparison. Since these stocks are not overvalued by Chuck's methodology, I thought they might perform better than an indiscriminate ETF. Below is an arbitrary selection of 10 stocks from Chuck's list with approximately $1,000.00 invested in each issue.
Number of Shares

Symbol

Company

Stock

Price

Dividend

P/E

20

Verizon Comm. Inc.

$51.00

$2.12

11.4

17

JP Morgan Chase & Co.

$59.17

$1.65

14.6

10

The Travelers Companies

$92.80

$2.20

9.25

38

Cisco Systems, Inc.

$25.80

$0.76

17.5

10

Exxon Mobil Corp.

$104.00

$2.76

14.1

33

Pfizer Inc.

$30.40

$1.04

9.6

13

Wal-Mart Stores, Inc.

$76.50

$1.96

15.9

12

United Health Group

$85.60

$1.50

15.4

23

Microsoft Corp.

$44.50

$1.12

16.4

37

General Electric Co.

$26.00

$0.88

22
(All of the above could have been purchased on 7/23/14 at the prices listed above)
ICF is the iShares Cohen & Steers REIT ETF (CUSIP 464287564) that is managed by BlackRock. This ETF seeks to track the large real estate companies that are dominant in their respective property sectors. This is a method to invest exclusively in the United States real estate market with ample diversification and a very low expense ratio of 0.35%. I chose this ETF as a way to participate in a different part of the economy by avoiding wholesale, retail and manufacturing companies. If the market does go down, perhaps REITs will not go down as much as rest of the market. You can view the growth chart below: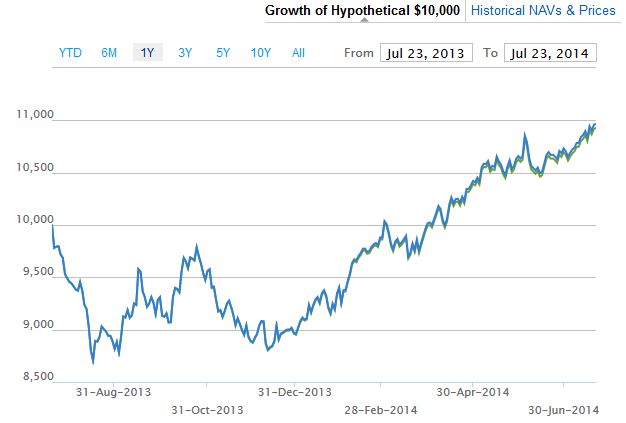 The closing price for ICF is $89.70 for 7/23/2014 so that 111 shares of ICF will suffice to have a $10,000.00 investment.
VOO is the Vanguard S&P 500 ETF (CUSIP 922908363). It seeks to track the S&P 500 Index by purchasing the stocks that make up the index. This is a method to invest in the 500 largest U.S. companies. It has one of the lowest expense ratios in the industry at 0.05% which is lower than 95% other similar funds. I chose this fund to invest in the largest and best companies located in the U.S. You can view the growth chart below: (Chart taken from Vanguard web site.)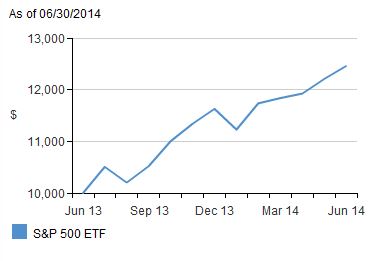 The closing price of VOO was $182.15 per share so that 55 shares will again take the amount $18.00 over $10,000.00.
Finally there is the high-risk, high-dividend portfolio of my own choosing. Since I am willing to seek out special situations and to take more risk than most retirees, I wanted to see if my own selection of stocks would do better or worse than the investments listed above. The list of stocks can be viewed below:
Number of Shares

Symbol

Company

Stock

Price

Dividend

P/E

200

Atlantic Power Corp.

3.92

$0.37

N/A

100

PYS

RRD 6.3% Trust Cert.

23.05

$1.57

N/A

100

United Development Fd.

18.60

$1.64

16.5

100

AT&T Inc.

35.50

$1.84

10.4

100

Fly Leasing Ltd

14.59

$1.00

25
The stocks above were chosen because I am convinced that even during a market correction that these issues will stand up well. AT and FLY are special situations where the price of the stock has been crushed because of recent events. AT reduced its dividend several quarters ago and that caused the stock to over correct. Reaction to the reduction was overdone and drove the stock price below $5.00. This lower price made it an issue that most mutual funds could no longer hold in their portfolios which further lowered the market for the stock. At its current price AT is paying a 9% dividend. In a similar vein, FLY, one year ago, had a public offering of shares at $14.00 per share which was much lower than the market price of the issue at the time and also increased the amount of stock outstanding by 33%. This has caused investors to shy away from this issue for several quarters and the stock has just begun to move upward again. At the current price FLY is paying just short of 7%.
PYS are certificates of trust representing a portion of R.R. Donnelly Debentures which may be recalled at any time at $25.00 per share or must be redeemed by 4/15/2029. Moody's rates the issue Ba3 and S&P rates it at BB. (Taken from Quantomonline.Com) At the current price it is paying around 6.5%.
UDF is a REIT that was recently covered by Brad Thomas where he suggested a $19.00 entry price. UDF is currently paying over 8% and has a different business model than most mortgage REITs. This REIT is in an excellent position to continue profiting from the housing and building recovery in the U.S.
Finally there is T or AT&T, a communications company that is on the leading edge of the wireless explosion. Along with its competitor Verizon this company continues to expand its reach and increase the number of customers. I am convinced that one of the last things anyone will give up is their cell phone. This 5% dividend looks safe through the toughest of economic circumstances.
Final Word
All of these different $10,000.00 investments will be left untouched for a period of 1 year. If I am still alive and well on July 25, 2015, I will revisit this article to compare how each investment has fared. Perhaps you, as a reader would like to mention in your comments which of the above 5 investments will tender the best return in one year. Of course, I am anticipating that my high-risk, high-dividend portfolio will fare best. I am also convinced that each one of these different portfolios will do better than leaving one's $10,000.00 in the bank or a CD. Only time will tell if I am correct.
Disclosure: The author is long T, FLY, UDF, WMT, AT. The author wrote this article themselves, and it expresses their own opinions. The author is not receiving compensation for it (other than from Seeking Alpha). The author has no business relationship with any company whose stock is mentioned in this article. The author is also long PYS.