The new ETF party certainly has an eclectic guest list, but the fund that is easily the sexiest and perhaps the most controversial is the newly minted Market Vectors Rare Earth/Strategic Metals ETF (NSYE:
REMX
). Rare earths metals would be what can be called "minor" metals. Gold, silver and platinum would be examples of "major" metals. Let's focus on rare earths because this group of 17 elements and its new corresponding ETF are grabbing a fair amount of press.
As you probably know, rare earths are used in products like hybrid cars, laptops, iPhones and other wildly popular tech gadgets, almost ensuring there will be decades of healthy demand ahead. These are some of the exact catalysts that have made the Global X Lithium ETF (NYSE: LIT) one of the most popular and successful new ETFs of 2010.
Funny thing is, rare earths aren't that rare at all. According to a recent article in the MIT Technology Review, global rare earths demand will be about 125,000 tons this year and is expected to grow to 225,000 tons in 2015. Sounds like a lot, but the MIT article goes on to cite the U.S. Geological Survey, which says there are 13 million tons of extractable rare earths in the U.S. and that sum pales in comparison to China's stash of 36 million tons.
Perception is often a driver of reality and that may be what's happening with REMX. The ETF has attracted an eye-popping $22.5 million in assets and it isn't even a week old. Let me be clear: I am not degrading, nor am I endorsing REMX. I am saying it would be wise to be cautious with this ETF for the time being. Here are three reasons why:
Admittedly, this is an opinion, but part of the fuel to the rare earths fire is that many of us simply don't understand what rare earths are. This makes them seem more exotic and exotic investments have a tendency to start off with a bang.

Put Molycorp (NYSE: MCP), one of REMX's top-10 holdings, into your search engine of choice and you'll find several recent articles that offer very sound cases as to why this stock is overvalued and perhaps a fine short idea.

More than half of REMX's market cap allocation is to small caps and micro caps.
A safer way to get minor metals exposure, at least in the near-term, would be with LIT. As the chart below details, we're on the cusp of a multi-decade boom for lithium.
click to enlarge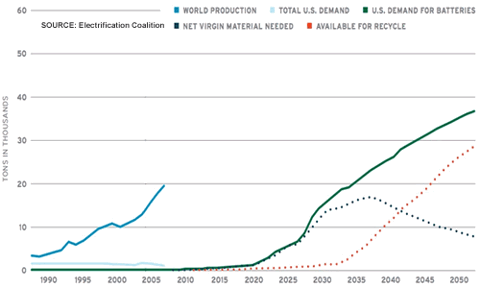 Choosing LIT doesn't mean sacrificing exposure to the demand catalysts that should drive REMX, as I mentioned earlier. Nor does it mean sacrificing capital appreciation because LIT is up 15% since its debut, triple the run for the S&P 500 in that time frame and with more than $75 million AUM, it's obvious LIT has caught on and has staying power.
Disclosure: No positions