I was motivated to research Booz Allen Hamilton (NYSE:BAH) for two reasons. I recently looked at another IT-oriented consulting company, Accenture (NYSE:ACN), and I'm really quite bullish on the broad consulting industry (both management and IT consulting) for the next 10-20 years. I also noticed that many of the companies I've been interested in recently are highly ranked on Joel Greenblatt's Magic Formula screener. I re-read his classic book, The Little Book That Still Beats The Market, and subsequently used the screener to find more quality businesses at reasonable prices. Booz Allen Hamilton popped up.
Business
Booz Allen Hamilton provides management consulting, technology and engineering services mainly to the US government (97% of revenue) in a variety of fields. The company was founded in 1914 by Edwin Booz, who is considered a pioneer of the management consulting industry, and the company enjoys the resulting brand and reputational benefits.
I've looked at a variety of companies and industries thus far and at this point, consulting is one of my two favorites (the other is pharmacy benefit management in which 100% of my funds are currently parked in Express Scripts (NASDAQ:ESRX)). What makes a good industry? I think there are a few major elements:
Prospects for growth through increasing need or want from existing base or growing TAM
Consolidation, intangible products (product/service priced based on value to consumer less a certain margin rather than cost to supplier plus a margin), rational pricing, limited competition, and other factors that lead industry participants to sustainably achieve high returns on invested capital
Absence of uncertainty from typical sources (legal, regulatory, etc. - this is what concerns me about otherwise decent industries like education and cigarettes)
I think consulting has many of these characteristics and IT-oriented consulting is even better, benefiting from the broad tech shift. There is a fitting excerpt from my Accenture article that very much translates to the BAH story, but it is about half the article and over a thousand words, so rather than quote it here, I'd encourage readers to read the ACN article in conjunction with this one. In short, BAH benefits from the continued rise of VBM, consulting being a highly intangible service that can easily add far more value to clients than cost to BAH, limited price competition in consulting, and the increasing popularity of analytics, SaaS, task automation and other buzzword tech trends driving enterprise consumption.
I also believe BAH has a pretty strong competitive advantage through its long-standing and extensive relationship with the US government. Below are government agencies that BAH has worked for 15-plus years: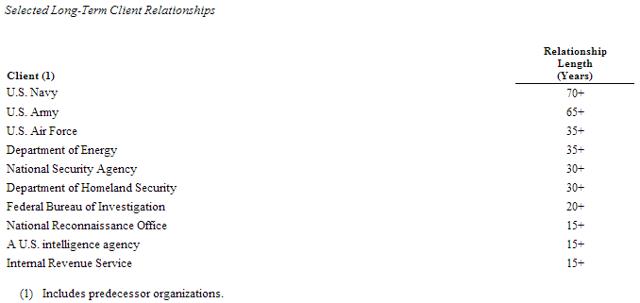 Source: BAH FY14 10-K
With relationships lasting so long, I strongly suspect that BAH has a far better understanding of these clients' problems and strategies than competitors and ongoing solutions in place that require monitoring and updates, for which BAH is paid. 79% of FY14 revenue was derived from contracts of indefinite length/indefinite quantity. That sure sounds like recurring revenue and I would think a client would have to be quite comfortable with BAH to keep such loose contract terms. 75% of BAH's people seem to have the advanced understanding I mentioned:
75% of our people held government security clearances, which include Secret, Top Secret, Top Secret/Sensitive Compartmented Information and Sensitive Compartmented Information. High-level security clearances generally afford a person access to data that affects national security, counterterrorism or counterintelligence, or other highly sensitive data.
These relationships also provide BAH a great deal of credibility in trying to win business from other government clients where there seems to be a good deal of opportunity:
We estimate that approximately $101 billion of the spending directed toward private contractors in U.S. government fiscal year 2013 was for management and technology consulting services, with approximately $60 billion spent by the Department of Defense and approximately $41 billion spent by civil agencies. The agencies of the U.S. Intelligence Community that we serve represent an additional market.
With 71.9% of BAH's FY14 revenue or $3.9B coming from US government "Civil" and "Defense" clients, it seems the company has just 3.9% market share in that combined market. There also is opportunity in a continued push in commercial/international where the company entered following the expiration of a non-competition agreement 3 years ago. This currently only makes up 2.6% of the company's revenue but I don't see why that has to remain the case. Further, the recent data breach debacles seem to be a strong indicator that BAH and its competitors are more needed than ever.
I also gather that BAH is well managed. Value Line calls the company "deftly managed," the executive team is internally raised and seasoned, and another fitting excerpt from my ACN article:
Should intuitively be well managed and seems to be...

I would expect a company that advises other companies on good management practices, VBM, etc. to practice what it teaches in the management of itself and that seems to be the case as I will hopefully show in my other points.
Earlier this month the company filed with the SEC announcing that long time CEO/Chairman Ralph Shrader will retire as CEO but continue as Chairman. He has been with the company for 40 years and is surely very important, but I don't think this is disastrous. His replacement, Horacio Rozanski, has been COO since 2011 and with the firm since 1992. Shrader is 69 and it seems like Rozanski has been groomed to take over and this was planned well in advance.
Overall, I was very impressed by Booz Allen Hamilton's business model, business, industry and all other relevant qualitative details that I came across. At this point, this company is probably in the top 3-4 of those I've researched as far as business quality. I'd need to do more due diligence before pulling the trigger if I was to buy, but at this point I already feel very comfortable - comfortable enough to invest a significant portion (~33-50%) of my investment assets at the right price.
Valuation
Calculating ROIC as EBIT / (Total Assets - Goodwill - Current Liabilities + ST Debt), I got 46.5%. That's excellent. ROIC is the best measure of business quality in my view (and Joel Greenblatt's) and the result here confirms my qualitative conclusions above.
BAH has hit a rough patch recently with backlog down 15% YOY and the lowest it has been in 4 years. The company also is guiding for a mid-single digit decline in both revenue and adjusted earnings. However, I'm not overly concerned. The company's long-term performance is fair and I feel that will resume over the next 5-10 years. From FY08-14:
Revenue up 7.3% annually
Adjusted EBITDA up 15.3% annually
And from FY10-14:
Adjusted EPS up 18.4% annually
Analysts estimate 10% earnings growth over the next 5 years. The company also pays a dividend that amounts to a 2.07% yield. I believe what we have in BAH is:
Excellent business quality deserving a premium
Excellent and sustainable 46.5% pre-tax ROIC
High-single to low-double digit growth for some time due to the long growth runway
2.07% dividend yield
For that, I'd be willing to pay 17-20x EPS or FCF and yet the business trades at:
9.8x EV/EBIT
13.7x PE ttm
8.4x EV/EBITDA
14.4x EV/FCF
13.9x EV/CFO
P/FY15 guided adj. EPS 13.7x
I strongly suspect that the business is significantly discounted.
Conclusion
I believe Booz Allen Hamilton has significant competitive advantages (especially for a company of its size), a sustainable business model and returns on invested capital, and operates in a highly-attractive industry. The company's stock also seems significantly discounted by various metrics. The backlog, management transition and rough FY15 guidance present challenges, but I believe these are temporary in nature and the firm's stock will not remain discounted for long. Many of the articles I've written recently have ended with something to the effect of "I like the business and the stock, but would like it better at (insert price) and will set a price alert there and monitor the stock before performing further due diligence." That is not the case here and I want to make it clear to readers that I am still very much interested in this company and plan of performing more due diligence in the next week or two and releasing a more comprehensive piece and issuing a definitive recommendation.
Disclosure: The author is long ESRX. The author wrote this article themselves, and it expresses their own opinions. The author is not receiving compensation for it (other than from Seeking Alpha). The author has no business relationship with any company whose stock is mentioned in this article.