In Part I of this series, I categorized good stocks into 4 separate groups which were G-CF, G-LC, CF-LC and Great stocks as shown in the Diagram. In this article, let's have a look at some examples of stocks in each group through their cash flow statements so investors can gain a clearer understanding. Annual cash flow statements from Google finance are a good tool for preliminary analysis.
These examples are just a rough analysis and as I haven't thoroughly examined their fundamentals, I might underestimate or overestimate their potential.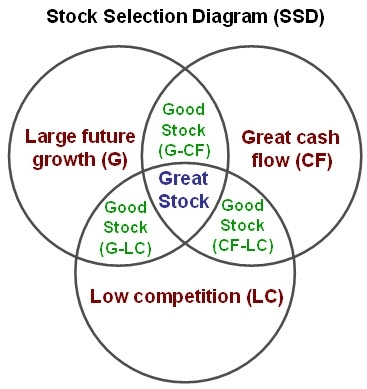 Large future growth with Great cash flow
CEU
China Education Alliance, Inc. is an education service company that provides on-line education and on-site training in the People's Republic of China. The Company's principal business is the distribution of educational resources through the Internet.
click to enlarge

Click to enlarge
CEU has had extraordinary growth for the past 4 years. It operates in the online education industry, which is expected to grow for many years. CEU doesn't need a lot of money for working capital because there are very low inventories in the online education business. CEU gets money from customers before even realizing revenue due to the fact that it sells its products and services in pre-paid card form. Moreover, it doesn't have to spend a lot in capital expenditure (Capex) for expanding its online business.
We can see in the cash flow statement that CEU has spent only $7.85m in Capex which is just 20% of the $39m cash flow from operations (CFFO) for the past 4 years. All of these contribute to great cash flow for CEU. A drawback of CEU is its low barrier to entry. There are a lot of companies in the industry which might cause even more competition in the future. I put CEU into the G-CF group for now. If it grows bigger and establishes distribution power, competitive cost or other advantages, it will become one of the Great stocks in the future.
CNinsure Inc. (CNinsure) is an independent insurance intermediary company operating in China. The Company had 48,693 sales professionals, 1,421 claims adjustors and 571 sales and service outlets operating in 23 provinces as of April 15, 2010. As an insurance intermediary company, it does not assume underwriting risks.

Click to enlarge
The insurance business in China has already been in a high growth stage and is expected to grow more in the future due to the rise of the middle income population. In the past, CISG has performed very well in terms of net income growth. It doesn't have to invest much in working capital and it needs just a small investment, 25% of CFFO, for Capex (office space and office supplies) in order to grow. Even though CISG has great cash flow and large future growth, it operates in an intermediary insurance segment which is not difficult for new players to enter. The intense competition might lower its high 50% gross margin in the future. CISG qualifies for the G-CF group but it has to prove itself in order to become a Great stock.
Large future growth with Low competition
China Integrated Energy, Inc., formerly China Bio Energy Holding Group Co., Ltd., is an integrated energy company in China engaged in three business segments: the wholesale distribution of finished oil and heavy oil products, the production and sale of biodiesel and the operation of retail gas stations.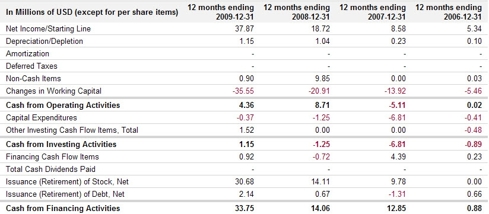 Click to enlarge
CBEH's 4-year performance looks good with very high growth. It's expected to grow along with China's economy but it has to invest a lot in working capital. As we can see for the past 4 years changes in working capital were very high compared to net income. This is because the nature of distribution businesses require large investments in a lot of inventories and accounts receivable.
CBEH has 3 businesses ranging from production of biodiesel to retail gas stations which cover a long supply chain. This gives the company an advantage over other players which might help define CBEH as a G-LC stock. However, because of its lack of strong positive cash flow, I would rather stay away from it and any other negative cash flow companies, especially with the many rumors about Chinese stocks still flying around.
As a case study, I advise investors to look at "Issuance (Retirement) of stock" in Cash from Financing Activities. Most of CBEH's cash comes from this item as we can see that the company issues new shares every year. This is a good example of a bad cash flow company that grows very fast.
GFRE
Gulf Resources, Inc. (Gulf Resources) manufactures and trades bromine and crude salt, and manufactures and sells chemical products used in oil and gas field exploration, oil and gas distribution, oil field drilling, wastewater processing, papermaking chemical agents and inorganic chemicals.

Click to enlarge
GFRE has bromine resources which are a scarce resource in China since the government has stopped issuing new exploration licenses. This makes a barrier to entry for competitors and helps GFRE enjoy high growth and high margins. However, the industry is a capital intensive industry, which causes GFRE to have very high capital expenditures that drain most of its CFFO for the past 4 years. Low competition and high growth qualities make GFRE a G-LC stock for now.
The bad thing about this kind of stock is we should expect low dividends or none at all during a growth stage. Investors should always be prepared for dilution, if the management trend is to be aggressive on their future plans.
Great cash flow with Low competition
The Coca-Cola Company is the owner and marketer of nonalcoholic beverage brands. It also manufactures, distributes and markets concentrates and syrups used to produce nonalcoholic beverages.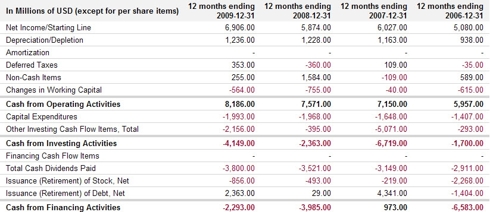 Click to enlarge
Coca-Cola is one of the most famous brands in the world. It has a very high market share all over the world so it's very difficult for others to compete. It is therefore also very difficult for KO to gain more market share, this makes KO a mature company. However, KO needs only a low level of working capital and also low Capex. So the company has a lot of excess cash to pay dividends almost 50% of CFFO and has been repurchasing its shares, which is a good thing for investors holding the CF-LC stock.
Wal-Mart Stores, Inc. (Walmart) operates retail stores. The Company operates in three business segments: Walmart U.S., International and Sam's Club. During the fiscal year ended January 31, 2010 (fiscal 2010), The Walmart U.S. segment accounted for 63.8% of its net sales, and operated retail stores in different formats in the United States, as well as Walmart's online retail operations, walmart.com.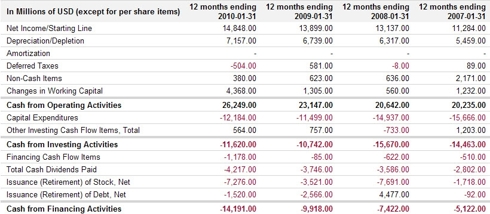 Click to enlarge
Wal-Mart is a top-notch retail company in America. WMT is a great cash flow stock due to the nature of the retail business where the retailer gets cash from customers first and pays suppliers later. We can see that the net working capital was positive for all 4 years and WMT spent around 50% of CFFO to invest in Capex. Remaining cash was given back to shareholders in terms of cash dividends and stock repurchases.
KO and WMT used to be Great stocks for a very long time. These two companies are good examples of Great stocks that grow for a long time, become a mature business and still have 2 qualities to be good stocks that are always worth investing in.
More thoughts on Great stocks and CF-LC stocks.
Most of the stocks in Warren Buffett's portfolio are Great stocks or CF-LC stocks that used to be Great stocks. Buffett loves great cash flow companies that have little competition. (In his words it might be called Durable Competitive Advantage, DCA). He doesn't care whether the company has growth or not because he can use its excess cash or dividends to buy other Great or CF-LC stocks and make growth for himself. So, if you can't find any high growth stocks but can find many CF-LC stocks at reasonable prices, you will be able to create virtual growth by buying many CF-LC stocks as a portfolio and then use the dividends to reinvest again and again.
More to come…
In the next article I will give 3 examples of Great stocks, analyze what they look like, and show the potential of Great stocks that are deserving of very high P/E ratios.
Disclosure: No positions