SolarCity (NASDAQ:SCTY) is in the business of solar power system leasing and installation. They present residential consumers and businesses with the option to lower their overall electric bills. SolarCity has yet to report a yearly profit, and is likely not to report a profit this year or next. However, the growing demand for alternative energy solutions, coupled with the fact that Elon Musk is on the board, although he is not the CEO, is adding a frenzied buying element that is commonly associated with popular entrepreneurs like Elon Musk, and what are typically referred to as "momo" (momentum) stocks.
There is nothing substantially unique about SolarCity's offering vs. those of other solar power companies, other than their billing model. They lease panels to their clients. Moreover, these leases range from 10 to 20 years. So in theory they will have repeat customers for quite a while, but as we delve into the numbers we will see why that model simply cannot sustain this highly leveraged and growing company, at least in the short term, without a sizeable additional injection of capital. Moreover, we will look at potential clues from insider trades as to where the stock could possibly be headed in the short term.
SolarCity is Highly Leveraged
SolarCity has relied heavily upon third party equity financing, including $200 Million from Bank of America and others. As is customary with loans, the claims of these parties supersede that of the common shareholders. If the company files a bankruptcy in the future to restructure and reduce debt, the shareholders may end up getting a mere fraction of what their shares are worth.
Silevo Purchase, Constructions Plans, and Growth
SolarCity currently sources their panels from mostly Chinese companies. As a result they reported $0 for R&D. However, that number is about to change. SolarCity purchased Silevo for $200 million in stock, and will need to compensate Silevo another $150 million if certain conditions are met. The Silevo project will take nearly 2 years to complete, and will require an additional workforce of 3,300 new employees. As of December 31, 2013, they had 4,312 employees. That's approximately a 70% increase to their workforce. It will cost $750 million to ultimately build 200 MW of capacity.
Shareholder Dilution
Growth goals need to be financed. SolarCity is already highly leveraged. Elon Musk is unlikely to put up hundreds of millions of his own money to finance growth. Ultimately, it may come down to SolarCity issuing new shares. This dilution may significantly reduce shareholder value.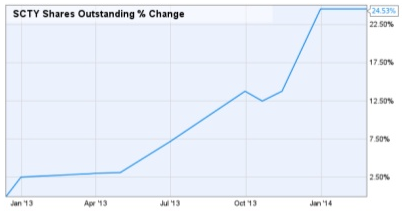 Source: Shares outstanding data by Ycharts
Q1 Results of 2014 & How Q2 Results May Look
SolarCity reported a GAAP net loss of 26 cents per share, but adjusted losses of 82 cents per share. Analysts predicted a loss of 72 cents per share. The concerning statement came when SCTY estimated that their loss will actually increase in Q2. The guidance was that they expect to report a net loss of at least 90 cents per share. Albeit, young companies such as this tend to lose money for a while, but they don't do it with a valuation of 41 times their 2013 earnings. What is especially concerning to me is how fast the stock price is moving up without any real catalyst at all. The entire play seems a speculation on Q2 earnings being spectacular. Yet, 6 key areas of concern remain:
1) Commercial Installations Slowing
Per the company's reporting, commercial installations, which are generally far more profitable and a more stable source of income, stalled, rising only about 1 MW year-over-year. Also, based on SolarCity's "rising systems" sales numbers, it seems that residential customers are choosing to write a check, instead of leasing these panels. The entire bullish thesis for longs on SolarCity is the dependence on people leasing. The margins are far too tight when clients choose to write a check.
2) Increased Competition
Prices of solar panels are not favorable to SCTY, and the number of installers are rising. As such, margins at SCTY have been compressed. SolarCity makes up for some of that margin loss on the leases, but that extra profit potential is chipped away when someone hands them a check. Per their reporting, such "cash" transactions have increased.
Now, add to that a competitive marketplace. Some of their more noteworthy competitors like First Solar (NASDAQ:FSLR), SunPower (NASDAQ:SPWR), who recently partnered with Google (NASDAQ:GOOG), and several others have been documented all over the Internet.
The one competitor that also operates its own vertical, where they manufacture their own solar panels is SunRun, a privately-held solar technology company that specializes in the financing, installation, and maintenance of residential solar energy solutions. Through several distribution partnerships, SunRun serves over 1,000 cities across 10 states. They are headquartered in San Francisco, California. This company can stack up to be a very tough competitor to SolarCity. SunRun, recently bought REC Solar's residential solar business, AEE Solar, and SnapNRack. AEE Solar is essentially a wholesaler for solar related products, and SnapNRack manufactures racking for solar installations. As an investor, I would be very concerned here.
3) "Retained Value" - A "Fishy" Metric
Warren Buffett always says if he can't figure out something in the books relatively quickly, if the numbers aren't straightforward, he walks away. Well, let me explain how SCTY is reaching "retained value." This is essentially an estimate of how much future revenue can be generated from the energy SolarCity's clients buy, net of costs, is actually worth in today's dollars. Once they arrive at that figure, they are divided by the amount of capacity that SolarCity has installed, or (and this is the kicker) how much SolarCity has in their backlog, to get a value in dollars per watt. At the end of the first quarter, this figure was $1.56, adding up to just under $1.3 billion overall.
To study any such metric, one has to study the underlying assumptions. Firstly, SolarCity assumes 90% of customers renew their leases for another decade after the original 20-year term expires. The truth is, no one knows what future energy alternative will be developed that will usurp Solar. So to make such a long-term highly aggressive assumption is out of bounds in my view.
The next assumption is their backlog, which incidentally, they stopped reporting on that number in May of 2013. SolarCity's backlog is essentially comprised of the solar panels that have yet to be deployed, where there is a signed contract between the company and client.
Here is the part that I found risky. What happens when clients cancel? Will SolarCity take them to court and force them to put a panel on their roof, and then put a lien on their home, which is customary if the contract is for a lease? Do clients who change their minds have a way out of this contract? Yes, they do. SolarCity wouldn't put people in such uncomfortable positions, so they recently allowed to let people out of their contracts without even a penalty. Although I admire them for their customer service, I would like for them to publish the actual backlog numbers. Not publishing them and discounting their importance sets off all sorts of alarms. Upon reading reviews of SolarCity on Yelp, I felt that potential cancellations may be a significant number.
4) Tax Incentives Being Slashed in 2016
Many investors are long-term believers in the solar play. Who doesn't want to help the environment, and save money too? However, knowing that SolarCity won't be profitable this year or in 2015, and in 2016 tax incentives are being reduced from 30% tax credit to 10% tax credit, will have a negative impact on SolarCity's sales.
5) Current Valuation
As of the writing of this article, SCTY was trading at $73.45. That puts them at 41 times their 2013 earnings. That is very high, even for a momentum stock.
6) Insiders Recently Sold Shares
In Q2 of this year, starting on April 29, 2014 Lyndon Rive, the CEO of SolarCity, began to sell his shares. He sold a total of 323,282 shares. The last recorded date where he sold his shares was this month on 7/3/14. Interestingly, in Q4 of 2013, on 10/13/13, he had actually purchased 107,434 shares. He wasn't the only executive selling his shares recently either. Seth Weissman, VP and General Counsel also sold a portion of his shares. His last sale was on July 8, 2014. When executives sell so close to an earnings report, investors need to be careful and concerned.
Conclusion
Q2 results may easily beat expectations, even by a large margin; that will not come as a surprise, since the guidance they provided last quarter for this quarter was extremely poor. Yet, the underlying risk factors for SolarCity are stronger than ever. Something has to give. SolarCity has diminishing margins, increased competition, increase in capital expenditure, increase in human resource expenditure, and frankly accounting measures that are not 100% transparent, as underlying factors of those metrics are no longer published. In my opinion, this stock is a strong sell. On a personal level, I admire any company that sets out to benefit the environment, but based on the facts, I have a short position in place.
Disclosure: The author is short SCTY. The author wrote this article themselves, and it expresses their own opinions. The author is not receiving compensation for it (other than from Seeking Alpha). The author has no business relationship with any company whose stock is mentioned in this article.