Aviation has been dominating the news lately. Sometimes it can be hard to remember to look at what's happening in the domestic market when aviation news is dominated by the recent tragedies abroad. Delta Air Lines (NYSE:DAL), United Continental Holdings (NYSE:UAL), and American Airlines Group (NASDAQ:AAL) all just released Q2 earnings. The Wall Street Journal just released an article about airline trends in the United States since 1978: 400 carriers have been authorized by the U.S. government, 264 have shut down, 62 never took off, 68 are currently filing, and there have been 77 bankruptcies. All of the legacy carriers have been in bankruptcy protection at one point in time.
The airline industry has long been a risky investment, with 77 bankruptcies since 1978. The remaining big three domestic carriers have been around for a long time, and while startups may come and go, the legacy carriers Delta, United, and American will remain the cornerstone of aviation in the U.S. Four airlines serve more than 80% of the domestic U.S. travel market. The legacies have the fleet size, capital, and routes to compete head to head with the smaller airlines.
Which of these airlines are worth the investment to add some diversification to your portfolio is the million-dollar question. When investing in airlines you have to consider PRASM (passenger revenue available seat miles), CASM (cost per available seat mile), and how these two factors trend vs. ASM (available seat miles) changes. CASM-EX, the metric used in this analysis, does not include aircraft fuel, ancillary business (maintenance and third party staffing provided to other airlines), and profit sharing. This gives a better idea of how management is controlling costs in their core business.
Airlines have very cyclical markets divided into trough and peak periods, so performing a trend analysis quarter to quarter doesn't give the best picture of how the airline is performing. Using a combination of benchmarking and a trend over time provides a great picture of how the airlines are operating. Looking at the relationship in Q4 (2013 vs. 2012), it looks as if American would the best performing airline with PRASM increasing 65 cents YOY on a 3.4% ASM increase and a two-cent CASM-EX increase.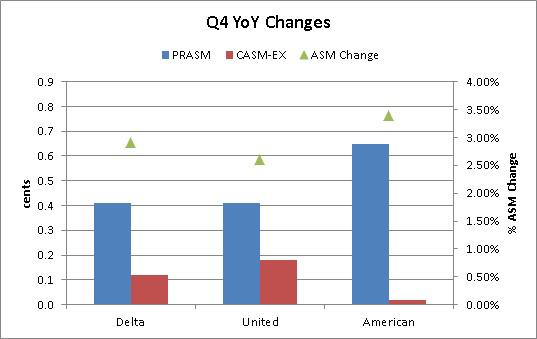 Adding Q1 and Q2 into the analysis shows Delta's trend for CASM-EX has been almost flat. This is pretty fantastic when an airline is increasing ASMs at 2.6% per quarter. Looking at United, their ASMs have been flat or negative and PRASM followed in Q1.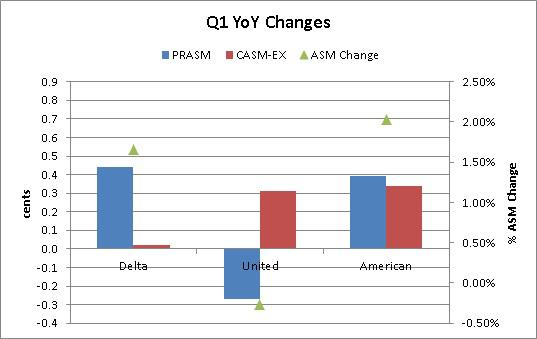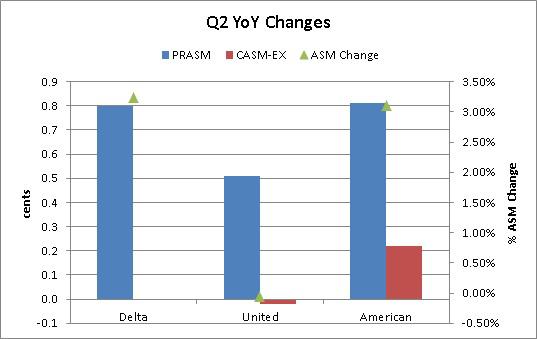 Looking at the averages over the last three quarters, Delta has the lowest CASM-EX, steady PRASM increases, and ASM increases. American does have a higher PRASM and ASM, but it comes at a slightly higher price than Delta.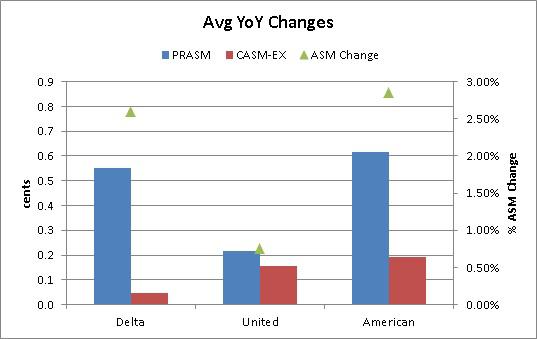 Delta has a one year return of ~77%, United ~31, and American ~87%. If the economy continues to grow and if fears of flying are not overblown from the recent tragedies, there still might be time to fly a little bit higher with an aviation stock.
Disclosure: The author has no positions in any stocks mentioned, and no plans to initiate any positions within the next 72 hours. The author wrote this article themselves, and it expresses their own opinions. The author is not receiving compensation for it (other than from Seeking Alpha). The author has no business relationship with any company whose stock is mentioned in this article.