When constructing a well balanced portfolio, I believe in letting long term winners ride especially when their fundamental outlook hasn't changed. Why cut a good thing short to take funds out to chase a different opportunity that may not pan out. Very often the stocks that become ten baggers are the ones that have risen quite a bit and plateau for a time, causing many of the fortunate early investors to sell and move on to an additional opportunity. The lack of patience is detrimental as the market beater continues its dominance and catches fire once again. We are seeing the above scenario playing out before us today with Visa Inc. (NYSE:V), a stock that has grown to become the largest holding in my portfolio. In the article below, I will re-examine the bullish case for V.
V operates the world's largest pay network, a crucial industry in my view as society rapidly advances towards cash less society. V doesn't take on any credit risk unlike one of its main competitors in American Express (NYSE:AXP); instead it takes a portion of each transaction conducted on its ubiquitous network. The financial companies that issue the debit or credit cards with the Visa logo are the ones who are taking on the credit risk. Risk is key here; I am very attracted to the credit risk free nature of V business model. I have seen many consumer loan companies run into hard times when the economy sours and I look to limit my exposure to them.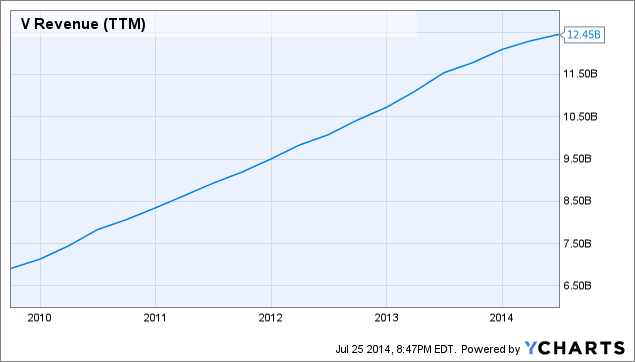 V Revenue (TTM) data by YCharts
As we can see from the chart above, revenue growth has been stellar as the conversion to cash less society continues. V is consistently able to generate a significant profit from this revenue as evidenced by its gross margins in the 60%+ range. V has consistently been able to generate eye popping margins which indicate the company has a wide and durable moat protecting its business. I view the ability of a competitor to set up a similar system worldwide and gain such wide spread acceptance as a very low probability. V's core business possesses a significant amount of barriers for entry which augurs well for V's continued success.
I would like to examine some key metrics pertaining to V's balance sheet. The first thing that jumps out at me is the absence of debt on the balance sheet. V has a significant amount of borrowing capacity if it should ever come to need it. I rarely see debt free balance sheets as most companies look to the debt market to help them fuel further growth. V is able to self-finance itself similar to what was seen in the 1990's when the tech sector was booming and the balance sheets of what is now old tech such as Microsoft (NASDAQ:MSFT), Cisco Systems (NASDAQ:CSCO) and Oracle (NYSE:ORCL) self-funded their future growth.
I like to look at Return on Invested Capital (ROIC) and Return on Assets (ROE) to get a feel for a company's ability to generate returns. A company that has a low ROIC is indicative of an industry with many competitors and low profit margins. V's ROIC comes in at a stellar 18.5% with an identical rate for its ROE. One of the more impressive aspects of V ROE is the ability to generate such a higher number without resorting to the use of debt.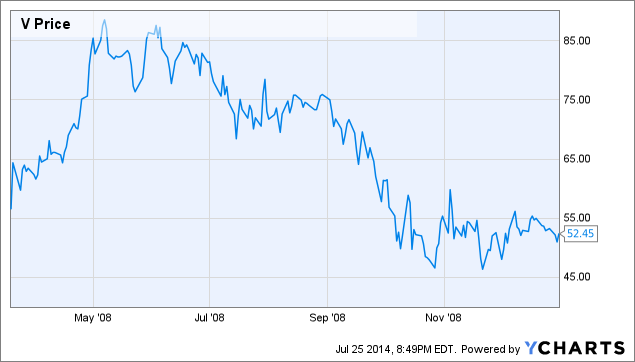 When V initially came out as an IPO in 2008, the shares traded in a range of $43.5-89.8. I mention this to discuss the importance of its P/E ratio and the effect of its growth over the past five years. V was trading at a P/E of 30+, yet it was slated to grow quite briskly. That is exactly what happened as V grew its earnings at a 27+% CAGR, earnings of $7.59 in 2013. Even if an early investor bought at the absolute high, V easily grew into its multiple showering the patient long term investor a gain of over 100%. I have read many articles on Seeking Alpha where authors will dismiss a company as having a high earnings multiple as reason to not purchase the shares. A more useful metric, in my opinion, is what is the ten year historic P/E of the company. Only the most durable of companies will have above average multiples over the course of a decade. A few examples of this are Hershey (NYSE:HSY) and Colgate-Palmolive (NYSE:CL). I used this thesis to find an attractive entry into CL last year which I detailed here. Feel free to review it; the position is up 15% with more to come.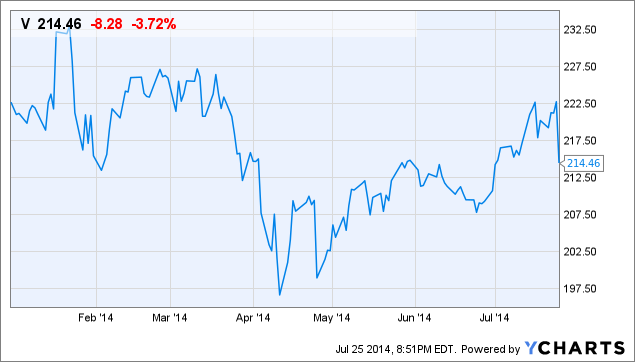 V is currently trading at roughly $214 at the time I wrote this article. V has issued guidance of earnings growth for 2014 of 17.5-18.5% which equates to $8.90 on the low end which is the number I will use to make my projections. V is trading at a current multiple of 24 times this year's earnings which at first glance most will dismiss as too high. I fail to see a scenario where the continued transition to cash less society continues, which will greatly aid in V profit generating ability. Let's say their growth rate slows a bit over the next five years to 13% EPS growth. Projecting this out using $8.9 as a starting point nets out an EPS of $16.39 for 2019 which I am fairly certain will be proven to be a tad conservative. I will apply a twenty multiple to $16.39 which nets out a share price of $330. I view a twenty multiple is justified due to V's ability to consistently generate double-digit earnings growth. V's dividend is rather miniscule, coming in at less than 1%. I expect V to reward shareholders with consistent dividend increases as has been their pattern over the past five years.
The Dow 30 index (NYDIA), in my view, correctly chose V for inclusion in its venerable index. The inclusion validates V's standing as one of the largest and most durable companies in the US. I am very confident the trend towards cash less society will continue with V collecting significant fees. I view V as a buy and hold, quite possibly forever stock and plan on letting it ride. I would like to thank you for reading and I look forward to your comments.
Disclosure: The author is long V, CL, ORCL. The author wrote this article themselves, and it expresses their own opinions. The author is not receiving compensation for it (other than from Seeking Alpha). The author has no business relationship with any company whose stock is mentioned in this article.
Additional disclosure: Investors are always reminded that before making any investment, you should do your own proper due diligence on any name directly or indirectly mentioned in this article. Investors should also consider seeking advice from a broker or financial adviser before making any investment decisions. Any material in this article should be considered general information, and not relied on as a formal investment recommendation.