The $717B MLP sector was packed with newsworthy events this week pushing up the benchmark +.41% with a year to date total return of 16.16% as the majority of Q2 distributions are to be announced. Looks like another +20% total return year for the benchmark with 4% distribution set for the remainder of the year. This week's events included an EIA report indicating US refiners were running at record levels, while refinery MLPs were driven down by continued fears related to an expansion of condensate exports, which could both reduce the spreads and lower export demand for refined products.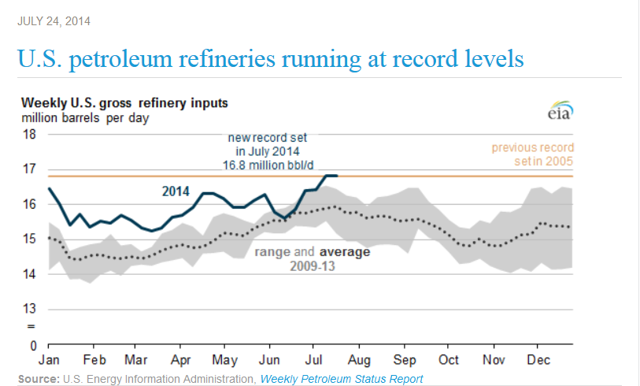 Hedge Fund manager Perry Capital suggests paper and packaging stocks could double by dropping assets into an MLP structure. PwC provided a positive opinion on such a scenario, pushing paper stocks, (International Paper (NYSE:IP), Rock-Tenn (RKT)) up 10%. Such a suggestion is one that has likely caused the IRS to set a pause on new Private Letter Rulings. Paper packaging MLPs would be of low organic growth and would only serve to expand multiples and lower capital costs without stimulating further investment or growth.
This week also announced the pricing of three new MLP issues for the week of 7/28, including VTII Energy Partners, Westlake Chemical Partners and Transocean Partners.
M&A also appear again this week with BreitBurn Energy Partners (BBEP) announced a stock deal to acquire upstream MLP QR Energy LP (NYSE:QRE), which put in play many of the smaller E&P names speculated to be acquisition candidates.
Units Gainers
Upstream E&P units moved higher as the market speculated about future acquisitions post the BreitBurn acquisition. Atlas Energy LP (NYSE:ATLS) moved higher after announcing a 6.52% increase in their quarterly distribution. Emerge Energy Services LP (NYSE:EMES) had a very strong week, but sold off after they announced their lowest variable distribution increase since their IPO.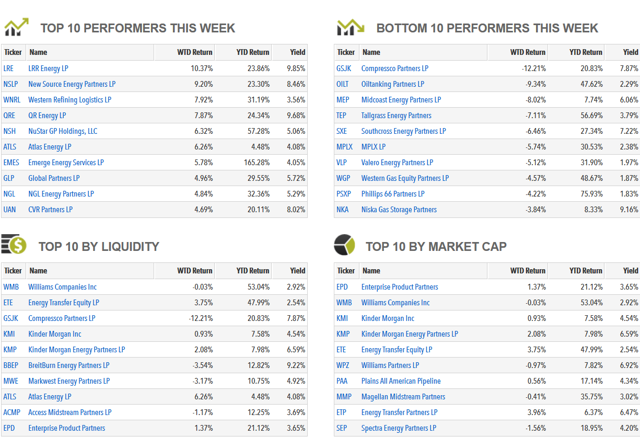 Transactions
Tallgrass Energy Partners (NYSE:TEP), the MLP with the highest 3 year forecasted growth rate, announced plans to purchase 33% of the Pony Express pipeline for $600MM, which is expected to be accretive in 2015. The pipeline is converting from natgas to oil and will connect Guernsey, WY to Cushing, OK with operations commencing in Q3 2014. Mid-Con Energy Partners (NASDAQ:MCEP) announced a property acquisition in Creek County, OK for $52MM.
Distribution Announcements
The below table shows the change in distributions for units which reported this week.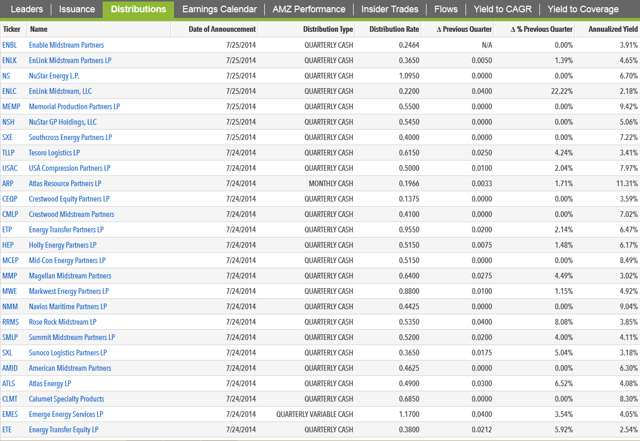 Spotlight - High Growth Units
This week, MLPs with the highest forecasted 3 year Compounded Annual Growth rates for distributions had a down week as distributions fell short for some such as Oiltanking Partners (NYSE:OILT), and the condensate export topic impacted others such as Valero Energy Partners (NYSE:VLP) and Phillips 66 Partners (NYSE:PSXP)

New Issuance
Three new issues are expected to price this week. VTII Energy Partners (expected ticker VTTI), a $300MM terminal business owned by Vitol and MISC, with a $20 price target and 5.25% target yield . Westlake Chemical Partners (expected ticker WLKP), a $1.2B ethylene producer with a 200 mile pipeline, with a $20 price target and 5.5% target yield. Transocean Partners LLC (expected ticker RIGP), an operator of 3 ultra deep water rigs operating in the US Gulf of Mexico under long term contracts to BP and Chevron, with a $20 price target and 7.25% target yield which will be distributed as 1099 income.
To get this round-up each week, please make sure you are following MLPData here on Seeking Alpha. If you have a set of metrics you wish to see in future reports, please comment below.
All charts and tables provided by MLPData.com unless noted otherwise.
Disclosure: The author has no positions in any stocks mentioned, and no plans to initiate any positions within the next 72 hours. The author wrote this article themselves, and it expresses their own opinions. The author is not receiving compensation for it. The author has no business relationship with any company whose stock is mentioned in this article.