For years, Google's (NASDAQ:GOOG) groundbreaking path has defied easy categorization. In its early years, Google transformed online search and built its brand to enviable heights. For years now, Google has maintained a unique status as an arbiter and facilitator of global culture and opinion.
Once again, Google is exemplifying innovation in ways that are difficult to predict. This time, Google is reportedly weighing an ambitious plan to provide New York City with unprecedented public Wi-Fi access. Recently, representatives from Google, Samsung (OTC:SSNLF) and other tech companies participated in a groundbreaking meeting. This informational meeting was held to discuss repurposing New York pay phones into free Wi-Fi hubs.
New, Wired Phone Booths
If Google makes the winning bid for this pay phone project, this will burnish Google's reputation for prioritizing digital access for consumers across the world. While getting more people online ultimately benefits Google, the company's efforts in this area are at least partly idealistic. It's no secret that average U.S Internet speeds lag behind those of many other developed nations. By championing faster Internet for more users, Google is doing much to establish itself as a conscious, modern company.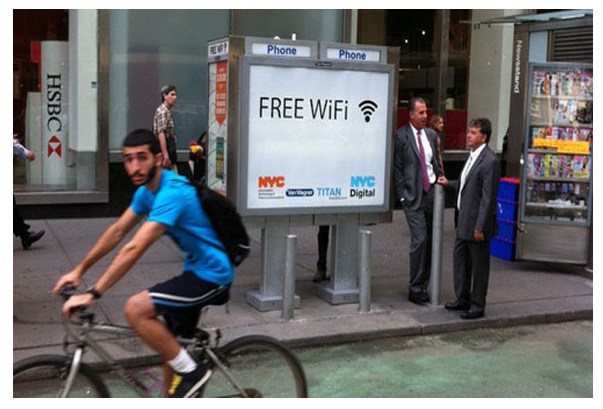 (Source)
Not Derailed By Q2 Earnings
Like other innovative technology companies, Google seems sensibly focused on long-term strategies instead of fleeting gains. Although Google's Q2 earnings were lower than forecasted, no transient bit of news can change this organization's status as a thought leader and a cultural force. Time and time again, Google has faced and conquered challenges that may have derailed companies with less vision and depth of talent.
Expansion In US Communities
Already providing Internet in one New York neighborhood and in Mountain View, California, Google plans on expanding its broadband services throughout a number of U.S communities. If Google does indeed take the lead in revamping NYC pay phones, this could represent the company's most ambitious broadband initiative to date.
With well over 7,000 pay phones throughout NYC, this is undoubtedly an appealing opportunity for Google to demonstrate its technical fluency-and bolster search users.
Government Ties
This pay phone project began in 2012 under the supervision of former NY mayor Michael Bloomberg. Currently, Mayor Bill Blasio seems determined to continue developing this project into the indefinite future. Any company associated with this initiative will likely earn industry cachet and public accolades--intangible assets that can easily translate into dollars and cents.
Connecting The Dots In 2014 And Beyond
Of course, it will take more than technical know-how for Google to maintain its upward trajectory. Google is working hard to refine its search advertising business for continued success. Unquestionably, the company is sober and serious about the need for to change with the times.
Analysts have identified a number of trends that may challenge Google's advertising-oriented business model. As more and more people move from desktop computing to mobile devices, old-fashioned advertising methods are increasingly losing relevance. Reflecting this reality, online ad prices have declined steadily over the past two years.
Despite these challenges, Google certainly has the resources it needs to refine its business model. For the last quarter, Google reported $15.96 billion in revenues, which represents an impressive 22% improvement over the same quarter last year.
Although Google does face challenges when it comes to monetizing mobile advertising, and competing in the critical cloud sector, the company's advertising business remains is still outclassing all major competitors. Analyst eMarketer estimated that in 2013, Google was responsible for almost one third of all online ad spending.
Though Facebook (NASDAQ:FB) is Google's most talked-about advertising competitor, Facebook only accounted for six percent of online ad spending last year. With this impressive lead over its competitors, Google has all of the opportunity it needs to maintain its unique, profitable status.
We are positive on GOOG, GOOGL moving forward in the second half of 2014.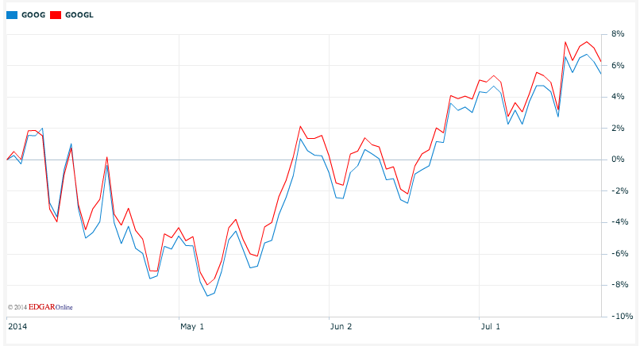 (Nasdaq.com)
We invite readers wishing to join the discussion on Google to click the +FOLLOW button above the title of this article, and those looking for the latest updates to click +Get real-time alerts.
Disclosure: The author has no positions in any stocks mentioned, and no plans to initiate any positions within the next 72 hours. The author wrote this article themselves, and it expresses their own opinions. The author is not receiving compensation for it (other than from Seeking Alpha). The author has no business relationship with any company whose stock is mentioned in this article.