Twitter (NYSE:TWTR) will report 2Q14 result on Tuesday after market. Heading into the Q, consensus expects a loss of $0.01 per share on $283m in revenue. For the Q3 guidance, consensus expects $323m in revenue and an EPS breakeven. Given the fact that the stock is down 40% YTD and that consensus estimates are usually conservative given the lack of certainty over user growth, I expect Twitter to beat consensus once again on the top and bottom line. While the recent change in management and the future rollout of new ad product could be accretive to revenue growth going forward, I would recommend investors to be more constructive once we see clear evidence on user growth rebound. In the near-term, Facebook (NASDAQ:FB) and LinkedIn (NYSE:LNKD) are clear winners of social networking verticals given their global reach, scale and success maintaining user growth/engagement.
Give them credit for the effort…
The hiring of Anthony Noto as its CFO is a wise move in my view. Noto was a respected tech analyst given his deep analysis of internet stocks (yes he also made bad calls on Webvan and eToy, but which Wall Street analyst hasn't made a bad call?), and he is by far one of most qualified candidate to be Twitter's CFO as he guided the company through the IPO process. In my view, Noto understands Twitter better than most of the Wall Street analysts covering the stock, so hiring Noto as its CFO will allow Twitter to deliver the right message to regain investor confidence. It will take a lot of work on Noto's part as my conservation with fund managers suggest that sentiment is low on the stock mainly due to user growth and rich valuation (even for the growth and momentum portfolio managers). But given Noto's strong salesmanship, Twitter will likely to benefit from Noto on board. Expect to hear from the new CFO in the upcoming earnings call.
But the effort has to produce results…
I am staying on the sidelines of the stock mainly due to my concerns on user growth and engagement metrics that has been lagging rival Facebook. This is consistent with my bearish view on Weibo as the company's operating metrics is falling behind Tencent's WeChat. (See my initiation note on Weibo: Weibo: Tough Road Ahead; Initiating With $15 Target, 27% Downside)
Twitter's user growth has been decelerating in both the US and abroad, and I believe that part of the reason lies in its complex user interface that is difficult to understand for new users compared with that of Facebook. The streams of news feeds can be overwhelming (and sometimes confusing) for new users to organize and grasp. I believe that revamping the interface to match that of a traditional social network (ie. Facebook, LinkedIn) could help user growth. The risk behind this move is that such change could disrupt the engagement level of Twitter's core user base, which is responsible for majority of its content. Therefore, any change has to be incremental and gradual to appease the core user base, while attract the new ones.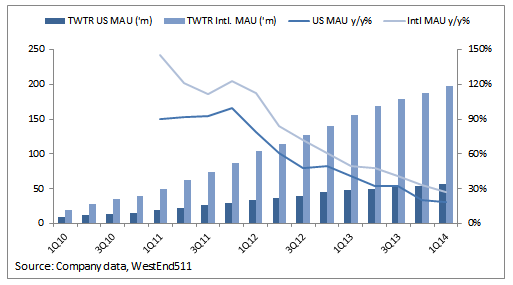 Finally, the new App install ad product could surprise on the upside as it has already proven successful in Facebook. Given Twitters' leverage in mobile, I expect this product to have material contribution to Twitter's topline growth. The product has been in beta testing most of the second quarter so investors should not expect to see any impact in Q2, but management has confirmed that the testing is progressing nicely so we could get some clues on the product rollout and its impact in the Q3 guidance.
Disclosure: The author has no positions in any stocks mentioned, and no plans to initiate any positions within the next 72 hours. The author wrote this article themselves, and it expresses their own opinions. The author is not receiving compensation for it (other than from Seeking Alpha). The author has no business relationship with any company whose stock is mentioned in this article.