L Brands (NYSE LB) is a women's specialty store that focuses on women's intimate apparel and beauty products. Two of their main brands are Victoria's Secret and Bath & Body Works. They have a niche market and a loyal following. I believe their financials are the best reason to like them.
The first thing I like about them is that they have increasing growth. L Brands' sales have been on the rise. Since 2010 their sales have grown 22% and net income by 68%. Just this June, comp sales grew 2%. When the Great Recession occurred, LB was hit just like every other apparel company and their revenues decreased each year from 2008 to 2010, but only 2 of those years, 2009 and 2010, did they actually have a decrease in net income. Since 2011 they have rebounded nicely. They increased their revenues and almost doubled their net income since the recession. The chart below comes from Wiki Invest.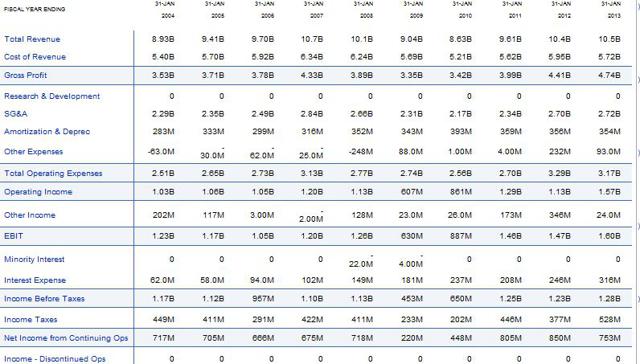 A growing business and an increase in income can make a stock grow. If you look at their stock charts below, from Yahoo Finance, over the past 5 years the stock has grown 350%, and since they went public almost 30 years ago, their price has increased over 1000%. Their PE ratio is 18.8 which is below the industry average of 24.4. You are paying less for their earnings than the average apparel store which I believe is a positive thing.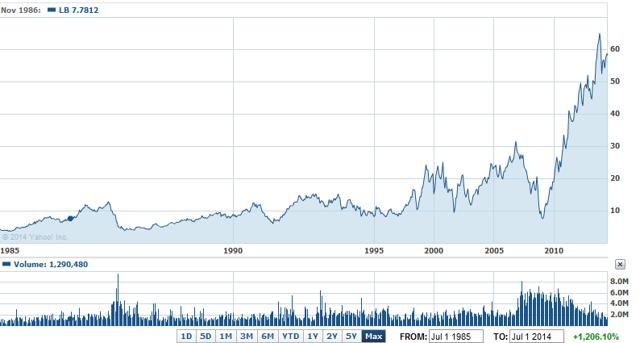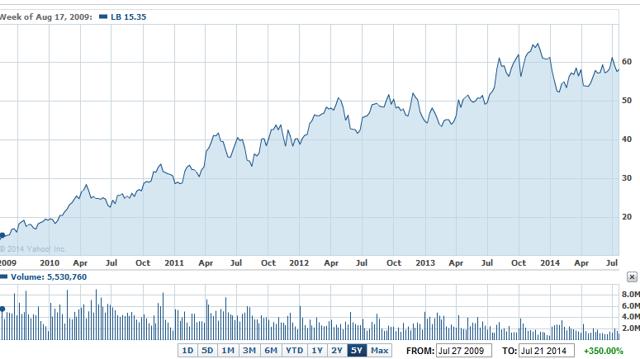 (Charts from Yahoo Finance ticker LB)
The second reason why I like them is that they have a decent dividend yield. Dividends are a huge part of L Brands' objective. They declared dividends from the moment they went public in 1985. It started out at less than a penny per quarter. Now their quarterly dividend is at $0.34. On top of their regular dividends they have given out special dividends totaling over $10.00 a share since 2010. This has given them over a 4% yield at times. You can't get 4% on any treasure bond. What is even better is that their projected 5 year dividend growth is at 30%. At today's price this would be a 3% dividend. Even after giving all this cash away, their latest annual report shows them having 1.5 billion dollars of cash on hand, which is more than double the cash they had in the previous year. Investors shouldn't worry about the large dividends. Their payout ratio is only 72%.
My last point on why I like them is that they have a loyal following. Just like why Harley Davidson and Apple can charge a premium for their products, L Brands has that same kind of strong customer base. They spend huge amounts of money on advertising. One big thing they are known for is putting on a show. For quite a few years they have been having an annual Victoria's Secret fashion model show to help showcase their items. According to Nielsen, their 2013 fashion show drew 9.71 million viewers and was the number one show among young adults. With that much publicity one can see why they are very successful. They are always creating new products to keep current with the trends and setting their own trends to keep customers interested. They have been developing their "Pink" Brand very strongly and now have licenses to sell NCAA, NFL, and MLB products for all those female college and sports fans. In 2012 they opened up their first store inside a sports venue at the Dallas Cowboys Stadium.
Even though their target audience is geared towards people who have discretionary spending, they still try to appeal to all the females out there. They have a few annual sales during the year to reach out to customers who maybe aren't willing to buy their items at their usual higher prices. This helps increase inventory turnover to make way for their new merchandise.
What is Victoria's secret? I think it's the great management team which has been successful at getting people into the stores to buy their goods. They have created very good brand recognition which has produced increasing revenues and net income over many years. This has translated into great returns for anyone who has owned their stock. As long as they keep continuing on this path, I think they're many more good things to come.
Disclosure: The author has no positions in any stocks mentioned, and no plans to initiate any positions within the next 72 hours. The author wrote this article themselves, and it expresses their own opinions. The author is not receiving compensation for it (other than from Seeking Alpha). The author has no business relationship with any company whose stock is mentioned in this article.