Many investors surely don't need much of an introduction to Ford Motor Company (NYSE:F). The company is the 6th largest automaker in the world and is the 2nd largest maker of cars and trucks in the U.S. The company together with its subsidiaries is engaged in other businesses, including financing vehicles. It operates in two segments: Automotive and Financial Services. Automotive includes Ford North America, Ford South America, Ford Europe, and Ford Asia Pacific Africa region. Financial services include Ford Motor Credit Company and Other Financial Service. The company manufactures or distributes automobiles across six continents. Its automotive brands include Ford and Lincoln.
2013 was a good year for automakers, and it was no different for Ford as its vehicles reign as America's best-selling vehicle brand in 2013 for a fourth consecutive year, with annual sales records set for Ford Fiesta, Fusion and Escape, and the F-Series continuing as the country's best-selling truck and vehicle for yet another year.
This led to the following financial highlights for 2013:
Ford produced one of its best years ever in 2013 as EPS for the full year came in at $1.62, an increase of 14.8% or $0.21 per share from the prior year. These results were achieved as the company reported record profits in North America, Asia Pacific, and Africa, with breakeven results in South America and a lower loss in Europe than in 2012.
The trend seems to be continuing in 2014, especially abroad, with one noticeable and extremely important difference - Europe.
Ford China First-Half Sales Accelerate Past the Half-Million Mark, Up 35 Percent from Last Year
Ford Sales in Europe Rise in First Half of 2014 on Strength of New Vehicles; New Focus and Mondeo Coming in Second Half
Those global highlights along with strong sales once again in North America led to the strong second quarter results that were announced on July 24th.
The quarterly earnings beat Wall Street analyst expectations easily as Wall Street expected pre-tax profits of $2.04 billion, while the automaker brought in $2.6 billion in pre-tax profit to secure its 20th-straight profitable quarter. Perhaps of more importance, in addition to posting a record pre-tax profit in North America, Ford also managed to see success in its European market as it announced its first quarterly profit in three years.
In my view, it now appears to be just a matter of time before Ford is not only breaking "even" in Europe, but as just reported here in 2014, earning a profit there, and that could be a "game changing" development.
The company appears ready for the challenges to "make things happen" as this year brings the most aggressive new product launches in the company's history with no less than 23 global product launches. During the company's Q2 conference call, it reiterated its full-year outlook for pretax profit ranging from $7 billion to $8 billion. and the outlook for automotive revenue and operating margin also remains unchanged.
Management also affirmed that they will be implementing a previously announced share repurchase program for up to 116 million shares to offset an up to 3% dilutive effect of potential convertible debt conversions and stock-based compensation.
Given the continued financial improvement with Ford's fundamental picture, I maintain my favorable outlook and expectations for further dividend increases from the current annual payout of $0.50, along with the possibility of more share buybacks.
I believe Ford has provided a "blueprint" which indicates just how it plans to keep improving on its recent successes.
The Asia Pacific region continues to grow aggressively with an expanding portfolio of ONE Ford products, and the recently reported increase in first half sales is a testament to that.
Looking ahead to the remainder of the year and into 2015, the prospects for North America seem bright as Ford prepares for the launch of the new F-150.
Perhaps the biggest catalyst for my recent interest in Ford as an investment is Europe. As an example of just how important the European market is to Ford's bottom line, consider this important fact. A simple "breakeven" result in Europe during 2013 would have increased Ford's net income per share by approximately $0.40, an increase of roughly 23%. That type of impact should not be overlooked by the investment community.
My approach as an investor is to find and highlight the "key" takeaway from a corporation's plan - a unique fact or set of circumstances that will "make the difference" for an investor. This is an approach that I have used and demonstrated on other articles here on SA.
Now, in making an investment case for Ford, it should not be underestimated how the European market is a potential "game changer" to the "bottom line" of this company.
The company's stated objective in this key region is: Implement the transformation plan focused on product, brand and cost, to achieve profitability in 2015.
While the situation in Russia remains difficult, there have been recent news reports indicating there is renewed hope for a turnaround in that region.
Finally, the global outlook in South America, the Middle East and Africa surely comes with challenges for Ford, but they also represent great opportunities for the company to exhibit strong earnings growth in the future.
The fundamental story is an important part of an investor's "due diligence." However, in my view, the fundamental picture on any stock should be "married" to the technical outlook before making an investment decision.
With that in mind, a quick look at the 'technicals' also shows an improving and interesting picture. While the shares have been in a steady uptrend to go along with the fundamental story, the accompanying weekly chart demonstrates that the stock price could challenge the January '11 closing high of $18.65. That observation comes just after the stock recently surpassed the October '13 high milestone of $17.60.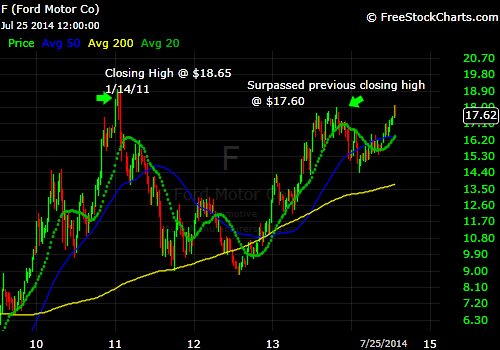 Both the fundamentals and technicals bode well for the shares to advance further into 2014 and beyond. I would view any pullback in the shares as an opportunity. Scaling into a position is always wise and with shares of F an investor has that 2.9% dividend as a nice backdrop in the decision making process.
Overall, 2014 looks to be shaping up as a solid year for Ford Motor Company and a critical next step forward in implementing the company's "ONE Ford" plan to continue delivering profitable growth for all. The payoff from the aggressive 2014 launches and investments will be a strong product lineup with higher volumes, revenues and margins in 2015 and beyond. So while many will view 2014 as being a transition year for Ford, I suggest the "payoff" for astute investors may be a lot closer than many may believe.
The shares sell at a discount to the overall market, trading at below 10 times FY15 EPS estimates of $1.92. In conclusion, I believe the present situation at Ford represents growth, a nice dividend yield and a relative inexpensive valuation.
A nice combination for the investor that may be concerned about all of the equity "over valuation" tunes being sung by the various market pundits.
Disclosure: The author has no positions in any stocks mentioned, but may initiate a long position in F over the next 72 hours. The author wrote this article themselves, and it expresses their own opinions. The author is not receiving compensation for it (other than from Seeking Alpha). The author has no business relationship with any company whose stock is mentioned in this article.
Additional disclosure: I am long numerous equity positions - all of which can be seen here on my Instablog. It is my intention to present an introduction to this security and state my intent and position. It should be used as a 'Starting Point' to conduct your own Due Diligence before making any investment decision.