Indonesia has long been viewed as one of the brightest prospects in the emerging markets. As Asia's 5th largest economy and the world's 4th most populous nation, it has a rising middle income group which is driving growth in consumer spending. Having performed well in recent years, with a rise in GDP of 5.6% in 2013, it has certainly been on the radar of investors looking to diversify their portfolio. The recent election victory of Widodo has been viewed favorably by the market, sending the Rupiah and equities higher. This year, the Rupiah is the second-best performer in 24 emerging-market currencies tracked by Bloomberg, rising to a two-month high recently. It was trading at 11,579 per US dollar mid-morning in Jakarta Friday.
Going forward, I have some concerns about the headwinds faced by Indonesia's economy. In particular, I argue that the recent gains by the Rupiah and Indonesian Exchange-Traded Funds (IDX,EIDO, IDXJ) amid election euphoria might go into reverse towards the end of 2014, as the current account deficit widens and in anticipation of an easing of the United States Federal Reserve's program of quantitative easing.
Widodo's presidential election victory has been good news for the financial markets. The 'Indonesian Obama' is perceived as a business-friendly and reform-minded leader, who would be more open to foreign investments. Widodo also plans to attract greater capital by permitting foreign ownership of properties, and cutting red tape for business. However, this would be easier said than done. In a presidential debate, Widodo had pandered to nationalistic and protectionist sentiments.
"As a government, we have to formulate regulations that impose barriers so it will not be as easy to enter our markets," Widodo declared during the debate. "We are open, but what is paramount is to protect our national economy." His comments suggest that the investment climate is unlikely to change much after the election.
Widodo has also promised a gradual reduction in the costs of subsidized fuel, which is crucial in dealing with the current deficit problem (See below). Such a policy will put a break on domestic demand of imported fuels, which has caused the current account to soar. It is likely that there will be substantial domestic opposition to any moves to ease Indonesians off the fuel subsidy. Past experience also tells us of the difficulty of cutting fuel subsidies. Yudhoyono's administration took a year of hand-wringing and dilly-dallying before the financial turmoil last June finally forced its hand, pushing through measures to raise subsidized fuel prices by an average of 33%. Currently, the fuel subsidies amount to 150,000 Rupiah ($12) per day for each driver in Indonesia with subsidized fuel prices 83% lower than market prices.
Past fuel price hikes have also caused riots on the steers and according to Juniman, an economist from Bank International Indonesia who uses only one name, the first quarter of 2015 will the earliest time frame when the Widodo government may start raising fuel prices. This is because it would not want to risk angering constituents early on in its rule. By then, it might be a little late given Indonesia's economic headwinds and widening current account deficits.
In the chart below, we see that the HSBC Purchasing Managers' Index (PMI) rose to 52.7 in June, from 52.4 in May, the highest reading since the survey began in April 2011. This indicates that operation conditions in the manufacturing sector improved at a faster pace. However, the improvement in PMI was due to stronger domestic rather than external orders, with export orders contracting for the first time in six months. According to HSBC's economist Su Sian Lim, "Such a pick-up in domestic activity is not desirable at this juncture," given the import-driven pressures on Indonesia's trade and current account deficits.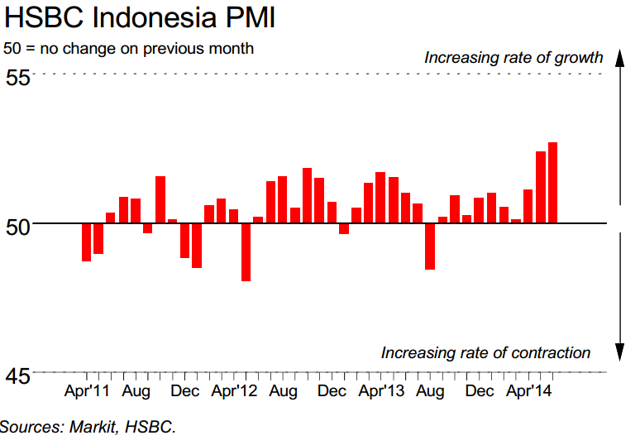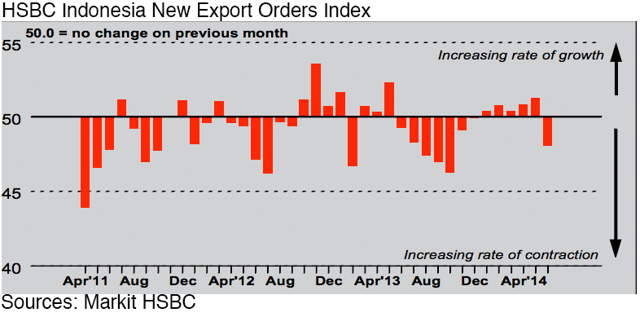 On the current account deficit problem, Indonesia's deficit grew to 2.06% of nominal GDP as of the quarter that ended March 2014, compared with 1.98% of GDP in the previous three months. Indonesian finance minister Chartib Basri also announced in June that the deficit is expected to be below 4.4% of GDP in the second quarter of 2014. In this vein, the deficit for 2014 looks set to widen, from 3.3% of GDP in 2013 (See Chart). Indonesia last reported a net surplus amounting to 0.34% of GDP during Q3 2011.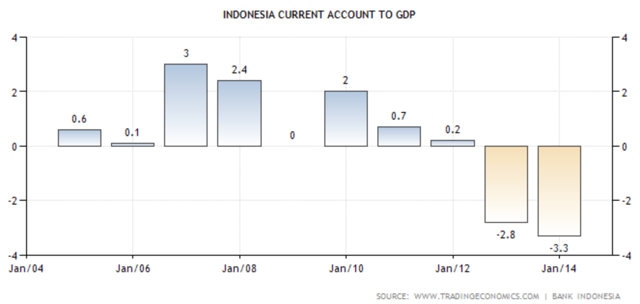 It could be matter of time before we see a repeat of massive capital outflows and downward pressure on the Rupiah and Indonesian equities in June last year after concerns about the country's widening current- account deficit. Back then, Indonesia's markets were among the worst hit when the US first said it was planning on scaling back its monetary stimulus last year. The Indonesian Central Bank has also reiterated its commitment to tighten its monetary policy, with Central Bank head Martowardojo announcing that monetary policy will be data-dependent at this point. The forward guidance will carry significant weight, as Martowardojo oversaw the country's most aggressive policy tightening in more than eight years after taking the helm of the central bank in May last year. Emerging market investors should be aware that the situation today bears an uncanny resemblance to last year, and the likelihood of renewed downward pressure on the Rupiah should increase as the US Federal Reserve looks set to raise interest rates year end.
Disclosure: The author has no positions in any stocks mentioned, and no plans to initiate any positions within the next 72 hours. The author wrote this article themselves, and it expresses their own opinions. The author is not receiving compensation for it (other than from Seeking Alpha). The author has no business relationship with any company whose stock is mentioned in this article.