[Originally published on April 19, 2014.]
Lonestar (OTC:LSTWF) is one of those equities you can put away and look at ten years later and know there will be a good return on your investment.
Here is why in summary:
Return on investment for shareholders has remained strong. Over a three-year time period shares have risen a whopping 700%.
A very simple formula and business that is operating in a relatively new excavation segment dominated by high demand and not enough supply.
The fleet of hydro vacuum trucks is growing rapidly each year from its beginnings in 2000 with one truck through to a projected 100 trucks this year. The compound annual growth rate on the fleet has remained over 30% for over five years and has accelerated the plan to over 60% CAGR for revenues in the past 3 years!
Geographical expansion: the company is taking its success to new markets and now is pushing into the US states of Texas, California, and Oklahoma and a continued push in the four western provinces of Canada. A lot of untapped markets still ahead.
The excavation method of hydrovacing is safer especially around sensitive utilities and environments in comparison to traditional mechanical digging equipment and has shown itself to be a cost effective alternative for project managers. The safe method of excavation for hydrovacs is the answer especially around utilities and buried hazards.
Strong ownership and executive team led by Mr. Horvath who himself has a very large position and vested interest in growing value for shareholders (over 7 million shares are held by Mr. Horvath).
Design advantages of the hydrovac units give project managers another reason to choose Lonestar.
The company has remained profitable beginning in 2011 while growing its revenues and fleet exponentially.
The macro environment remains strong as pipeline expansion, sensitive infrastructure is replaced, and construction remains high in western Canada and the US.
3 year stock performance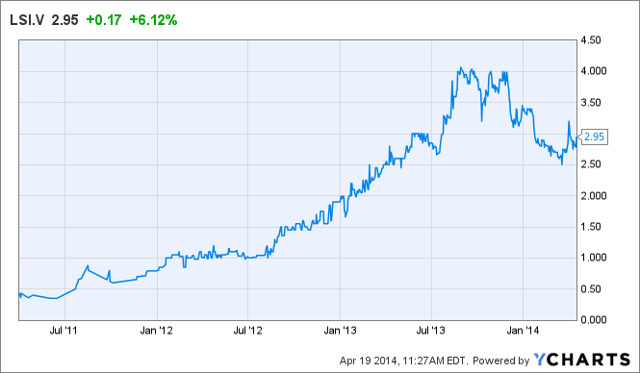 LSI data by YCharts

What a hydrovac truck does
The company operates both vacuum trucks and hydrovac units. The first is simply a truck complete with vacuum and large storage tank that can be used to siphon materials quickly and safely. The second type of truck and comprising the majority of Lonestar's fleet combines high pressure water (and heated if frozen ground) to break up the material being excavated while the vacuum sucks the slurry safely into the storage tanks for removal. The advantage over typical excavation equipment is obvious. Water can safely break up hard ground around sensitive utilities and underground hazards. In addition, the operator has full control over the excavation and can accurately, quickly, safely and neatly complete the task. Mechanical methods of excavation of course are very dangerous in comparison.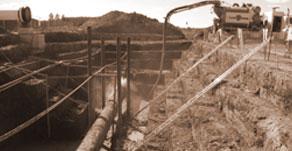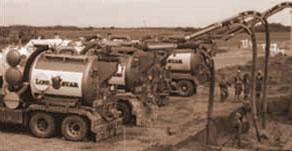 Analyst outlooks and reports
There are two companies reporting on Lonestar West. Clarus and Industrial Alliance have both documented thorough examinations of the company and its strengths and weaknesses. In addition, The Howard Group is a strategic investor relations site that has updates on Lonestar West Inc. The analyst reports can be found at the Howard Groups page under the analyst report section for Lonestar or alternatively on Lonestar West Inc website although the most recent reports are not there yet. The last link is from a Canadian TV commenter on the stock. Mr. Donville talks about Lonestar a minute into the segment. (The segment is from August 2013)
Price targets and one year outlooks
Industrial Alliance $4.25
Clarus $5.00
Share structure
| | |
| --- | --- |
| Outstanding shares | 21.8 mm |
| Options | 1.7 mm |
| Warrants | 0 |
| Shares fully diluted | 23.5 mm |
| Insider holdings | 9.5 mm |
CEO
Mr. James Horvath acts as President and CEO for Lonestar West and has been involved in the oil and gas industry for many years. He is still very involved with the day to day operations of Lonestar West after having grown the company from the ground up.
Mr. Horvath also has a passion for racing.
The Business Strategy
The push is on to grow revenues and capture market share while money is cheap to borrow. Expanding the customer base and relationships and loyalties formed along the way is job one at Lonestar. Operating in 4 out of 10 Canadian provinces and only 3 states in the US, the runway in front of this company is long. Aggressive growth while remaining profitable has been possible with a large credit facility in place and periodic share offerings as revenue and fleet expansion ramps up at a dizzying pace. New infrastructure has been on the agenda, as new bases of operations have been established in the US and the costs that affect the bottom line are temporary while the benefits are permanent. The US footprint mitigates some of the seasonal variances in Canadian winter operations and spring break up periods. The real growth is coming from the South with American dollar revenue which have an added benefit to Canadian companies. Naturally the margins are challenged by the rapid growth but the company remains committed to finding operational efficiencies now and later as the business matures.
The Competition
The number one operator in this space is Badger Daylighting (OTC:BADFF) with almost 800 trucks and a market cap of $1.5 billion. Badger has prospered and led the way as the day lighting method of excavation has gained wider acceptance and recognition. The hydrovac system is still relatively unknown and unlike Lonestar, Badger now has half their fleet operating in the US. Lonestar strives to duplicate the success of their older sibling and offers an opportunity for an investor to get in at the ground floor of a very successful business model.
The Comparison
| Statistic | Lonestar West Inc | Badger daylighting |
| --- | --- | --- |
| Price to Sales | 2.1 | 4.6 |
| Price to Book | 3.1 | 8.8 |
| Price to Earnings | 54 | 36 |
| ROE | 14-20% (3 years) | Over 20 % 9 years |
| Revenue per truck/month | $46,000 | $35,000 |
| Dividend Yield | None | 1% |
No one can argue that Badger is a great investment in its own right as the industry leader and investors pay a premium valuation to own it even when other high fliers suffer in market downturns, but Lonestar offers value at a much lower Price to sales and book value and the margin differences are more a question of business maturity than that of bad management.
For instance, Lonestar West supplies customers larger trucks and also brings in more revenue per truck so there is no reason to fear management's competency. Clearly the bottom line differences are a result of the business life cycle and Lonestar West will look to duplicate the success of Badger Daylighting as it can focus on operational efficiencies vs. today's infrastructure expansion.
Earnings reports
The year end of for the current period has been changed because the competitors reported on a different cycle and with this coming report the investor will have a more accurate comparison of financials from an identical time period. This periods financials covering the period up to December 31st, 2013 will be tabled at the end of April.
Previous earnings statement by Mr. Horvath is found here.
Risks
Seasonal factors affect the revenues
Debt servicing and capital expansion can require dilutive share increases
Earnings and margins have been affected by the growth strategy
Liquidity has been very poor for the last several months
Conclusion
The stock has had a pull back and a consolidation period and remains under the radar to a large extent. Sprott Asset Management and Mr. Donville will provide a large boost to the share price when they are pleased with the financial reports. The shares appear poised for a big breakout and rate a strong buy for the long investor but current liquidity could pose an issue for traders who seek quicker exits. I see the stock as a five year or more investment and therefore I have a heavy weight to my portfolio and I am very confident of this business' ability to reward me handsomely. The best part of the investment is how simple the business model is to understand and rate as an investment.
Disclosure: I am long LSTWF.
Editor's Note: This article discusses one or more securities that do not trade on a major U.S. exchange. Please be aware of the risks associated with these stocks.