There are times when take good news with a grain of salt and other times when you just got to dance a bit - Anonymous
Baidu (NASDAQ:BIDU) has been a favorite company ever since it was hovering in the $80/share range as near back as 2013. The growth trajectory for Baidu has been apparent, and if you follow my investing principles, you will find that I am very bullish on the Chinese internet market as the population grows and technology is adopted throughout China. Now that Baidu has exploded almost 11% after its strong 2nd quarter results and has gained over 27% year-to-date, how does Baidu look at these lofty heights?
Mobile Shift In Full Force
Mobile has been one of the major trends over the past decade, and it has changed how we view our phones and how people do business. With smartphones, people can read breaking news on the go without waiting for the 6pm news broadcast, check out the scores of their favorite sports games, make a reservation for a restaurant, take pictures and instantly upload them for friends and family to view. When you think how much things have changed over such a short period of time, it is quite astounding. One major focus for technology companies over the past couple of years is how to monetize this shift from using desktop computers to view the internet to using the phone. Facebook (NASDAQ:FB) has increased in value staggeringly over the past couple years due mainly to its ability to grow revenues from mobile.
One of the first items you will notice when you listen to Robin Li, Chairman and CEO of Baidu or read the quarterly reports, is the focus on mobile revenue growth. Revenue grew 58.5% compared to the same quarter in 2013, which is very strong growth. The best part though is 30% of this revenue was derived from mobile, and this value is increasing.
In our core search business, we remain the clear, dominant, cross-channel search leader. Mobile search traffic, again, drove overall traffic growth. In the second quarter, for the first time in history, during some holidays and weekends, when people were out and about, mobile traffic exceeded the traffic of desktop search.

Our mobile search service grew to over 500 million monthly active users in June. In Q2, we continued to aggressively invest and innovate, to create a better experience for our users. We revamped our homepage, and our users who log in now get personalized pages with automatically refreshed content. - Robin Li Chairman and CEO
This continued focus on mobile needs to continue to be a strength for Baidu. Most Chinese people view the internet through their mobile phones, and this trend does not seem to be slowing down anytime soon.
Growth Metrics
Baidu has been growing as a very consistent pace and doesn't seem to be slowing down anytime soon. Table 1 shows how revenue and net income has grown for Baidu over the past 5 years, including 2014. The numbers were taken from Baidu Annual Reports and converted from Chinese Yuan to the U.S. Dollar.
Table 1 - Revenue and Income Growth for Baidu
Year
Revenue ($MM USD)
Net Income ($MM USD)
Revenue Growth (%)
Net Income Growth (%)
2010
1,193
531
67.7%
123.7%
2011
2,307
1,056
93.3%
98.7%
2012
3,574
1,675
54.9%
58.6%
2013
5,271
1,736
47.5%
3.6%
2014 (projected)
6,461
2,308
22.6%
32.9%
Besides the net income in 2013 which Baidu states as increased investing in R&D and specifically mobile revenue generation, you have seen strong growth. The projections show signs of a slowdown coming in 2014. These projections are my own and don't reflect what analysts or Baidu are stating. Based on these projections how is Baidu trending. Table 2 gives some light to this.
Table 2 - Baidu 2014 Projections
Parameter
Projections
2014 So Far
% of Projection
Revenue
6,461*
3,437
53%
Net Income
2,308*
1,084
47%
Revenue is a bit ahead so far, and typically, revenue has increased as the year goes along for Baidu if the past is any indication of the future. The net income historically is more random throughout the year, so the fact that Baidu is earning a bit less than the projection does not necessarily mean anything, since it is still very close to projections.
Investing in Baidu means you are banking on growth (since no dividends) and stock appreciation. Baidu is definitely fulfilling in both instances.
Value Proposition
Baidu for a while was priced below what was fair value in my opinion. This is why Baidu was one of the top 2-3 positions in the Invest With Color Stock Portfolio. As of now, Baidu represents my largest holding due to the huge stock appreciation lately.
For value, I compared Baidu with two other search engine companies I am bullish on: Google (NASDAQ:GOOGL), (NASDAQ:GOOG) and Yandex (NASDAQ:YNDX). Google is the search engine king of the world, with a market cap of ~$403B, while Yandex is a Russian-based search engine that is growing at similar rates to Baidu, though much smaller at a market cap of $9.8B. The following graph compares the price to earnings, price to sales, price to book, return on assets and return on investments over trailing twelve months. Data was obtained from the Motley Fool website.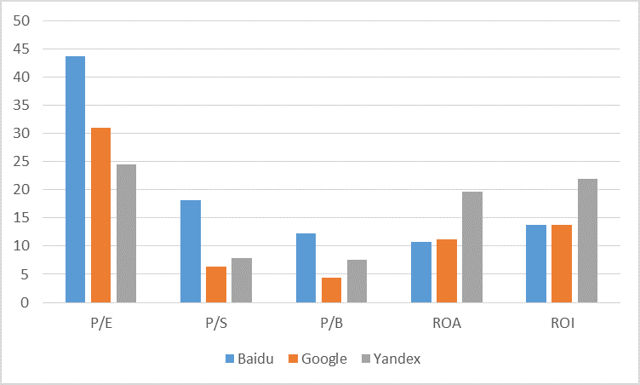 Baidu used to be priced below Google in terms of price to earnings for a long time, but with the recent run-up in the stock price, has surpassed Google in pricing. Price to sales and book are also high for Baidu compared to Google and Yandex, even though the returns on assets and investments are comparable. Yandex looks like a bargain, but due to uncertainty in Russia, its stock price is depressed for the time being.
Final Thoughts
Baidu is a favorite stock in my portfolio, and while the recent stock price action has been a huge boon for the portfolio, the price may have fluctuated a bit too high. The future is bright for Baidu, and with the growing mobile business, it is posed to make huge gains in China. Also, with Baidu entering the Brazilian market, Baidu doesn't seem to want to slow down its growth projections. For now though, Baidu at these prices is most likely a hold. The pending IPO for Alibaba and the growing business of Qihoo 360 (NYSE:QIHU) may increase competition, and with the mobile revenue potentially putting some pressure on margins, Baidu may see a decrease in stock price short-term. Long-term, though, Baidu has a bright future.
Disclosure: The author is long BIDU, GOOGL, YNDX. The author wrote this article themselves, and it expresses their own opinions. The author is not receiving compensation for it (other than from Seeking Alpha). The author has no business relationship with any company whose stock is mentioned in this article.