Amazon.com (NASDAQ:AMZN) released yet another disappointing earnings report on Thursday that sent investors scrambling for the exit and pushed the stock down 10%. For the second quarter, the company reported a loss of $126 million or $0.27 per share, when analysts expected a loss of only $0.15 per share. The silver lining is that revenues grew an impressive 23% to $19.34 billion. This silver lining was quickly overlooked as the company predicted a loss for the next quarter of between $410 and $810 million, which is about $1.00 per share as compared to analysts' expectation of only a $0.07 loss. Amazon.com's commitment to investing in the company's long-term future is laudable, but its increasingly brazen attitude towards wealth generation for shareholders is intimidating to say the least. Fortunately, Wall Street has a very short-term memory and as investors have done time and time again, they are likely to continue rewarding Amazon.com's growth.
Déjà Vu
As the earnings for Amazon.com were released, anyone following the company for some time now should have experienced déjà vu. Over the last two years, the company has missed analysts' expectations 5 times, met expectations once, and exceeded expectations just twice. That's only a 37.5% likelihood of meeting or besting expectations. Their 5 year record is better with the company beating expectations as many times as it has missed expectations. The tables below show Amazon.com's record of earnings beats and misses since 2009. This information was compiled from Amazon.com's earnings announcement over the past 5 years from various different media outlets.


The above information is plotted in the graph below to get a sense of how earnings announcements affected Amazon.com's stock performance. Earnings beats are shown in green, earnings misses in red, and meeting earnings in white.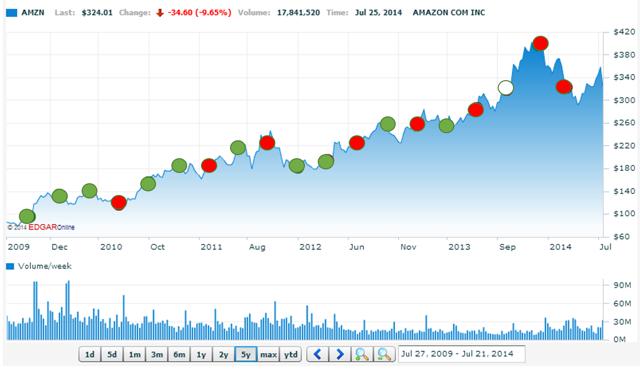 Source:Nasdaq.com
As the graph above shows, missing earnings expectations does not have a material effect on stock performance. In the long-run, stock performance continues to go up. Over the past 5 years, Amazon.com's stock has gone up 275%, beating the S&P 500 index by 33% annually. It now has a $150 billion valuation without generating any profit so far this year; a fact that makes most value investors cringe.
The chart below shows what happens to Amazon.com's stock prices 1 day, 7 days, 30 days, and 120 days following the earnings announcement.


Quarters when earnings missed analyst forecast are color-coded in red and in these cases, the stock generally reacted negatively the day after the earnings report. However, in 6 out of 8 instances of earnings misses (or 75% of the time), the stock was back in positive territory 120 days after the earnings report. This suggests that investors have a relatively short-term memory and after initially punishing the stock for failing to meet earnings expectations, they soon after start believing again in Amazon.com's growth potential.
Where Do We Grow From Here?
There is a clear pattern in historic data indicating that Amazon.com's stock performance is largely unaffected by the company missing earnings forecast, but is that enough of a reason to invest in the company? Many investors argue that Amazon.com fails the commonsense test due an unjustifiable valuation and that the company's guidance of about a $1.00 per share loss is indicative of things going from bad to worse.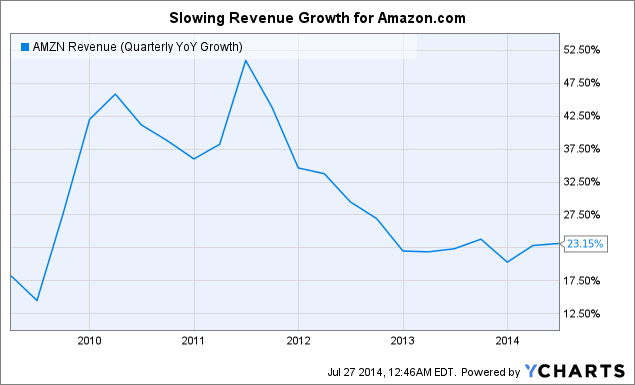 AMZN Revenue (Quarterly YoY Growth) data by YCharts
A look at revenue growth shows that it has been slowing over time and is forecast to grow 20% next quarter from 23% this quarter. Even though growth is slowing, it is still blistering fast for a company of its size. Moreover, it is hard to argue that this strategy of investing in its growth is not working. The failure of many brick-and-mortar stores can be attributed to the overwhelming success of online retailers, in particular to Amazon.com. Beyond online retail, Amazon.com now has many other sources of revenue including Kindle devices, media streaming, cloud computing, and advertising. Some of these ventures seem to be less successful than others. For instance, the new Fire Phone is being met with unenthusiastic reviews; in contrast, cloud computing at Amazon.com is wildly successful. Last year, its cloud computing business grew 90% but it was less profitable than before. Last quarter, the business grew 60%, which is slower than competitors like Microsoft (NASDAQ:MSFT) but by now, Amazon.com has a formidable market share in this rapidly expanding business.
Looking at the earnings report and the next quarter's guidance, one may reach the conclusion that Amazon.com is now spending more to attain lower than before levels of revenue growth, which is simply not a sound or sustainable financial strategy for the company. However, this ramping up of spending may also provide an acceleration of future growth akin to how startup companies go through a phase of negative cash flow before breaking even.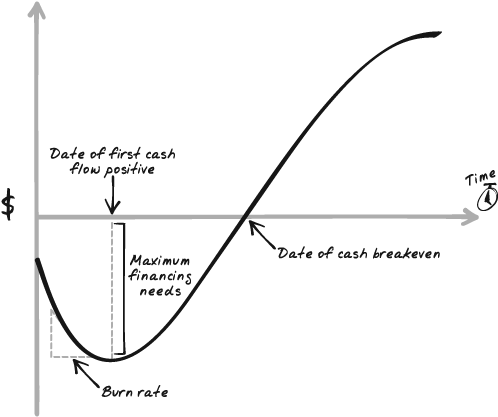 Source: librairie.immateriel.fr/fr/read_book/978...
According to the conference call, much of the spending will be on 1) stock-option compensation to attract and preserve a talented workforce; 2) providing discounts for Amazon Web Services customers to continue growing its user base for its cloud business; 3) developing more original content for its media customers; 4) logistics related to fulfilling orders as quickly as possible. These are all investments that are likely to help Amazon.com continue to grow at a blistering pace and after all, if the company can show its investors that its growth potential is at least intact then history shows that investors may just forgive its cardinal sin of operating loss.
Conclusions
Many long-term investors in Amazon.com have lost faith in the company after being teased and frustrated by its operating losses and earnings misses for several years in a row. However, history indicates that earnings misses are soon forgotten by investors that choose to focus instead on the company's impressive growth. While spending is accelerating to an extent that may scare off many investors, this may also pay dividends in securing and possibly even improving the company's future growth rate.
I am not a long-term investor in Amazon.com, but have established a small position in the company when its stock price tanked following the earnings report. I believe that as we've seen many times before, the stock price will be higher than it is now over the next few months, despite the recent earnings miss.
Disclosure: The author is long AMZN. The author wrote this article themselves, and it expresses their own opinions. The author is not receiving compensation for it (other than from Seeking Alpha). The author has no business relationship with any company whose stock is mentioned in this article.