Herbalife Ltd. (NYSE:HLF) is set to report FQ2 2014 earnings after the market closes on Monday, July 28th. Herbalife is a multi-level marketing company which sells nutrition, weight management, and skin-care products. Herbalife was famously targeted by ostentatious hedge fund manager, Bill Ackman, in a $1 billion bet against the company in December of 2012.
Last week Bill Ackman went on CNBC and announced that he would be making the most important presentation of his career. Ackman claimed to have evidence that would strike a 'deathblow' to Herbalife and prove once and for it all that the company was an illegal pyramid scheme which targets poor latinos. Shares of HLF came tumbling down 10% after Ackman boldly made the announcement. Unfortunately for his fund, Pershing Square Capital Management, Mr. Ackman had much more bark than bite. He failed to prove anything definitively, and Herbalife stock made its highest single day percent gain in company history.
Ackman has made claims that Herbalife's business model is unsustainable, but earnings and revenue both keep growing and growing. Here's what investors are expecting from Herbalife on Monday.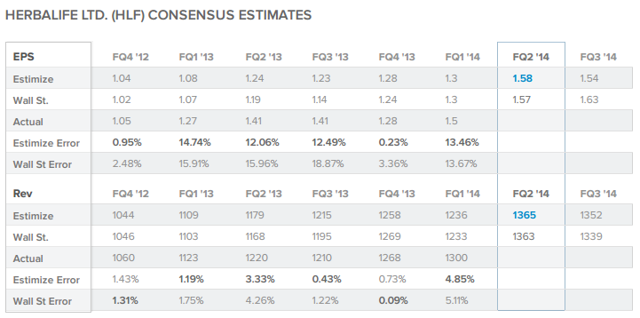 Source: Estimize.com
This quarter 19 contributing analysts on Estimize.com have come to a consensus earnings expectation of $1.58 EPS and $1.365B in revenue compared to a consensus of $1.57 EPS and $1.363B from Wall Street. Over the previous 6 quarters, the Estimize community has been more accurate than Wall Street in forecasting Herbalife's earnings every time and has been more accurate on revenue 4 times.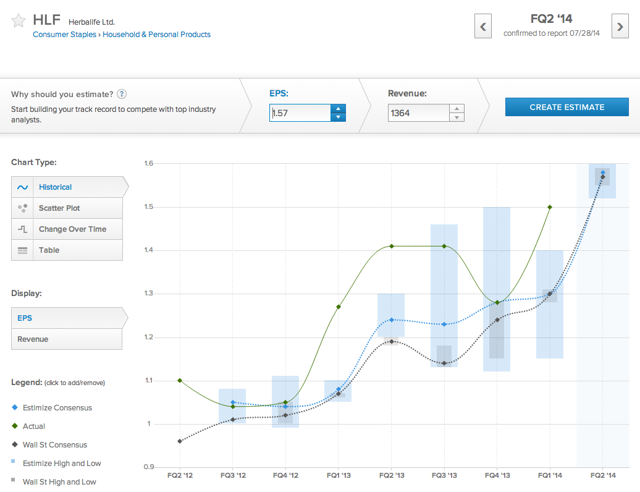 Source: Estimize.com
Herbalife has crushed both the Estimize and Wall Street consensus in 4 of the past 5 quarters. This quarter international expansion is believed to be fueling another huge quarter for Herbalife. Bears will hope that the media attention caused by the pyramid scheme allegations will keep consumers away from Herbalife products.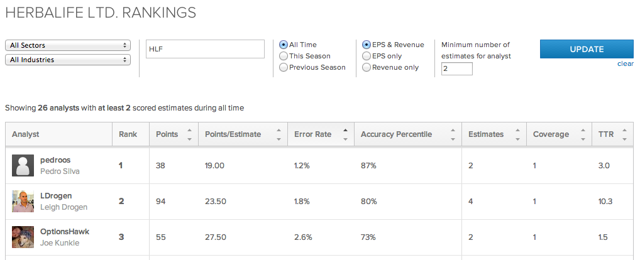 Source: Estimize.com
Estimize.com ranks and allows the sorting of analysts by accuracy. The analyst with the lowest error rate on Herbalife is an information technology professional who goes by the username pedroos. Over 2 previously scored estimates on Herbalife, pedroos has averaged an error rate of 1.2%. Pedroos has scored more than 4,100 points for his accuracy and is ranked 33rd overall among over 4,700 contributing analysts. Estimize is completely open and free for anyone to contribute, and the base of contributing analysts on the platform includes hedge fund analysts, asset managers, independent research shops, non professional investors, and students.
The Estimize consensus was more accurate than the Wall Street consensus 65% of the time last quarter on the coverage of nearly 1000 stocks. A combination of algorithms ensures that the data is not only clean and free from people attempting to game the system, but also weighs past performance and many other factors to gauge future accuracy.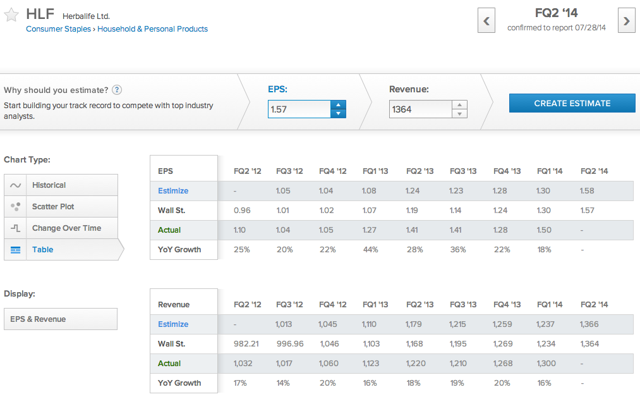 Source: Estimize.com
Contributing analysts on the Estimize.com platform are forecasting that on Monday Herbalife will report earnings 1c (<1%) per share ahead of Wall Street's earnings forecast and report roughly in-line with the Street's revenue consensus. This quarter the Estimize community is expecting Herbalife to continue growing both its earnings and revenue at a brisk pace of 12%. Last quarter Herbalife beat the Estimize EPS consensus by 20c per share. If Herbalife can record another colossal beat this quarter, it may be the final nail in the coffin for short sellers.
Disclosure: None.