Summary:
QuickLogic (NASDAQ:QUIK) is one of the most overvalued stocks I have come across in several years. The company develops and markets low power customizable semiconductor solutions that enable customers to add new features, extend battery life, and improve the visual experience with their mobile products. I spend a lot of time uncovering companies with overhyped products, pie-in-the-sky forecasts, and poor management teams with a history of under-delivering - QUIK has every one of those elements. You can view some other similar examples I previously wrote on: ARTX (-20%) and PHOT (-79%). QUIK's core business is in rapid decline and faces insurmountable competition, yet shares continue to trade at an 100%+ premium to peers despite having consistently lost truck-loads of money since 2001. I believe both QUIK's sales multiple and expected sales/earnings will be dramatically lowered over the next 3 months as investors realize 2 of their 3 products lines are in terminal decline (going to $0!) and new products have little chance of success against much better positioned and deep-pocketed competitors. Even when using an optimistic valuation for their sensor-hub business, shares are worth a maximum of $1.84/sh or ~55% below current levels.
Point #1 - Legacy Products Are In Rapid Decline:

Click to enlarge
QUIK launched their Legacy FPGA (Field Programmable Gate Arrays) product line a few decades ago, which led to only three profitable years for the company (1998-2000). Around 2006, this high-margin FPGA revenue stream went into decline, dragging the entire company's financials down with it. Legacy product revenues have declined 75% from $24m in 2008 to approximately $6m in 2014. Management expects Legacy product sales to go to near zero over the next 2 years, leaving a substantial revenue gap to be filled by new products.
Point #2 - New Product Revenues Are Also Approaching a Cliff:

Click to enlarge
Display Bridges (NYSE:DB) - Samsung placed a large order for QUIK Display Bridges in 2013. They intended to use the product until they transitioned their larger tablets to a new technology - MIPI (a vastly better replacement for DBs). As a result of this transition, Samsung orders will decline by 90%+ over the next 12 months. We saw the beginning of this transition when QUIK reported a dismal 1Q14 and forward guidance implied a massive fall-off in Display Bridge sales. As expected, Samsung's new tablets will no longer use QUIK's DBs.
Sensor Hubs (NYSH) - This remains the last glimmer of hope to save the company from losing most of its current revenue base (and equity valuation). I believe the high expectations for this product are completely blown out of proportion. The current results certainly side with my cautious view as QUIK is yet to announce any design wins or product sales for their SH business. Management has also been late to even deliver a working SH product line - likely a result of their underinvestment in the product versus much larger competitors with better product offerings, such as INVN, LSCC, XLNX, ALTR, ADNC, ATML, +others). Sensor hub performance is very important to smart-phone manufacturers and therefore it's unlikely for a Tier I or II player (including Samsung) to use SHs from a weaker supplier with limited capex, resources, and engineering talent. Discussions with both INVN and LSCC management indicate near zero concern for QUIK's products gaining meaningful share in the marketplace.
Point #3 - Forward Estimates Are Way Too High: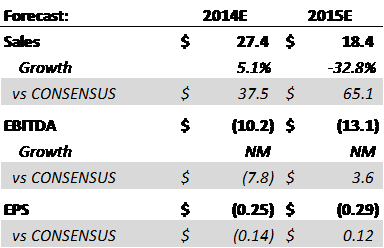 It's rare to find a stock where sell-side estimates are this far out of whack. However, even if I assume some Tier III orders for QUIK's Sensor Hubs I struggle to forecast 2015 revenues greater than $18m, which is more than 60% below consensus expectations. The rapid revenue declines from their Display Bridge and Legacy Product lines will dwarf their incremental Sensor Hub revenue opportunity. Even if we assume management can achieve their "long-term EBIT target of 10%", 2015e EPS would only reach $0.03/sh based on my revenue breakdown for Legacy and New Products.
Point #4 - Shares Are Only Worth $1.84/sh:

Click to enlarge
Even before modeling the upcoming revenues declines, QUIK is already trading at greater than a 100% premium to its comparable group. This clearly doesn't jive with their current weak product set and lack of near/medium-term revenue visibility. Their likely 2015 revenue decline makes the valuation gap even greater at close to a 190% premium. Even if we assume QUIK trades at a peer group multiple based on 2015e revenues (which is incredibly generous), that would only equate to an equity value of $1.84/sh: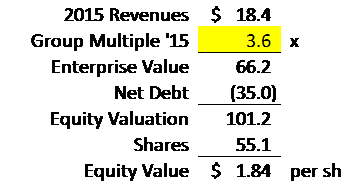 Disclosure: The author is short QUIK. The author wrote this article themselves, and it expresses their own opinions. The author is not receiving compensation for it. The author has no business relationship with any company whose stock is mentioned in this article.
Additional disclosure: DISCLAIMER: The author of this posting and related persons or entities ("Author") currently holds a short position in this security. The Author makes no representation that it will continue to hold positions in the securities of the issuer. The Author is likely to buy or sell long or short securities of this issuer and makes no representation or undertaking that Author will inform the reader or anyone else prior to or after making such transactions. While the Author has tried to present facts it believes are accurate, the Author makes no representation as to the accuracy or completeness of any information contained in this note. The views expressed in this note are the only the opinion of the Author. The reader agrees not to invest based on this note and to perform his or her own due diligence and research before taking a position in securities of this issuer. Reader agrees to hold Author harmless and hereby waives any causes of action against Author related to the below note.