Last week was another up and down week for housing and related economic data…except this time the downstroke was particularly damaging. The iShares US Home Construction (NYITB) rose the first three days of the week and reclaimed its critical 200-day moving average (DMA). An encouraging existing home sales report on Tuesday (July 22) seemed to put minds at ease that the subsequent new home sales report would be OK. The unexpected jump in new home sales in May likely also increased expectations for June. Instead, the June report severely disappointed, leaving ITB with a damaging breakdown below its 200DMA. ITB closed the week at a 2-month low. A disappointing earnings report on Thursday (July 24) from D.R. Horton (NYSE:DHI) did not help matters (I will cover this report in an upcoming post).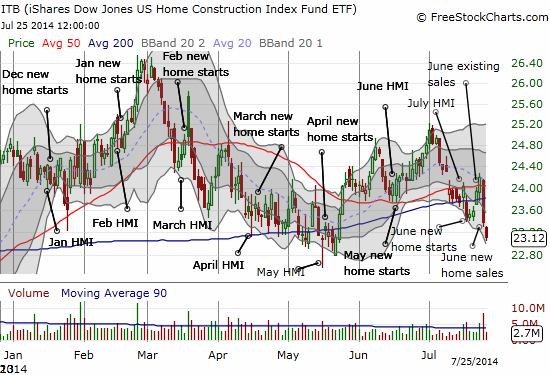 iShares US Home Construction continues to get buffeted by good news/bad news in rapid succession
Source: FreeStockCharts.com
I left in last week's chart notes on housing starts and the Housing Market Index (HMI) for perspective on how economic news has bounced ITB around this year.
Existing home sales for June were a healthy 5.04M units. It was the highest sales number since October, 2013 but still down a modest 2.3% year-over-year. The National Association of Realtors (NAR) described a market where inventories are finally rising in response to high prices, in turn cooling off the growth in prices. The hope here is that an increase in choices will generate more sales going forward. On the other hand, "new home construction needs to rise by at least 50 percent for a complete return to a balanced market because supply shortages - particularly in the West - are still putting upward pressure on prices." As the saying goes, "therein lies the rub."
As we know from earlier, housing starts plunged in the South despite an on-going improvement in sentiment among home builders. Last week's news that sales of new homes dropped 8.1% year-over-year continued the contrast against home builder sentiment.
As usual, whenever a report delivers an unexpectedly large positive or negative result, I like to dig deeper to understand any important caveats or new wrinkles that are important to understand. In this case, the year-over-year drop in sales showed some fascinating regional extremes. The Northeast was particularly bad with a 27.3% plunge, followed up by the South with a 17.4% plunge. The West dropped 9.4%. The Midwest on the other hand surged 19.6%. All regions experienced mild to severe month-over-month declines. The drop in sales was concentrated around the median home price level of $273K. All the declines occurred for homes priced between $150 and 400K, the heart of the housing market. In other words, the news was nearly uniformly bad with just a single bright spot.
The huge downward revision for May's sales may not have made enough news. What likely helped drive up expectations for June was May's estimate of an incredible surge in new home sales. At the time, the Census Bureau estimated 504K annualized sales: a 18.6% month-over-month gain and a 16.9% year-over-year gain. Fast-forward a month, and we learn that May's sales are now revised downward by 13% to 442K. This makes May's gains much more modest. Not even the press release from the National Association of Home Builders (NAHB) seemed to fully absorb the importance of this downward revision: "The numbers are a little disappointing, but May was unusually high and some pull back isn't completely unexpected." May was not unusually high post-revisions. May was actually pretty much in-line with recent trends.
I pinged the Census Bureau to ask whether something special happened in May that caused such a large disparity between estimates. Here is the response:
"Every month, our preliminary sales data include estimates of sales that occurred prior to the building permit being issued and estimates of sales that are reported after the month they really took place. In the case of May 2014 data, much less of this activity occurred than usual, so the first revision to May was larger than usual."
Determining whether this reduction in activity is an aberration or a new characterization of the market is the current challenge for the economists and statisticians. If June gets revised upward, we will have a hint that this activity is likely returning to normal patterns.
The contrast between existing and new home sales numbers begs the question as to whether one number is leading the other or whether one number tempers the news from the other. I think the jury is still out. The charts below compare new and existing home sales; the first one zooms in on the post-recession period. Both charts use seasonally adjusted numbers. Note how new home sales have bounced along a wide range since 2013. Existing homes are experiencing a gradual recovery from a sudden plunge in 2013. These patterns break a loose correlation between the two numbers since at least the late 1990s and certainly from 2009 to 2012.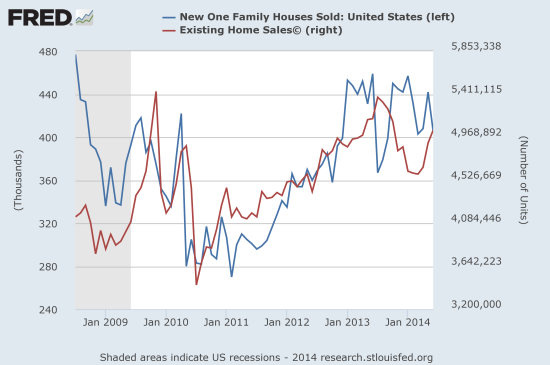 New vs Existing Homes Sales: a broken correlation since 2013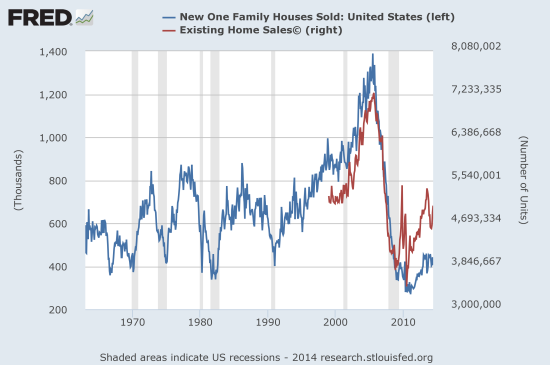 New vs Existing Homes Sales: for the data available, it appears the post-recession housing recovery is producing an unusual (lack of) relationship
Source: St. Louis Federal Reserve
While I wait on the jury for more data, ITB may make the first decision. A new 2-month low and a break below the 200DMA may not seem so bad given ITB's extended trading range since the initially encouraging breakout that began 2014. However, ITB is falling further and further behind the general stock market. Since the beginning of 2013, ITB is up a generally healthy 12% while the S&P 500 (NYSPY) is up a blistering 41%. More importantly, ITB has notably diverged since March. The end of June's upward momentum suggests that there is no catch-up in the near future. I also have to believe that when (if?) the S&P 500 finally experiences a notable correction, ITB will get hit particularly hard.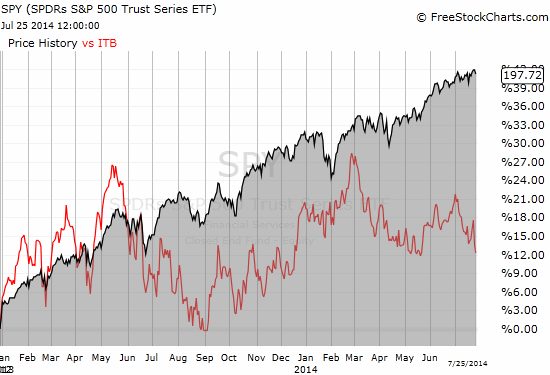 The divergence between ITB and SPY continues to widen
Source: FreeStockCharts.com
When I made the case for a housing bottom in 2009 and 2010, I was very conservative in my expectations for the housing market's recovery. I accepted the notion that housing would bounce along its bottom until 2013. Of course, as it turned out, I was not nearly bullish enough. Now, it seems likely the housing market will bounce along for the time being, albeit at a higher level of activity. With the economy and employment trudging along, delivering selective prosperity at a regional and socio-economic level, housing should soon reach a significant juncture. From my current review of related research and data, it seems millennials are the key to housing's next direction and the struggle to recover to at least normal levels of activity. In 2015, the "front-end" of this group born between 1985 and 2004 will reach the (typical) age of peak household formation. This group is America's largest demographic with Harvard University's Joint Center for Housing Studies projecting that the aging millennials "…will account for most newly formed households in the coming decade. Indeed, the millennials will make up fully 24 million new households between 2015 and 2025, thus driving up demand for rentals and starter homes." I will take up this issue in my next post on housing.
Until then, be careful out there!
Disclosure: The author is long ITB, DHI. The author wrote this article themselves, and it expresses their own opinions. The author is not receiving compensation for it (other than from Seeking Alpha). The author has no business relationship with any company whose stock is mentioned in this article.
Additional disclosure: I am long ITB through call options