AutoZone (NYSE:AZO) shareholders might agree that one thing financial publications should pursue is a greater emphasis on anticyclical businesses and stocks. Some such corporations are oriented toward consumers with lower incomes. They include automotive supply retailers and dollar stores -- but not "Defensive" cable television and telecommunications companies whose customers might cancel premium channels if austerity is advisable.
The following chart shows the comparative performance of varied investment vehicles during the recession in 2008-9. It includes two counter cyclical firms, AutoZone and Dollar Tree (NASDAQ:DLTR); an S&P 500 Index Fund (NYSPY), a terrific and well-diversified company in Berkshire Hathaway (NYSE:BRK.B), a retail ETF (NYXRT), and a utilities ETF (NYXLU). Any dividends paid by XLU, XRT, or SPY are not shown: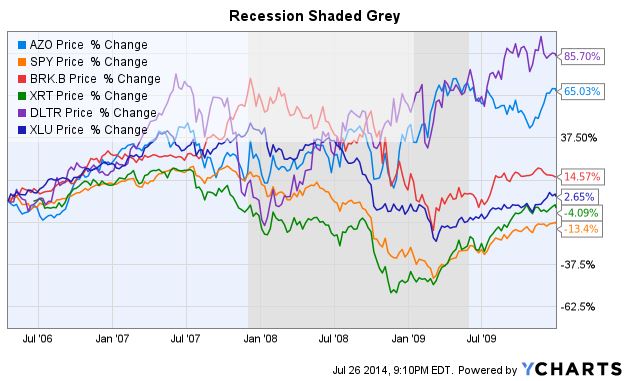 The upside to auto parts retailers and dollar stores is not limited to times of extreme economic duress, though. The following graphic shows AutoZone in a near photo finish with the SPY after the past 12 months: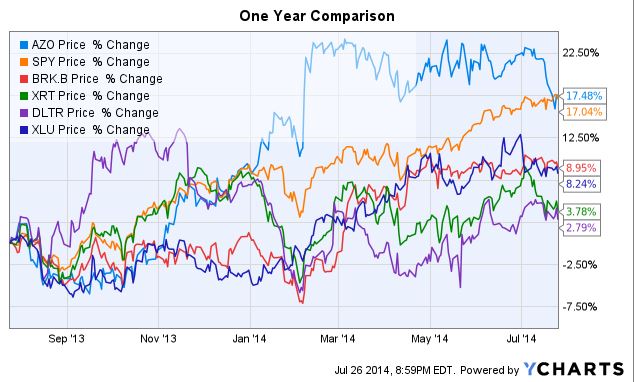 With AutoZone having given back gains in July, it could be a sensible time to acquire its stock.
Three main auto parts retailers are frequently compared to one another, the other components of the cohort being Advance Auto Parts (NYSE:AAP) and O'Reilly Automotive (NASDAQ:ORLY). They typically trade together: if one announces earnings the share prices of the other two react. They have all been fine businesses with particular positives and negatives. Like AAP, ORLY also could be a sensible investment, or means of diversification for anyone seeking to own multiple stocks in the same anticyclical industry.
Favored coverage of AutoZone is found at Goldman Sachs, as the firm has a team of analysts led by Matthew Fassler that has gone into superior detail. While there is nothing new focusing on it, their July 24th update on O'Reilly, with a Neutral rating and $169 price target, includes a statement that is not surprising:
We believe ORLY's comments on July de-risked upcoming guidance for AAP (early August) and, to a lesser extent, AZO (September).
A section of the report that includes commentary on O'Reilly's Same Store Sales ("SSS"), various metrics, and share buyback activity follows. It makes a compelling, and perhaps persuasive, presentation: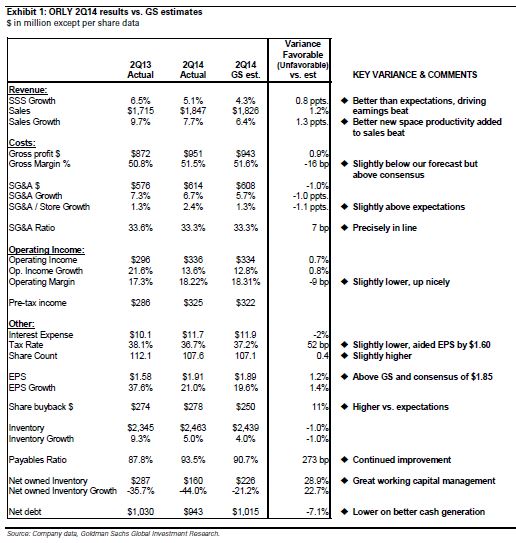 The report also includes an industry comparison. While ORLY's relatively high SSS through recent quarters is projected to continue, AAP should be assimilating its consolidating acquisition of Genuine Parts International, not to be confused with Genuine Parts Co. (NYSE:GPC):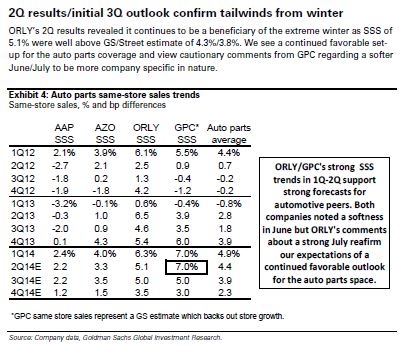 Things that can be favorable to AutoZone, despite lower rates of increased business at its locations, include its international expansion, brand strength that includes Duralast products, e.g. batteries, and concentrations in areas that can witness increasing sales during times of particularly cold weather. It is a stock that one can own for the long term, but failing brakes, batteries, and iced-over wiper blades might not result in as high of demand.
In terms of retiring its shares, it is most aggressive. Authorizations have consistently been issued worth $750 million, most recently in June. Here is a chart: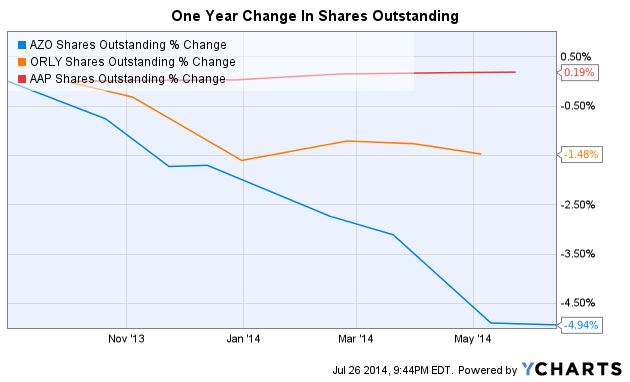 There may be a day many years from now when the shares of AutoZone that are available are severely limited. Even one share of a profitable, multinational company should then be worth quite a bit! Of course, it would be advantageous to buy that share at the lowest price obtainable. Given O'Reilly's results, it is probably going to be difficult to do better than $510, just below the current price and 9% beneath the 52 week high, anytime soon.
Different investing vehicles react differently in conjunction with economic activities. Records show that even funds that afford terrific diversification moved down during the recession. If an anticyclical stock makes sense, there might not be a better one than AutoZone, and an investor's pro rata stake in the company should only continue to increase at the fastest rate. It is not the only choice in the industry though, and O'Reilly's stores' above average SSS render it worthy of consideration.
Disclosure: The author is long AZO. The author wrote this article themselves, and it expresses their own opinions. The author is not receiving compensation for it (other than from Seeking Alpha). The author has no business relationship with any company whose stock is mentioned in this article.
Additional disclosure: A long position may be initiated in ORLY over the next 72 hours.