In the book, Predicting Market Success, the author, Robert Passikoff, explains that customer loyalty is an essential element of brand value and the most "loyal customers purchase products and services again and again over time and increase the volume of their purchases. Loyal customers will buy beyond traditional purchases, across available product lines… and become immune to the pull of the competition and pricing strategies…"
Over the century brands have become less about trust and more about certainty, instead becoming advertising catchphrases designed to appeal to customers. Conversely, brands can be a wonderfully powerful tool to provide companies with a competitive advantage that is hard to beat - as long as that advantage is intended to and sustained over time.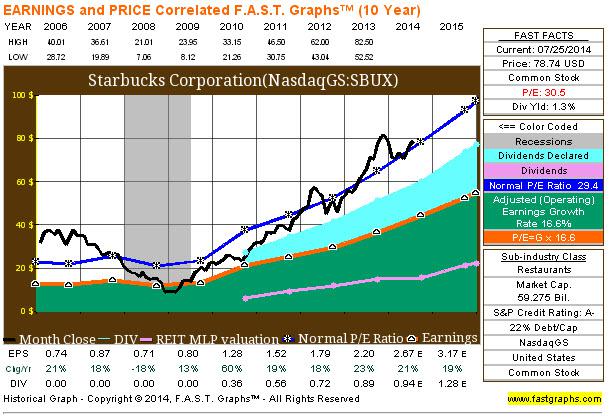 For example, Starbucks (NASDAQ:SBUX) is a 42 year-old business where loyal customers not only wait in line; they often make a visit to their favorite location a mandatory part of the daily routine. If they're traveling, they often seek out the closest Starbucks location in a cult-like ritual where the brands trademark is only recognizable by a text-less logo of the mythological Norse Queen.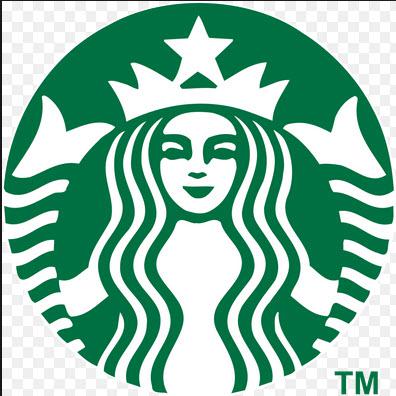 Being a low-cost producer is usually a characteristic of an "economic moat"; however, Starbucks is not. Clearly the global consumer products company has built its "wide moat" around brand culture in which consumers are highly engaged in a ritualistic fashion - strong leverage points for Starbucks brand identity. As Laurence Vincent, author of Legendary Brands, explains:
Starbucks appears to mean more to its customers than a good cup of coffee, and its relative youth does not seem to affect its stature.
Just before the Great Recession got underway, Starbucks hit hard times as the company's brand promise started to erode. Instead of focusing on loyalty, the Seattle-based coffee king was pursuing Wall Street demands. As Howard Schultz explained in his New York Times best seller, Onward:
We were so intent upon building more stores fast to meet each quarter's projected sales growth that, too often, we picked bad locations or didn't adequately train newly-hired baristas. Sometimes we transferred a good store manager to oversee a new store, but filled the old post by promoting a barista before he or she was properly trained… as the years passed, enthusiasm morphed into a sense of entitlement, at least from my perspective.
The poor performance at Starbucks was best described by the founder and CEO:
We thought in terms of millions of customers and thousands of stores instead of one customer, one partner, and one cup of coffee at a time.
As most know, Schultz came out of retirement in 2008 and transformed the struggling brand into a dominating powerhouse. Here's how he described the transformation (in his book, Onward):
Just as no single product, person, or initiative is determining Starbucks' future, no one thing is responsible for having transformed the company to be in a position to grow as never before. Since my return as CEO, many sustaining initiatives have taken root and blossomed, each helping us to meet the goals…
Schultz went on to explain:
People will always be our most important assets.
Red Lobster Will Soon Be On Its Own
According to Wikipedia Red Lobster was founded in March 1968 by entrepreneurs Bill Darden and Charley Woodsby. Two years later the partners sold the chain to General Mills and backed by corporate capital the chain expanded rapidly. In 1995, Red Lobster (along with Olive Garden and other sister chains), became part of Darden Restaurants, Inc. (NYSE:DRI).
During that time, General Mills decided to spin-off the business into a publicly-traded vehicle. On December 19, 2013, Darden announced its plans to sell (or spin-off) the Red Lobster brand, citing pressure from stock investors. Darden announced on May 16, 2014 that it will sell Red Lobster to Golden Gate Capital for $2.1 billion.
Back in February (2014) I wrote an article on Darden and my research and analysis was based more on Darden's real estate value than its brand value. Within the conglomeration of unique restaurant brands, Darden had created a portfolio of loyal customers, each restaurant brand offering a differentiated brand identity. Collectively, Darden's investment model had performed well as I explained:
Throughout the last two decades Darden has been a leader in building powerful and repeatable sources of differentiation. Up until recently, the Orlando-based chain has been highly successful at creating sharp differentiation within its business lines and lasting profitability.
However, in 2009 Darden's brand value (a wide moat) started to shrink, mostly due to dilution from customer brand loyalty. As evidenced by the snapshot (FASTGraph) below one can see how Darden began to fade: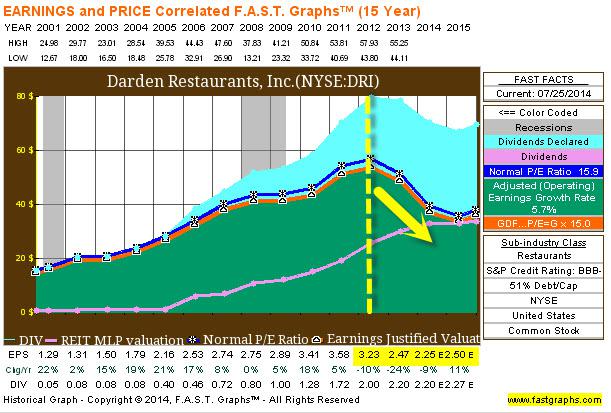 In my article back in February I concluded that the best solution for Darden was to separate the struggling Red Lobster business into a stand-alone entity, one focused on increasing brand loyalty. Like many conglomerates, companies lose focus and efficiencies are less meaningful when the brands serve no integrated purpose. Since Red Lobster owns considerable real estate, my proposed solution was for Darden to sell the "weak link" and reinvest in the other brands. I explained:
The only REIT that could possibly take down Red Lobster's real estate (by itself) is American Realty Capital Properties (ARCP). Now that the Cole Real Estate (NYSE:COLE) merger has closed, ARCP has the size to swallow up the big "Lobster;" however, ARCP would be going against its policy of acquiring investment-grade leased properties and further exposing itself to more restaurant concentration risk.
Darden management must have been reading (my article) because ARCP announced (in May) that it had entered into an approximate $1.5 billion sale-leaseback transaction for over 500 Red Lobster restaurant properties. This transaction will be consummated in conjunction with Golden Gate Capital's acquisition of Red Lobster from Darden Restaurants. Nicholas S. Schorsch, chief executive officer and executive chairman of ARCP, explained:
This transaction further demonstrates our team's ability to execute on our investment strategy. As corporate America continues to sell its owned real estate, our team has shown its strength in seizing these opportunities, evidenced by this deal, and due largely to our inherent advantage as the largest net lease REIT.
It's important to recognize that ARCP is essentially providing sale/leaseback capital for Golden Gate to purchase Red Lobster from Darden. The New York-based REIT will have no operational input with the sole purpose being to collect rent and distribute monthly dividends to investors.
Golden Gate will form a new operating entity and the deal will close as soon as ARCP provides the necessary sale/leaseback funding ($1.5 billion) and Golden Gate covers the equity needed ($600 million). When that happens, Red Lobster will be on its own and Golden Gate will have to forge a new direction that will hopefully revitalize the struggling seafood chain.
Can Red Lobster Claw Back Its Customers?
It's clear that there are lessons learned from the Starbucks transformation and hopefully Golden Gate and Red Lobster can learn from the coffee king. Starbucks was fortunate that the leadership was able to resurrect the brand value of the company before it was too late. However, Red Lobster has some unique risks that include declining EBITDA:

Click to enlarge
…declining margin compression:

Click to enlarge
…declining traffic sales. This is perhaps the most important metric as it illustrates one of the biggest shortcomings. Darden has already invested considerable equity into remodeling Red Lobster (face-lift) and the image revitalization had little impact on increasing store traffic. In short, there is no evidence that the Red Lobster brand can sustain in terms of customer loyalty.

Click to enlarge
…and declining same-restaurant sales:

Click to enlarge
Starboard Value LP (based in New York City) has sued Darden over its $2.1 billion agreement to sell Red Lobster alleging that the deal is a "fire-sale" and in a detailed presentation Starboard argues that "the board (Darden's) has violated a clear shareholder directive and disenfranchised shareholders". It said the board has essentially "given away" Red Lobster. In a presentation, Starboard said that in a recent poll conducted by sell-side research firm Hedgeye Risk Management, 84% of respondents said that they did not believe that (Darden) management's plan to spin-off Red Lobster would create value: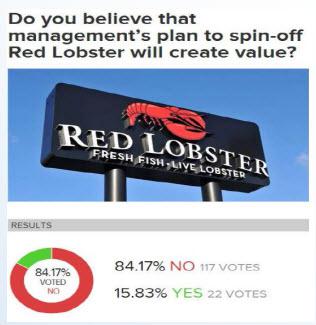 Currently Red Lobster houses its corporate operations in a $150 million campus built in Orlando (in 2009). Once Golden Gate completes the purchase of Red Lobster, the new management team will be relocated to a new facility. It's unclear as to whether Golden Gate will retain its management team or replace the employees. There will be considerable costs in unwinding the company (telephone, business cards, internet, etc..) and Red Lobster will no longer have the operational efficiencies or economies of scale of being part of a conglomerate.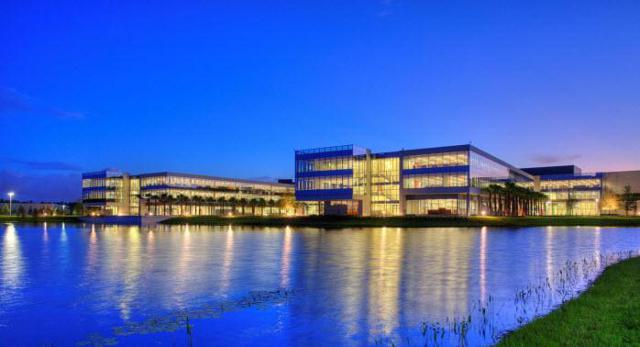 Click to enlarge
Starboard Value believes that "Darden doesn't understand how management can credibly argue Red Lobster's customer base is so different from Olive Garden's". The activist insists that Red Lobster does not need to be its own company, "while Olive Garden is close enough to specialty restaurant group (or SRG) that it should not be spun off". Starboard explains:
Creating a new public company with well-performing brands (such as SRG) that don't require substantial operational changes and that would be highly attractive to investors makes more sense than creating a public company with a single brand in turmoil.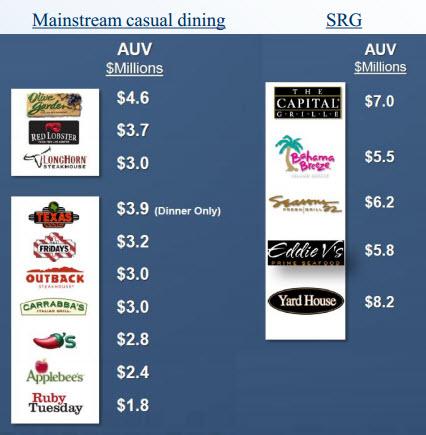 In Robert Passikoff's book, Predicting Market Success, he explains:
Charles Darwin never goes out of fashion, if only by analogy, for brands and their survival in the economic jungle. In business, just as in biology, competition requires specialization, so when moving forward, survival if the fittest might easily be defined as those brands that evolve by identifying the values that will imbue them with enough meaning to engage the customers, and then meeting or exceeding customer expectations in their categories.
Passikoff went on to say:
But smart brands do more than survive. They grow through innovation, expansion, diversification, or specialization. This growth is rooted in an understanding of what drives loyalty: customer and category values, customer's expectations, and what customers are willing to believe the brand can actually deliver. Think of it as economic Darwinism.
The Risk of Renting to the Lobster
So now let's discuss the economics of being a landlord for Red Lobster. I'm not smart enough to tell you if the seafood chain will survive another 3-5 or 15 years; however, I can predict whether or not my principal will be around. As Howard Schultz explained (above) "no single product, person, or initiative is determining Starbucks' future, no one thing is responsible for having transformed the company".
That being said, there are considerable risks in the turnaround of Red Lobster and while my primary motivation for owning the shares (in ARCP) is yield, I cannot rely on one REIT to meet my investment objectives.
I'm long ARCP and I have accumulated a sizeable position over the last few months (in other words, my concentration in ARCP is around 5% of my total REIT exposure) and while I believe the dividend is safe today, I must acknowledge the fact this REIT will soon have over 10% of exposure in a non investment-grade company (with high leverage, especially if you consider the off-balance sheet leverage associated with this sale/leaseback transaction).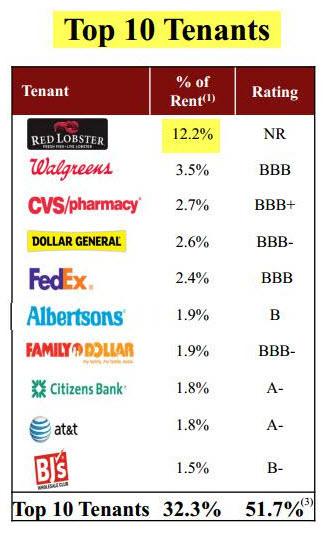 Red Lobster has an uphill battle and the key to predicting the success of the fading brand is to determine how the company can claw back loyal customers. Brands can be a wonderfully powerful tool to provide companies with a competitive advantage that is hard to beat - as long as that advantage is intended to and sustained over time.
So while I cannot predict the outcome for Red Lobster's future brand value, I can offer this "trace of wisdom" for both Golden Gate and ARCP as this could with the secret ingredient, as explained by Chris Zook and James Allen (in Repeatability: Build Enduring Businesses for a World of Constant Change):
Differentiation is the essence of strategy, the prime source of competitive advantage. You earn money not just by performing a valuable task but by being different from your competitors in a manner that lets you serve your core customers better and more profitably.
Consider the risks; diversify and invest wisely. ARCP reports earnings on July 29th (Tuesday).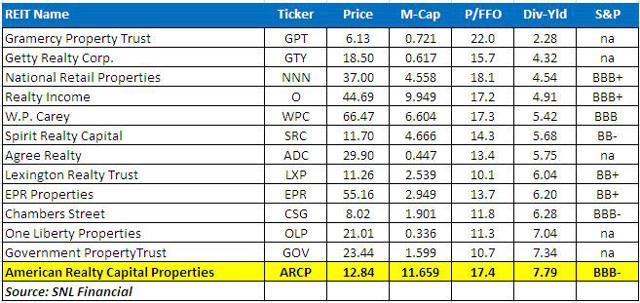 Click to enlarge
Brad Thomas is the Editor of The Intelligent REIT Investor (aka iREIT Investor). To subscribe to Brad's newsletter, click HERE.
Sources: SNL Financial, FAST Graphs, and Darden website.
REITs mentioned: (NYSE:GPT), (NYSE:GTY), (NYSE:NNN), (NYSE:O), (NYSE:WPC), (NYSE:ADC), (NYSE:LXP), (NYSE:SRC), (NYSE:CSG), (NYSE:EPR), (NYSE:OLP), and (NYSE:GOV).
Disclaimer: This article is intended to provide information to interested parties. As I have no knowledge of individual investor circumstances, goals, and/or portfolio concentration or diversification, readers are expected to complete their own due diligence before purchasing any stocks mentioned or recommended.
Disclosure: The author is long O, DLR, VTR, HTA, STAG, UMH, CSG, GPT, ARCP, ROIC, HCN, OHI, LXP, KIM, WPC, DOC, UDF, EXR. The author wrote this article themselves, and it expresses their own opinions. The author is not receiving compensation for it (other than from Seeking Alpha). The author has no business relationship with any company whose stock is mentioned in this article.