InvenSense (NYSE:INVN) will report its 1Q15 earnings after the closing bell, at approximately 4:05pm on Tuesday, July 29th. The conference call is scheduled for 4:30pm that day, and will be webcast via the company's investor relations web page. Consensus is for earnings of 8 cents per share, as per light guidance given by management in the prior quarterly report. InvenSense has missed EPS estimates the last two quarters, but I expect a beat this time around. Nonetheless, readers who follow my comments on the company already know that I am quite skeptical about further appreciation for INVN shares following earnings. This article will summarize my reasoning and provide evidence for it.
Recent History & Market Dynamics
I first wrote about InvenSense over a year ago, when shares were at $10.71. Since then, I've correctly predicted:
The company's transition to an SoC (System on Chip) designer.
That many analyst claims of an imminent Apple (NASDAQ:AAPL) design win were incorrect.
Both (Oct. & May) major downturns in the stock price (1st paragraph) as well as the bottom of the most recent one (comment dated May 19).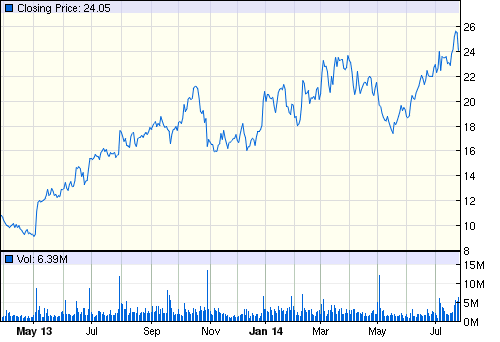 Of course, the last two points are related as errant analyst predictions resulted in over-buying. Last quarter's disappointment also apparently caused an over-crowded short trade. Short selling is the ultimate timing game; the last in profit the most while those who are too early are often pressured into losses despite being correct in their long term thesis. As documented in the comments I reference above, the rebate rate rose quickly to 7% three months ago and peaked above 10% in mid-May. From there the stock price has risen steadily in tandem with a gradual retreat in the rebate rate as shorts realized their situation and covered ahead of earnings. The rebate rate declined below 7% again just last week and INVN briefly peaked at an all time high of $26.78 before dropping sharply again. Such behavior is clearly unsustainable.
In this case, the cycled squeezing of short sellers has been aided by recent reports of Samsung & LG design wins. Though initial production volumes may provide a small, near-term boost to earnings, I do not see these particular smart-watches as big consumer hits, since they don't fulfill the interface innovations that I've predicted as the killer app for wearables. Increased (but unconvincing) bullish coverage and continued predictions that an Apple deal really will be announced this time have also aided the squeeze.
Looking Forward
So is it finally time? I've said myself that InvenSense will get their long-awaited Apple design win this year, but Apple's suppliers typically don't get to make announcements before products are introduced. Consequently, I very much doubt that we'll get an outright confirmation by name in the upcoming report. That said, it is possible that management will have some sales and/or be able to update guidance, but there are arguments against even these possibilities.
Ming-Chi Kuo is probably the best Apple prognosticator out there, and he has recently predicted problems in bringing both Apple's wearable and larger iPhone products to market. In particular, difficulties on the hardware side may be related to new SiP (system-in-package) processes for the iWatch. This sounds very much like the SoCs that InvenSense makes, and could dovetail with my observation that its recent acquisitions probably signal trouble evolving that product line organically. Regardless of whether or not I am correct in linking these two observations, it's clear that any delay in Apple products is likely to also delay InvenSense recognition of sales for those products.
What won't be delayed is the financial impact of the acquisitions; management promised to detail them along with earnings. I've already laid out what to look for in the report and why I'm fairly certain it will be a near-term negative. Furthermore, management has already guided for revenue to be back-loaded this year. Investors should remember that InvenSense's fiscal year runs through March of 2015, which would be consistent with the delays mentioned in the previous paragraph. Even if those delays don't manage to push sales and guidance out a quarter, Apple hardly has a record of paying lavishly for hardware. Given that, and the decreased product volumes would the numbers really be able to sustain a higher price for INVN shares?
Valuation
When I first predicted InvenSense's transition to chip designer, I warned that it would be a long road with increased operational risk. After the settlement of IP litigation with ST Micro (NYSE:STM), I set an informal long-term price target of $24 and noted the potential for InvenSense to be acquired by a very large mobile chip firm like Intel (NASDAQ:INTC) or QualComm (NASDAQ:QCOM). Developments since then have not been positive and the current stock price would act as a deterrent to any acquirer, as I'm about to show.
So what is INVN worth right at this moment? My favorite valuation method for these situations is to use a hybrid for forward and trailing PE based on the nearest four quarters (in this case two behind and two ahead). Using consensus estimates, it looks like this:
| | | | | | | |
| --- | --- | --- | --- | --- | --- | --- |
| (3Q14 | + 4Q14 | + 1Q15 | + 2Q15) | = 1yr Revenue | x PE ratio | = Earnings Share Price |
| $0.15 | $0.07 | $0.08 | $0.19 | $0.49 | 30 | $14.70 |
I then add in net assets per share, excluding intangibles. The balance sheet has taken a good bit of damage over the last year, and as I've said, we'll have to see how much worse it gets with this quarter's acquisitions. As of last quarter, it looked like this (all values in thousands, except Assets Per Share):
| | | | | |
| --- | --- | --- | --- | --- |
| Total Assets | - Total Liabilities | = Net Assets | / Shares Outstanding | = Assets per Share |
| $408,423 | $180,907 | $227516 | 88,332 | $2.58 |
Add them together and you get a current fair value of $17.28 per share. I've already said I expect a beat of the lowered guidance this quarter, so if management can also raise forward guidance, that fair value obviously goes up. However, it should also be noted that these calculations are rather kind. The hybrid PE ratio of 30 already reflects great growth prospects, including an eventual Apple deal. Furthermore, long term investments can go bad, and things like property & equipment can go for pennies on the dollar if there is trouble. For now, I'll take management's word that the inventory they've been building is still salable and properly accounted for. The point of these statements is that my calculations should hardly be considered a worst case scenario. Rather they're meant to give an example that can be applied after Tuesday's report, and to show how much shares can easily fall if management merely fails to start showing some return on investment soon.
Conclusion
The recent appreciation in INVN shares is due to an unsustainable combination of short covering and expectations which may not be fulfilled. Given the lofty valuation, any gains from an earnings beat this week are likely to be short-lived, whereas the downside could be substantial. At the same time, recent market dynamics are an excellent example of the reasons behind the maxim to never short on valuation alone. This is doubly true for InvenSense, given its excellent longer term growth prospects. For this earnings report, investors would do well to pay more attention to the effects of the recent acquisitions than the headline numbers. I intend to publish an update on both after earnings are released. Until then, invest carefully!
Disclosure: The author has no positions in any stocks mentioned, but may initiate a long position in INVN over the next 72 hours. The author wrote this article themselves, and it expresses their own opinions. The author is not receiving compensation for it (other than from Seeking Alpha). The author has no business relationship with any company whose stock is mentioned in this article.