As Molycorp Inc. (MCP) prepares to report Q2 earnings, I thought it would be a good time to prepare investors for a potential goodwill impairment charge. Molycorp's $1.2 billion acquisition of Neo Material Technologies in 2012 created over $1 billion in intangible assets; approximately $526 million was allocated to goodwill and $482 million allocated to intangibles. The following chart shows the company's $325 million of intangibles and $229 million of goodwill at March 31, 2014.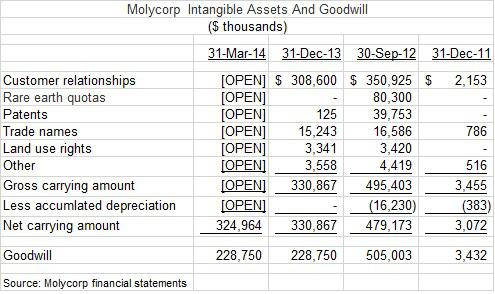 The $229 million in goodwill has been allocated across three segments - Chemical and Oxides ($125 million), Magnetic Materials and Alloys ($102 million) and Rare Metals ($1 million). It is not clear how much of the $325 intangible assets is allocated amongst the various operating segments.
Historical Operating Results
Below are the historical operating results for Molycorp. The company has not turned a profit since 2011. For 2013 and its most recent quarter, Molycorp's cost of sales exceeded revenue, implying its cost to produce rare earths exceeded its selling price. Needless to say, the company has generated consistent operating losses prior to incurring interest expense on its $1.4 billion in debt. Consistent operating losses, and two capital raises over the past 18 months imply that the business may be impaired.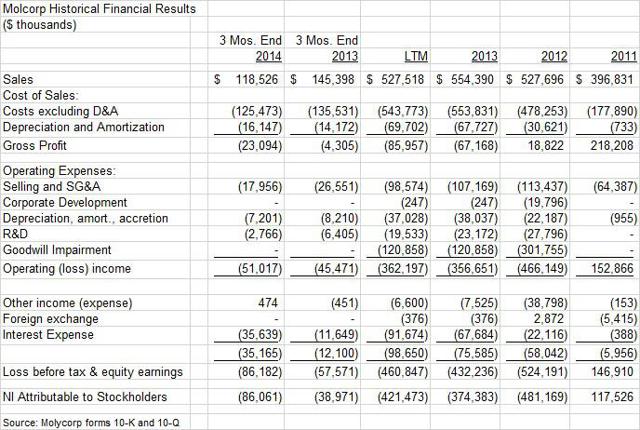 Segment Data
On a segment basis, Magnetic Materials & Alloys is the only segment that was profitable for Q1 2014. The argument could be made that any goodwill or intangibles allocated to the other operating segments has been impaired; we know that at least $126 million of goodwill has been allocated to the Chemicals & Oxides and Rare Metals segments. If one where to allocate the interest expense ($36 million) or long-term debt to each of the operating segments, it would lower the value of the Magnetic Materials & Alloys segment.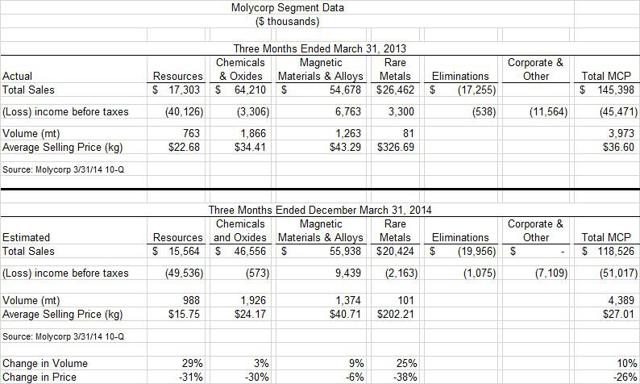 Outside of consistent operating losses, other signs that Molycorp's operations are impaired are [i] reports that Leon Black's hedge fund Apollo Global (NYSE:APO) is contemplating a backdoor takeover of Molycorp via a distressed debt restructuring, [ii] a cash burn rate that could leave Molycorp with cash on hand of less than $100 million by the end of the year, and [iii] debt downgrades by Moody's and Standard & Poor's. That said, there are three reasons the company should take a $126 million goodwill write-off now.
It Puts The Issue In Previous Management's Bailiwick
Geoff Bedford was named President and CEO of Molycorp in October 2013, taking over for interim President and CEO, Constantine Karayannopoulos. If Molycorp does not take the goodwill write-off in Q2, the goodwill issue and future write-offs become Bedford's problem. If Molycorp takes the loss now, Bedford could put the write-off in the bailiwick of previous regimes, particularly that of former CEO Mark Smith who [i] orchestrated the acquisition of Neo, and [ii] abruptly resigned in December 2012 when the company's cash burn problems began to materialize.
Accounting Rules May Require It
Determining whether Molycorp's goodwill has been impaired involves three steps:
Determine the operating segment's "recoverable amount" or the higher of its ((i)) net selling price (sale price minus the cost to sell) and ((ii)) the present value of its future cash flows.
If the "recoverable amount" is greater than the operating segment's current carrying value, then there is no goodwill impairment.
Otherwise, the recoverable amount is allocated to the unit's assets (including intangibles) and liabilities. If the estimated goodwill from this calculation is less than the carrying amount of goodwill, then the difference is "impaired goodwill" and must be charged to expense.
Molycorp Management And Its Auditors' Credibility Could Be At Stake
On the January 24, 2013 article, Are Molycorp's $1 Billion Intangibles Impaired?, I questioned the recoverable amount of the goodwill allocated to Molycorp Canada (formerly Neo Materials):
The Neo acquisition was made when rare-earth prices were more buoyant than they are today, it created a higher expense burden at Molycorp, and it created nearly $1 billion in intangible assets, including over $500 million in goodwill. That said, given that the company's operating losses may not abate any time soon, a portion of those intangible assets may be impaired.
On February 28, 2013 Molycorp announced a delaying in filing its 10-k to determine the amount of its goodwill impairment charge:
The Company noted that the filing delay is necessary for it to determine the amount of a non-cash goodwill impairment charge, which it estimates will be substantial, to be recorded for the fourth quarter and reflected on its full year 2012 financial statements.
The company later recorded a goodwill impairment charge of $264 million. Given Molycorp's need to find a solution to its cash burn, the last thing the company or its auditors need is [i] another delay in filing its financial statements or [ii] to have potential investors or lenders question whether the financial statements have been prepared correctly.
Conclusion
Molycorp has experienced consistent operating losses over the past few years. Previous operating losses led the company to record a goodwill impairment charge in the past. I think there is a potential for the company to record a goodwill impairment charge on its Q2 financials statements. That said, I would advise potential investors to avoid the stock until after Q2 earnings have been announced.
Disclosure: The author is short MCP. The author wrote this article themselves, and it expresses their own opinions. The author is not receiving compensation for it (other than from Seeking Alpha). The author has no business relationship with any company whose stock is mentioned in this article.