Anybody who has ever owned a home or commercial building knows about deferred maintenance. It's all the things that need to be done to keep a property 'up to snuff' - and many owners hate to do it.
Homeowners are constantly looking for ways to save money - especially in today's economy when housing prices have plummeted. But because the market value of a building is lower now than five years ago doesn't mean maintenance deserves a vacation.
In the pursuit of value oriented home maintenance products, property owners are turning to one company that consistently offers lower prices than its competitors. And no – this company is not Wal-Mart (NYSE: WMT). It's a tiny company that homeowners and small-cap investors alike should know.
Lumber Liquidators Holdings (NYSE: LL) is a specialty retailer of hardwood flooring. Now you might be thinking this company has no chance against giant home-improvement stores like Lowe's (NYSE: LOW) and Home Depot (NYSE: HD). But you'd be surprised - because this pure play lumber store has a singular focus that's driving growth.
The table below shows how Lumber Liquidator's second quarter net sales and earnings growth far outpaced that of Lowe's and Home Depot.
| | | |
| --- | --- | --- |
| Q2 Growth For: | Net Sales | Basic EPS |
| Lumber Liquidators | 17.9% | 26.9% |
| Lowes | 3.7% | 13.7% |
| Home Depot | 1.8% | 9.1% |
With a market-cap of only $660 million, Lumber Liquidator's last quarter was much better than Lowe's and Home Depot - companies that have market-caps of $30 billion and $52 billion, respectively.
Who would have thought that this small-cap company could outperform those two behemoths?
The company's recipe for success revolves around its spectacular business model. It is vertically integrated, allowing it to offer high-quality hardwood flooring products at a lower cost than its competitors.
Focusing on this one industry has also allowed the company to specialize and beat its competitors consistently. And as a result Lumber Liquidators is well known for offering great value, excellent service, and a broad selection of products.
Lumber Liquidators operates in a highly fragmented market, giving it a large and growing market opportunity. The chart below, which was taken from the Keybanc Capital Markets Consumer Conference, shows the division of market share in the hardwood flooring market as of March of this year.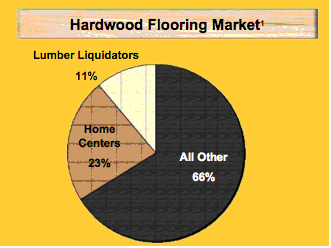 Lumber Liquidators believes the number of retailers serving the homeowner-based segment of the wood flooring market will continue to decline as the market consolidates. This gives the company the opportunity to increase market share by expanding its own store base.
Lumber Liquidators currently owns 11 percent of the total market share and is looking to expand by adding additional stores across the country. At the end of the second quarter of 2010, the company had 203 stores, up from 168 just a year earlier.
Not only has the company rapidly increased its store count, but it has successfully done so while maintaining high profit margins. In the second quarter of both 2009 and 2010 profit margins were 35 percent. The company has proven that it can maintain this high profit margin while adding additional stores, a trend that should help the company stay profitable as it continues expanding in the U.S. and into international markets in coming years.
Expansion should be easy to fund if the company continues to generate strong cash flows from operating activities. In the second quarter of 2010, the company's net cash from operating activities increased 18.4 percent. This type of cash flow helps explain the company's excellent liquidity position. Lumber Liquidators currently has around $42 million in cash, with no debt.
Despite the positive momentum, Lumber Liquidators' stock is still struggling. The chart below shows the stock's strong performance in the beginning of this year and the possible negative effect of the expiration of the homebuyer tax credit in April.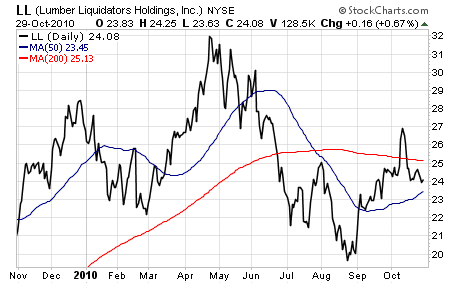 The good news is that I believe the market has already factored in the weakness in the housing market. This high-growth stock has plenty of room to run. And because the housing market cannot get much worse, I think there is little risk on the downside.
Longbow Research started coverage on the stock last month, initiating with a buy rating. Analysts have a consensus target price of $27.71, implying 15 percent upside potential.
The company plans to release third quarter results on November 9th. I'll be listening and suggest you do as well.