You've probably heard the quote from the great entrepreneur Henry Ford who once commented, "People can have the model-T in any color, so long as it's black".
The man's unique ability to combine innovation with simplicity is symbolic of the great entrepreneurial spirit that helped America become the world's leading superpower. Unfortunately, in modern America, the U.S. automobile industry has faltered and once great companies like Ford (NYSE:F) and General Motors have fallen from grace.

Ford also once said, "Nothing is particularly hard if you divide it into small jobs." That's the mentality that is needed right now for U.S. auto companies and parts suppliers if they are going to succeed in the 21st century.
One auto company that appears to be tackling the 'small jobs' that will ultimately lead to success is American Axle & Manufacturing (NYSE: AXL). This was nearly a $40 stock in early 2004, but has since fallen by more than 75 percent. I'm not calling for the stock to hit $40 again anytime soon, but there's a good chance that investors can profit from the company's efforts to grow into a leading global auto-parts supplier.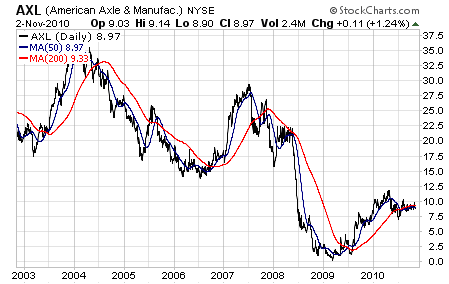 It's been quite a turnaround for American Axle, one of the largest auto suppliers in the world. The company reported a healthy earnings surprise on Oct. 29th, delivering earnings of $38.8 million, or 52 cents a share. Analysts were looking for just 39 cents a share. Sales of $618.2 million also beat expectations.
Still, the company's full-year outlook that calls for revenue in the $2.2 billion to $2.3 billion range was disappointing to the Street, and the stock has meandered lower. Shares are up about 12 percent year-to-date, and about 50 percent in the past 12 months.
Some, like Jim Cramer of Mad Money's 'Lighting Round' are bearish on American Axle, but I'm not so sure this company is stuck in the mud.
Just like Ford, American Axle avoided going through restructuring under bankruptcy protection and appears to have emerged from the industry's carnage in relatively good shape. Many of the company's competitors haven't fared as well and needed Chapter 11 to shed debt and unwanted manufacturing capacity.
The Tier 1 supplier had a few tough years, there's no doubt about that. It finished in the red in 2006, 2008 and 2009, including an ugly $1.2 billion loss for 2008, when sales fell 44 percent from the year before. The United Auto Workers struck for 87 days back then in what was the eighth-longest strike that the union has ever staged.
The company's 2009 loss was trimmed to $253.1 million, even as two of its primary customers, General Motors and Chrysler fell into bankruptcy reorganization. Given that American Axle makes virtually all the driveline components for GM's rear-wheel-drive and sport-utility vehicles the shakedown at these two companies had a dramatic impact.
In 2009 American Axle's business with GM accounted for 78 percent of the company's total net sales, with Chrysler contributing another 8 percent of sales.
American Axle is relatively new as an auto supplier. The company was founded up in 1994, but traces its roots back to the early days of the automotive industry. In the 1990s, facing an influx of foreign competition General Motors went through one of its many painful restructurings and spun off some parts manufacturing plants.
The five driveline and forging assets were bought by investors and became American Axle. The stock went public in 1999.
Those five operations have expanded to 32, with a worldwide presence serving 100 customers in Asia, Europe and the Americas, including the fast-growing markets of China and India. Customers now include Ford, John Deere (NYSE: DE) and Harley-Davidson (NYSE: HOG), along with India's Tata Motors (NYSE: TTM) and Japan's Hino, the latter a major maker of trucks and buses.
American Axle has evolved - it now develops everything from drive-train and chassis parts to electronics. It's becoming more nimble, and in addition to serving large vehicle markets it's tapping into demand for smaller vehicles. For instance it's making axles in Brazil for a Volkswagen all-terrain pickup headed for the global marketplace. And it's shifting away from its heavy dependence on GM and Chrysler for business.
Optimism seems to be perking up at American Axle. The company predicts that it will see 2009 sales of $1.5 billion double by 2013 as vehicle sales in the U.S. rebound to 13-14 million.
The U.S. auto industry, including suppliers such as American Axle, is bouncing back. It's becoming a leaner, meaner sector that's shuttered plants, fired workers and moved operations overseas.
With five consecutive profitable quarters under its belt, American Axle is now miles ahead of many of its competitors. The stock is trading below $10, but I believe has around 20 percent upside over the next 12-months.