Paramount's summer has been hotter than many (if not all) of its rivals and that's thanks in large part to the massive success of Transformers: Age of Extinction. Yet that was just the start of the season for the subsidiary of Viacom (NASDAQ: VIA) as the studio is looking to keep the momentum going for both its executives and stockholders.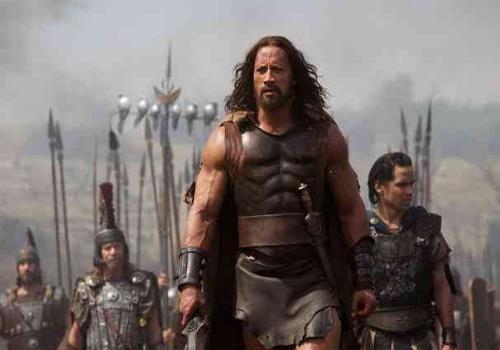 (Credit: Paramount)
Weekend performance:
Hercules
Finish: 2nd place / Est. budget: $100 million / 3-day estimated total: $29 million
Transformers: Age of Extinction
Finish: 7th place / Est. budget: $210 million / 3-day estimated total: $4.6 million/ Total estimated gross: $236 million
You have to give credit to Dwayne "The Rock" Johnson as over the last few years he's made a noticeable effort to alter his brand and go after new types of roles. Johnson also finally realized the only way he was going to succeed in Hollywood was if he embraced his wrestling ties and not try and distance himself from them. Those fans made him a name and they will continue to support him as long as he remembers where he came from. It's also those fans that show up for a movie like Hercules. This weekend the potential franchise-in-waiting action film took in $29 million, which while not ground-breaking, was very respectable given the movie had a few handicaps to overcome.
Investor's analysis:
For Paramount, the biggest problem was the complete and utter failure of the unrelated The Legend of Hercules from earlier in the year. Starring Twilight's Kellan Lutz, the Lionsgate (NYSE: LGF) distributed film was a colossal failure (and incidentally made for just $30 million less than Paramount's version). The heavy assumption was that audiences wouldn't be able to distinguish between the two and others worried that the Hercules story itself was done to death. To the studio's credit the film was able to navigate away from both pitfalls.
Due to a new approach on the tale that was conceived with the help of director Brett Ranter and a strong marketing campaign focused mainly on Johnson, the film held its own at the box office. However given its high budget, the jury is still out on its long term domestic profitability, but from an investor perspective there is no cause for concern.
Paramount, which effortlessly guided a brilliant global marketing campaign for Transformers earlier this year, understands the value of international ticket sales and folded that knowledge in Hercules' roll out. Johnson was named the most top-grossing actor of 2013 by Forbes and a large part of that came from his foreign appeal. Hercules hasn't begun the bulk of its overseas trek yet and that will give the pic a huge boost to its box office total and chances for a sequel.
You'll notice Paramount is also largely crafting its slate around sequels and potential sequels. Of the six movies released by the studio in 2014, four were sequels with one more on the way (Hot Tub Time Machine 2). Hercules and next week's Teenage Mutant Ninja Turtles reboot were also greenlit by this studio with the hope they could spawn sequels.
Remember from a stock perspective though, TV is what mainly carries Viacom. Its subsidiaries are largely cable channels like Nickelodeon, MTV and Comedy Central which tend to be more closely watched by analysts and investors. However for films like Ninja Turtles which have cross-company ties (the animated series airs on Nickelodeon), more eyes begin to focus on the film side.
In terms of long term views Paramount has two films left this summer including Turtles and horror film As Above, So Below before debuting one of the fall's most anticipated films in Christopher Nolan's Interstellar. After a horrible start to the year, Paramount's turned itself around quite nicely and you'd be wise to keep an eye on it the rest of the way.
All box office grosses/budgets come from The-Numbers.com, unless otherwise noted.
Disclosure: The author has no positions in any stocks mentioned, and no plans to initiate any positions within the next 72 hours. The author wrote this article themselves, and it expresses their own opinions. The author is not receiving compensation for it (other than from Seeking Alpha). The author has no business relationship with any company whose stock is mentioned in this article.