Whole Foods Market (NASDAQ:WFM) stock has been a disappointing performer for investors in 2014 as the stock is already down over 36%. Whole Foods' last two quarterly reports have contributed largely to this downfall as the stock was punished every time the company released disappointing results. Whole Foods' is all set to release its Q3 earnings this week and a lot of factors indicate that the company will miss the analysts' estimates again. So, should investors short Whole Foods Market before the earnings? Let's find out.
Modest expectations
The analysts are expecting modest 3rd quarter results from Whole Foods. The company has already cut down its guidance for the quarter on account of increasing competition and reducing margins. EPS is expected to be $0.39, just $0.1 more than last year's earnings. While on the revenue front, the Street is expecting $3.39 billion, marking 11.1% increase year-over-year.
These expectations are devised keeping in mind the dull growth of Whole Foods Market. However, I expect Whole Foods to satisfy revenue estimates due to its aggressive expansion into various markets in America. Whole Foods Market is continuously increasing its number of stores and is on track to achieve its goal of 36-39 stores. It also wants to connect with its customers by incorporating technology and providing services such as click and collect, direct delivery, and payment using mobile app. But on the earnings front, Whole Foods is expected to lag as higher expenses and lower cash generation won't yield profits.
The opportunity
Organic food industry is currently a subject of great interest for food retailers. The demand for organic foods in U.S. is increasing day by day as people are becoming aware of the possible health disadvantages of modified food through advertising and social media. A major population is resorting to healthier options of organic and natural foods. As reported by Organic Trade Association, 81% of American families prefer to shop organic products.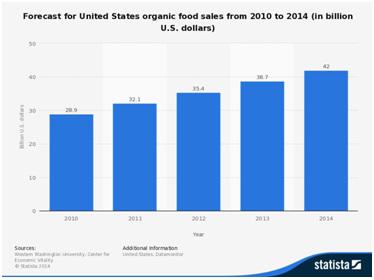 Source: statista.com
Organic food sales have shown a constant growth as depicted in the picture and there are no signs of this trend slowing down. It is expected that by 2017, organic foods will constitute 40% share of the total food sales in U.S. Food companies are particularly attentive towards it and want to seek benefits from this booming market. Rising health consciousness among people in the U.S. and also higher incomes are key drivers of this health-food industry.
The rising competition
The vast potential of the organic food market has given rise to intense competition. And it looks like Whole Foods will have a tough timing dealing with the pressure from the rivals. Due to the intense competition, Whole Foods' initiative of expanding its store count may backfire. Whole Foods Market has already invested a lot into opening new stores, and it expects to own around 400 stores by the end of this year. Meanwhile, rivals including Kroger (NYSE:KR), Safeway (NYSE:SWY), Target (NYSE:TGT), The Fresh Market (NASDAQ:TFM), Wal-Mart (NYSE:WMT) have also entered into the organic food market to benefit from this booming industry.
Wal-Mart and Kroger have managed to outpace Whole Foods' with their moves that are being greatly appreciated and liked by people. All the companies are competing in terms of prices. Currently, Kroger is providing cheaper products to consumers as compared to Whole Foods Market and Wal-Mart. Kroger offers exclusive brands at comparably reduced prices. Its Simple Truth brand, which it claims to be free from 101 artificial ingredients and preservatives, is expected to bring larger revenues.
Wal-Mart also didn't fail to prove its significance. It recently headed into organics by partnering with Wild Oats. Wal-Mart expects to launch 100 Wild Oats products in its 2,000 stores in the coming months while adding the brand to all of its stores later. The company would sell organic products at 25% cheaper rates than other organic brands' rates.
With the rising competition, Whole Foods is forced to cut its prices further down. This is negatively affecting its cash generation ability. Reducing prices of products is the only way to gain more customers in this competitive environment as people avoid inflated commodities. Thus, Whole Foods Market has decreased its prices from 3.3% to 1.7% in the last quarter. The pricing competition from its peers and increased expenses has taken a toll on Whole Foods' earnings, and I expect this trend to continue.
Another negative
Whole Foods' was recently fined $800,000 for overcharging and this should further deteriorate the company's earnings. As reported by Reuters:
"Whole Foods Markets has agreed to pay $800,000 after an investigation found that the supermarket chain overcharged customers in California, officials in the state said on Tuesday.
State and local inspectors found during a year-long investigation that Whole Foods charged more than the advertised price on many items, according to a statement from Los Angeles City Attorney Mike Feuer.
Problems included failing to subtract at checkout the weight of salad bar containers, giving less weight than shown on labels for packaged items sold by the pound and selling items such as kebabs and deli foods by the piece rather than by the pound as required by law."
The company claimed that its pricing was correct 98% of the time and that it will "continue to refine and implement additional processes to minimize such errors going forward." However, this fine will eat up into the company's profit and is another bad news for investors.
Conclusion
Whole Foods' stock dropped the last two times when the company missed out on the consensus estimates and a lot of factors suggest the same may happen again. The continued investments in opening new stores, reducing prices (on key products) and increasing competition will hurt Whole Foods' in the months to come. Thus, I think investors should short Whole Foods Market before the earnings report.
Disclosure: The author has no positions in any stocks mentioned, and no plans to initiate any positions within the next 72 hours. The author wrote this article themselves, and it expresses their own opinions. The author is not receiving compensation for it (other than from Seeking Alpha). The author has no business relationship with any company whose stock is mentioned in this article.