Earnings
Lately, Amazon's (NASDAQ:AMZN) earnings have been lackluster. Does this mean the company is headed for disaster? Let's take a look at the basic earnings trend for the past 5 years to see what they have been. I will look at two other major online competitors Apple (NASDAQ:AAPL) and eBay (NASDAQ:EBAY). (Please note that Apple's earnings are displayed on the right scale and Amazon's and eBay's are displayed on the left side due to the sheer size of Apple's earnings.) Based on EPS alone, you would assume Amazon's stock price will crash, eBay's stock price will slowly but steadily rise, and Apple's stock price will take off.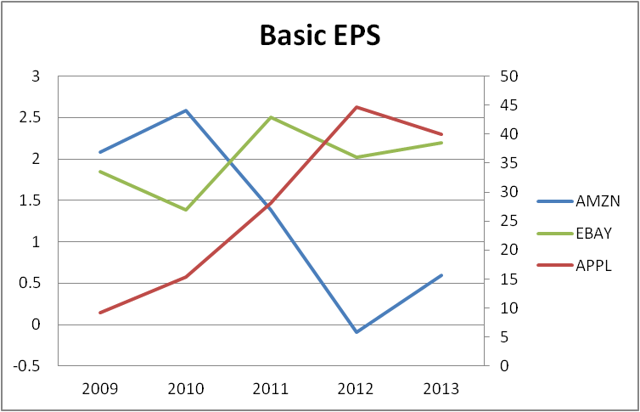 (Source: Self-Made)
A popular earnings metric is ROIC (return on invested capital). I calculated ROIC by using net income provided from the 10Ks (linked beow) and divided it by the value of equity (net worth) plus long term debt or long term liabilities. Based on this metric, Amazon seems to be struggling generating profits with its invested capital, while Apple's and eBay's ROIC appear relatively stable.

(Source: Self-Made)
Free Cash Flow
While earnings are one piece of the puzzle, they are not the holy grail. In fact, a drop in earnings one quarter should not make you overreact about a fall in stock prices. This is where I believe the concept of free cash flow will be very useful to you.
For Amazon, free cash flow is the key metric that is used for their long term financial focus. Amazon's cash flow numbers will be different from mine since I use the entire CFO and CFI values. I prefer to take into account all investing activities not just capital expenditures. I believe this allows me to see how much cash is remaining after operating the business.
Below is a table showing free cash flow for the past five years. At first glance it may appear volatile, but Amazon's FCF is relatively stable compared to its counterparts. Also, Amazon's cash flow has been consistently positive, signaling that the company is able to manage its operations effectively.

(Source: Self-Made)
While Amazon's ROIC probably made you scared to put your hard-earned money into its business, CROIC (cash return on invested capital) will change your mind. I calculated CROIC by using the same FCF divided the same invested capital. According to Aram Durphy of Liberty Hill Investing LLC., CROIC is a great measure because only productive cash is being used and is very useful for finding companies with competitive advantages.
Below is a table of the three companies' CROIC. eBay and Apple originally appeared to be good investments because of their earnings and ROIC but now don't appear as healthy from this standpoint. They are not receiving great returns on cash based on the capital invested. This is a very stark contrast to Amazon.

(Source: Self-Made)
Final Thoughts
Although there have been some concerns of a decline in earnings, earnings are just one number. It is not the end all be all number. Had you only paid attention to the earnings and earnings based metrics such as ROIC, you would have been completely misled about Amazon's performance. Remember, "Cash is king," and it is the driver for earnings. Earnings are very easy to manipulate while cash is really difficult to manipulate.
Disclosure: The author has no positions in any stocks mentioned, and no plans to initiate any positions within the next 72 hours. The author wrote this article themselves, and it expresses their own opinions. The author is not receiving compensation for it (other than from Seeking Alpha). The author has no business relationship with any company whose stock is mentioned in this article.