The U.S. oil and gas industry has enjoyed spectacular growth in the last decade and, in doing so, has largely outstripped the growth of the peripheral infrastructure required to facilitate its long-term sustainability. With production unable to continue growing exponentially, there has been a refocusing of attention away from extraction towards the transportation, storage and conversion of oil, gas and its derivatives. Phillips 66 (NYSE:PSX) has recognized this and moved to invest heavily in the kind of infrastructure projects which will see them benefit hugely from the next stage in the U.S. oil and gas boom.
Hailed as an energy revolution generating enough oil and gas to last 100 years, the increased exploration of shale oil and gas throughout the 2000s provided the U.S. economy with the timely shot in the arm it so badly needed when the rest of the world's economies were plunging back into recession. However, by a combination of overestimated reserves and 3-year 'drill-or-kill' leases, the subsequent production drive produced a supply glut which sent prices crashing from nearly $11 per million cubic feet to a low of about $2 by 2012, thereby forcing many latecomers, including big names such as Shell (OTCPK:RYDAF) and BHP Billiton (NYSE:BHP) to sell up - incurring huge losses on the fields they acquired at peak prices that had become economically unsustainable when the price of gas collapsed. In contrast, smaller firms which were able to get there earlier, and secure the best drilling sites, have been able to continue drilling sustainably through this gas price slump with the appropriate use of hedging against price drops.
With production levels at 6 of the 30 biggest sites disproportionately responsible for 88% of production, unable to keep pace with their previously exponential rates of production growth, it is believed that overall production levels will start to flatten and then drop by 2020. Although investment interest in drilling companies' junk bond issuance is as fervent as ever, partly due to increased investor appetite for risk fueled by a historic period of low interest rates, examples of the hugely negative impact of write-downs on shale gas fields highlight the danger of investing in this high-yield risky debt and the upstream companies that issue them.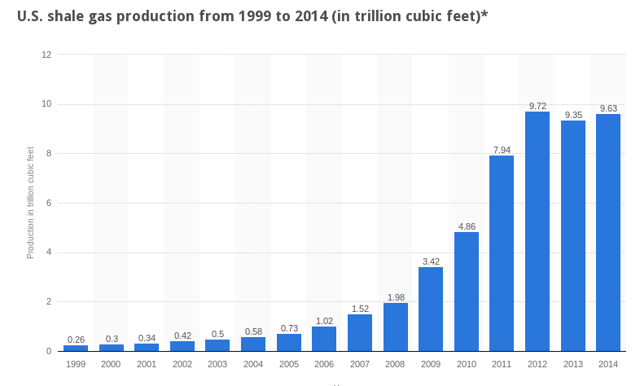 Although the long-term viability of some of these fields, at the current gas price, is clearly questionable, the assumption that the industry is a bubble in which production will shortly cease entirely is overstating the problem. The industry has clearly suffered from an excess of supply which has forced the price of gas down and, when combined with the low extraction rates (as low as 7% in contrast to conventional natural gas of 75%) and high depletion rates experienced in shale gas, mining companies have to drill ever greater numbers of wells. This has also been exacerbated by the 'drill-or-kill' leases which give companies 3 years to start extracting the gas before their leases become void. According to one expert, "As a result, the average Capex (capital expenditure) spending of the 35 companies analyzed to serve as a guide to the industry has amounted to a staggering $50 per barrel of oil equivalent over the last five years, at a time when their revenue per BOE has averaged $51.5." Due to "The very nature of shale wells, which exhibit high decline rates, [which] results in the need to constantly allocate capital towards exploration drilling in order to maintain and grow production volumes [to compensate for the decline in existing wells],". Combined with future drilling exhibiting diminishing returns, this all points to an eventuality in which an equilibrium will be reached where factors conspire to raise the gas price to a point where some of these projects will remain economically viable.
Predicting which wells will be sustainable through this period is difficult for the mining companies as shale's heterogeneity means that across the same shale formation well productivity can vary significantly. This forces a balancing act between the cost of drilling sufficient wells to determine the 'local variation in well productivity against the risk that after drilling enough wells, the formation under the company's lease still proves to be unprofitable' at which point it is written off. For investors it is even harder to gain a deep understanding or appreciation for which companies, drilling in which areas, are going to benefit in the long-term.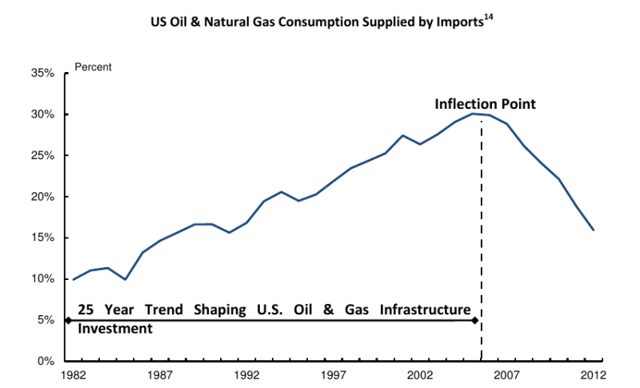 Attempting to foresee the winners and losers in this battle belies the fact that the lagging investment in midstream operations has produced an excellent opportunity to invest in the next stage of the North American shale gas boom. Even with companies compensating for low gas prices by moving towards the extraction of shale oil and natural gas liquids, the problem of insufficient pipeline capacity, overburdened refineries and storage plants and a lack of shipping and rail capacity remains. Therefore companies able to take advantage of this profitable area of the market are going to see continued growth through the next decade almost regardless of the fate of the individual drilling companies whilst facilitating the move towards exporting excess supply and evening out US gas prices with exposure to global demand.
Additionally these companies have benefited hugely from the low price of U.S. natural gas and the price spread between U.S. crude and global crude oil to take advantage of cheaper raw materials for the petroleum and chemical products they export. It should be noted that in the long term these businesses will become less profitable as their raw material goods rise to the level experienced by their European counterparts.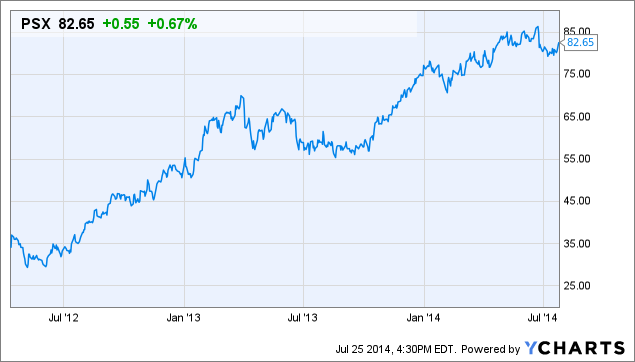 PSX data by YCharts
Phillips 66, a spin-off company from ConocoPhillips (NYSE:COP), is a large midstream company more heavily invested in chemicals (an area that benefits from low natural gas prices) and midstream operations than its downstream and upstream counterparts. As such it is excellently placed to take advantage of the opportunities presented over the coming years and has already pivoted towards the storage, transportation and conversion of shale oil and gas. In total its midstream functions are expected to account for roughly two-thirds of the company's enterprise value and, when combined with solid fundamentals, valuation and good management, Phillips 66 makes a good stock to buy to take advantage of the continued growth of the US oil and gas industry.
The move towards acquiring storage capacity and transportation infrastructure means that the company is less exposed to the volatile refining business, instead turning towards highly in-demand and highly profitable fee-based midstream assets. This is accented by plans to direct 70% of its 2014 capital budget towards those business lines offering stronger and more predictable rates of returns. As well as the 2.4% dividend, this non-exhaustive list of actions Phillips 66 is taking towards repositioning itself in the American energy industry as a midstream leader will bolster its already strong position within the market and will help it take advantage of the numerous opportunities presented over the next decade.
Disclosure: The author is long PSX. The author wrote this article themselves, and it expresses their own opinions. The author is not receiving compensation for it. The author has no business relationship with any company whose stock is mentioned in this article.