It's true, my kids are loving the summer life and that means no report cards. That's right, no need to worry about the dreaded C or a comment from the teacher saying, "Nicholas is having a hard time focusing on geometry". Although I can't blame my son for not focusing on geometry - do we really need to know about the Pythagoras' Theorem?
So while my kids enjoy soaking up the summer sun and not worrying about report cards, I'm busy soaking up the mid-term REIT report cards. As a shareholder in a number of REITs, I'm anxious to know what's happening in the shares I hold and more importantly, how they are performing.
Much like my children's report card cards, the quarterly earnings results are powerful indicators of the company's progress towards its projected yearly profit targets. Although I understand the importance of report cards, I'm not interested in reviewing the quarterly results of all of the kids on the planet. I'm only focused on mine.
Similarly, investors shouldn't be expected to understand the impact of hundreds of public company report cards. Analyst that follow public companies do so for a living and typically only follow only a handful of them, whereas investors are regularly scouting hundreds of possible ideas and usually have a portfolio with just a few dozen companies in the portfolio.
I always recommend reading over the earnings reports for all of the stocks that you own. Sometimes it can be exasperating but there could always be a clue that could lead to a buy or sell opportunity. Ben Graham believed that investors should view themselves as the owners of a business, with the goal of buying a sound and expanding business at a rational process. Accordingly, as a business owner, it's important to stay closely tuned into the holdings in your portfolio.
Graham believed that as long as the earnings power of the holdings remained satisfactory, the investors should stick with the stock and ignore market movements. He summed up his "intelligent investing" principle as follows:
You are neither right nor wrong because the crowd disagrees with you," he said. "You are right because your data and reasoning are right. In the world of securities, courage becomes the supreme virtue after adequate knowledge and a tested judgment are at hand.
Part 3 of my Earnings Forecast
This is my third and last in a series of REIT earnings forecasts (Here is the FIRST and SECOND version). I currently own 19 REIT securities and in this third edition, I will provide the final forecast that includes 5 of the REITs that I own.
United Development Funding (NASDAQ:UDF): On June 4th UDF listed its common shares on Nasdaq with a tender offer to purchase up to $35 million in value of shares for a purchase price of $21.50 per share. Since that time the share price has declined by around 11.9%.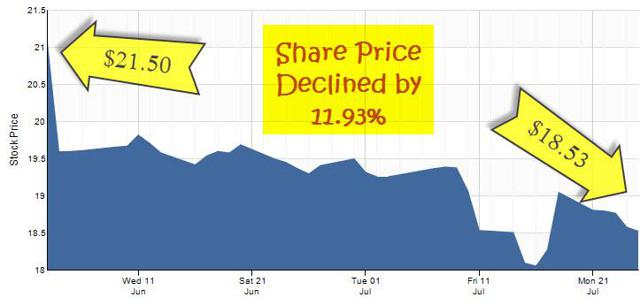 As most of you know, I'm not a typical mREIT investor however I decided to "dip my toe" in at $19.53 and then again at $18.65. I have carefully researched the business model of UDF (invests in home building paper and sub-division development lending) and I'm most attracted to the high dividend yield. When UMH listed the dividend yield was 8.38% and today it's 8.85%.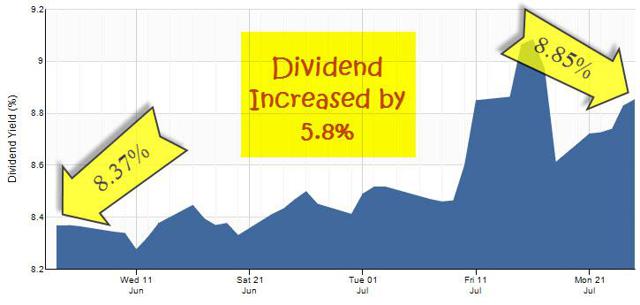 The Grapevine-based REIT will report second-quarter earnings on August 12th and I will be looking for an update on the loan portfolio (120 loans as of Q1-14) as well as updated loan metrics (average loan to value was around 85% in Q1). As of the latest reporting period UDF had no loan defaults. Most (99%) of the company's loans are in Texas: Dallas/Fort Worth (67%), Austin (13%), San Antonio (9%), and Houston (9%). The remaining exposure (1%) is in Florida. I will also be looking to see how UDF expands its loan portfolio in other key markets.
Also UDF has created most of its value with equity, consequently the company's balance sheet has modest debt (under 6% total debt to total market cap). I will be looking to see how UDF leverages its balances sheet to increase its Funds from Operations. The company has historically paid base distributions monthly to yield an annual distribution of $1.64 per share. In 2014 the company paid out $1.64 per share (through June) and the company plans to payout $1.75 per share in 2015. Read my latest article on UDF HERE.
Physicians Realty (NYSE:DOC): DOC went public just over a year ago, on July 18, 2013. I waited almost a year to invest in the Milwaukee-based REIT. DOC is a small-cap REIT ($485 million market capitalization) and the company invests in a variety of healthcare related assets (primarily medical office buildings). The management team has extensive experience in healthcare and I expect the 40 property portfolio to grow significantly over time.
DOC is trading at $14.15 with a Price to Funds from Operations ( or P/FFO) multiple of 17.7x. My decision to invest in DOC was partially driven by the fact that I was ready to sell-out of Medical Properties Trust (NYSE:MPW). I was not happy with the short-term performance of MPW and I was getting more concerned with the increasing competition in the hospital space. I'm glad that I traded out of MPW for DOC as my shares (in DOC) are up around 7% (and MPW shares are down 2.4%).
On the upcoming earnings call I'm looking for DOC to demonstrate more high-quality earnings growth (estimated to grow over 30% by 2015) and meet its guidance projection for 2014: AFFO in the $.88-.92/share range. DOC has an attractive dividend yield of 6.36% and with such rapid growth, I hope to see a dividend increase this year. Read my latest article on DOC HERE.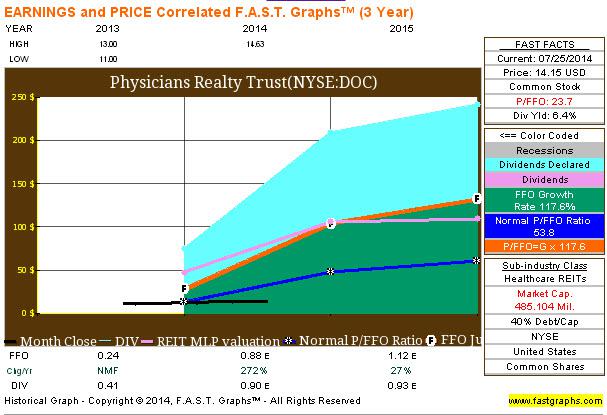 Lexington Realty Trust (NYSE:LXP): In a previous article I called LXP my "dark horse" pick for 2014. What I meant by that was that I was betting that LXP would "emerge from the crowded REIT playing field and succeed". It seemed that LXP had all of the credentials to outperform and I was bullish that this REIT would produce strong returns in 2014.
However, the mid-year results don't look as good as I had hoped. LXP has returned 13.7% since January 1st and the share price is up by 10.3%. That's not bad, but I was hoping to see better gains. LXP is still trading at the lower end of the peer group with a P/FFO multiple of 10.1x. Conversely, the dividend yield is 6.04%. I'm not sure what it will take for LXP to move the needle but in the second quarter I'm looking for strong operating performance and predictable cash flows.
Over the last 3 years Lexington has increased its annual dividend by an average of 12% and given the solid acquisition pipeline (many off-market) I am optimistic that LXP will deliver better share performance in the second half of the year. I'm not giving up - 14.3% isn't a bad return (since January 10th) - and I'll be happy to see LXP on target to meet guidance of $1.11 to $1.15 in 2014.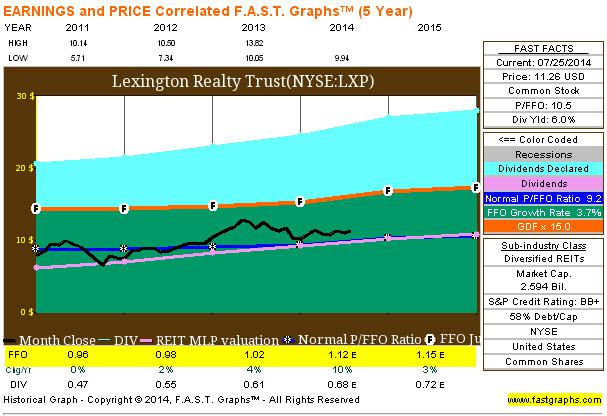 Gramercy Property Trust (NYSE:GPT): GPT was my best stock pick in 2014 with a total return of 95.6%.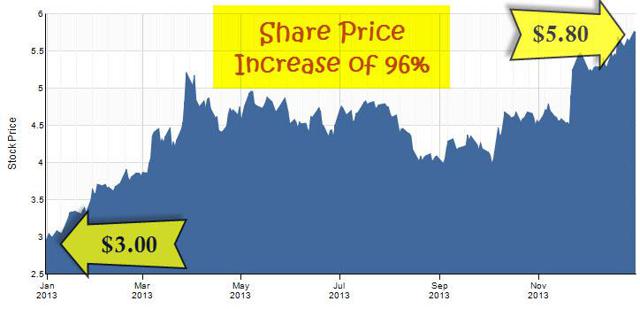 However, I have been disappointed with the results for far this year - shares up only 6.61% year-to-date: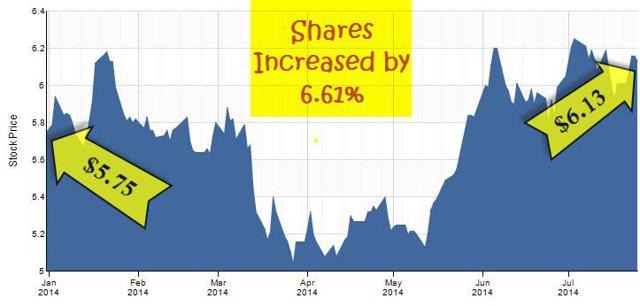 I know that 2013 was somewhat of an anomaly since GPT was essentially a REIT revived from the dead (formerly a mortgage REIT); however, the disappointment lingers as this small-cap ($721 million market cap) REIT has underperformed most of the peer group. The shares today are pricey at $6.13 and the P/FFO multiple is mildly expensive at 22x.
Although GPT is a Triple Net REIT it's not paying out the high dividends like the peers. GPT's dividend yield is 2.28% and while some may argue that it's weak, you must remember that GPT is like a sponge as the company is soaking up a few hundred million dollars in acquisitions that will serve as a catalyst to produce long-term dividends. In other words, GPT is still in a rebuilding stage and I must accept some short-term risk for long-term gains.
In Q2-14 I expect to see GPT demonstrate solid acquisitions as the company has targeted over $600 million in 2014. I'm expecting to see around $.07 AFFO per share in Q2 and a growing trend in hopes to see around $.33 AFFO per share for 2014. That will tell me if a dividend increase is coming!
Two other things to consider: GPT's management team has strong incentive to grow the stock price to at least $9 per share by June 30, 2016 and the REIT has picked up more analyst coverage. Maybe GPT won't be Babe Ruth (714 HR's) in 2014 but I'll settle for Sammy Sows (609 HR's).
Ventas, Inc. (NYSE:VTR): VTR has already provided investors with some favorable news in the second quarter: The recent announcement that the company is buying American Realty Healthcare Trust (NASDAQ:HCT) in a transaction valued at $2.6 billion (cash and stock). Under the terms of the deal shareholders in HCT have the option to receive 0.1688 Ventas shares, based on a negotiated price of $67.13, or $11.33 for each of their shares in HCT.
VTR (with 1,473 properties) is one of the largest Healthcare REITs and the Chicago-based company has continued to grow its portfolio by investing high-quality properties. I was fortunate to find a "margin of safety" in VTR in December (2013) and I added more shares in January (2014). The $18.9 billion (based on market cap) REIT is one of my larger REIT positions and I'm anxious to review the earnings results on August 11th.
VTR is an attractive REIT based upon the very sustainable earnings history and more recent dividend growth. Shares in VTR are up over 12% year-to-date and I was pleased to get my shares when the dividend yield was 5%+. The current dividend yield is 4.52%. VTR's Cash Funds from Operations (or FFO) increased by 7% in Q1-14 and I expect to see continued growth for Q2.
VTR has maintained a healthy dividend payout ratio (currently 67%) and during the first quarter the company paid shareholders a dividend of $0.72.5 per share, up over 8% from the dividend paid from the first quarter of 2013. VTR has prudently grown its annual dividend by 9% (on average) over a 14-year period and the alignment with management and investors is exceptionally strong. VTR is trading at $64.21 with a P/FFO multiple of 14.5x. Read my latest article on VTR HERE.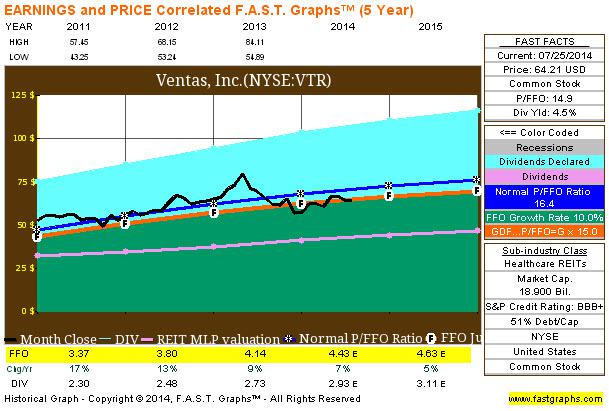 This concludes my mid-year REIT earnings forecast review. Remember to conduct your own due diligence and always select securities with a margin of safety - that remains that value investor's definitive precautionary measure. After all, it takes only a few large losses to decimate overall investment performance, even if many other investments prove successful. Ben Graham said it best:
You are neither right nor wrong because the crowd disagrees with you. You are right because the data and reasoning are right.
For more information on REIT investing, check out my monthly newsletter HERE.

Sources: SNL Financial and F.A.S.T. Graphs.
Disclaimer: This article is intended to provide information to interested parties. As I have no knowledge of individual investor circumstances, goals, and/or portfolio concentration or diversification, readers are expected to complete their own due diligence before purchasing any stocks mentioned or recommended.
Disclosure: The author is long O, DLR, VTR, HTA, STAG, UMH, CSG, GPT, ARCP, ROIC, HCN, OHI, LXP, KIM, WPC, DOC, UDF, EXR. The author wrote this article themselves, and it expresses their own opinions. The author is not receiving compensation for it (other than from Seeking Alpha). The author has no business relationship with any company whose stock is mentioned in this article.