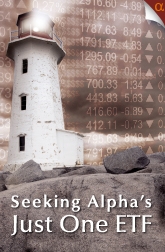 Several times a week, Seeking Alpha's Jason Aycock asks money managers about their single highest-conviction position - what they would own (or short) if they could choose just one stock or ETF.
---
Paul Michael Frank is the president of Aviemore Asset Management, LLC, and the portfolio manager of the ETF Market Opportunity Fund (ETFOX), which has earned five stars from Morningstar for three-year, five-year and overall performance. After completing his master's degree, he worked as an analyst and trader at Signalert, an RIA.
Which single asset class are you most bullish (or bearish) about in the coming year? What ETF position would you choose to best capture that?
I became bullish about the Metals and Mining sector early this year and began buying SPDR S&P Metals and Mining (NYSEARCA:XME) in February. Its weighting in my fund has fluctuated and presently stands at 8.5%. My work doesn't give me any reason to believe I won't still be bullish into 2011.
How does XME fit into your overall investment approach? Tell us a bit about your strategy and goals.
I manage the ETF Market Opportunity Fund (ETFOX), which is an open-ended no-load mutual fund that invests primarily in ETFs. I screen the entire universe of ETFs using a proprietary quantitative model which ranks the ETFs on a reward/risk basis. I then construct a portfolio of the top-ranked ETFs using Modern Portfolio Theory.
My goal is to make sure my fund's investors are compensated for the risk they are taking. Too many investors are given below-market returns while taking on above-market risk. My fund's beta through September 30, 2010, is 0.88 (Morningstar), and it is beating the S&P 500 by 3.24% per year since its inception in 2004.
And so XME has a higher-than-category beta of 1.66; it's the outsized alpha here that makes it a good fit for you?
The high beta of 1.66 does not hurt my portfolio (which has a beta of 0.88) because it isn't highly correlated to the S&P 500. It is a good fit because it is trending higher and allows me to add uncorrelated beta into the portfolio, which is adding to my alpha without adding to my total beta.
Tell us a little more about the asset class. What makes metals and mining your top pick?
My quantitative work has put the Metals & Mining ETF near the top of my rankings, and all of my fundamental research is in support. XME is a domestic fund which invests approximately 30% in Coal, 30% in Iron/Steel, 37% in Mining, and the remaining 3% in Fabricators.
A lot of my work is leaning towards sectors which own something of value, quite often in the ground. It is very hard to predict if the current top flash drive makers will be on the leading edge of technology 10 years from now, but I am quite certain we will need more copper than we are presently using. I know there has been talk of a double-dip, but none of my work is corroborating that.
I believe the two strongest themes behind this investment are the declining purchasing power of the U.S. dollar and the possibility of increased demand going forward. The R-squared value of XME is below 60, which means less than 60% of its daily price movement can be attributed to the move in the S&P 500. Low R-squared values help me during the Modern Portfolio Theory component of my portfolio construction and allow me build a "less risky" portfolio.
Are there alternative ETFs that could be used to capture the same theme?
Yes, I could build XME myself using ETFs such as Market Vectors - Coal ETF (NYSEARCA:KOL) and Market Vectors - Steel (NYSEARCA:SLX), but XME's expense ratio of 0.35 makes that a bad decision (KOL: 0.59; SLX: 0.56].
Aside from the tax benefits of not investing directly in a "collectible," but rather in the producers, there's some synergy here as well, right? If investors think gold is bubbly, there's exposure to more "useful" silver - and a lot of silver worldwide comes out of the refining process for copper and other metals, for example.
Yes, gold is great as a U.S. dollar hedge, but the other metals also have industrial usage as demand pressure on their price.
Does your view differ from the consensus sentiment in this area?
I don't listen to too much outside analysis. I value James Grant's [Grant's Interest Rate Observer] ideas greatly, and I believe he is also bullish on this sector. I look at fund flows in ETFs and I don't believe the "herd" has flocked into this sector yet.
What catalysts, near-term or long-term, could move the sector significantly?
A move back into recession or any deflation will hurt this ETF, and I'm watching closely for both. I spoke with Jonathan Liss of Seeking Alpha at the end of last year and I stated that we would not see deflation. It is the main worry of the Fed, and if you review any of Ben Bernanke's early writings, you know that he will do anything to defeat deflationary pressures.
The second round of quantitative easing is already priced into this sector, and may actually cause a short-term dip via "selling the news." However, the long-term damage being done to the U.S. dollar will help this sector. I believe that in the decades ahead, countries will fight wars over natural resources and I have no problem being an early investor in domestic metals and mining.
What could go wrong with your pick?
There is a litany of things that could go wrong, and that is why I would never advise to purchase just one ETF. It takes a lot of work to get a portfolio on or near the "efficient frontier" between risk and reward. Funds such as XME that pass both my quantitative and fundamental screening help me in my attempt to compensate investors for risk.
Thanks, Paul, for sharing your ideas with us.
Disclosure: Long XME
Read more Just One ETF interviews »
If you are a fund manager and interested in doing an interview with us on just one stock or ETF position you'd hold, please email us at Just One Stock.