Nike (NYSE:NKE) recently reported a 21% increase in soccer-related revenue which executives believe should continue into next year. This increase is undoubtedly attributed to the World Cup, where Nike pledged millions of dollar of ad money and sponsorship to at least 10 teams.
A department-specific revenue bump of that size is great, but it is important to note whether prominent advertisement and sponsorship during the World Cup materially affects the overall revenue of a company.
No immediate World Cup bump
Let's look at Nike's quarterly revenue from the last two World Cups, in 2006 and 2010. Quarterly revenue from the spring of 2006 was $4 billion. The summer quarter in 2006 earned $4.2 billion. That's a $200 million bump in quarterly revenue, which on first glance seems logically connected to the World Cup.
However, this type of bump appears to be typical for Nike during the summer. The summers of 2005 and 2007 show similar revenue bumps in comparison to their spring quarters. In fact, the summer of 2007 turned in $120 million more than the World Cup summer of 2006.
A similar case arises in the years surrounding the 2010 World Cup. Quarterly revenue was recorded as $5.08 billion at the end of spring in 2010. In comparison, the summer quarter of 2010 gained $5.2 billion in revenue. There's a $120 million revenue bump.
But once again, the summer after the World Cup posts the biggest jump in quarterly revenue. First, the spring of 2011 recorded $5.8 billion of revenue. Then, the summer of 2011 earned $6.1 billion, which shows a $300 million revenue bump.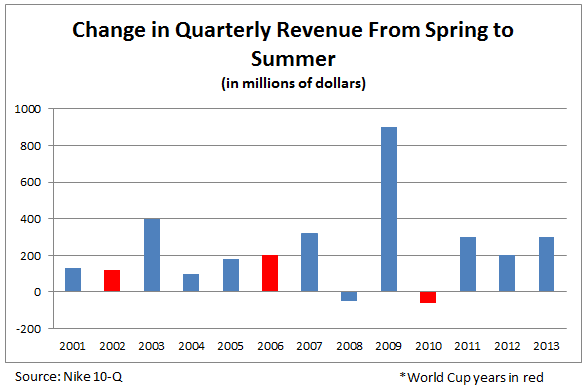 While soccer-specific sales may jump during a World Cup summer, it seems Nike's overall revenue receives a small immediate bump which is inconsequential in comparison to its traditional summer revenue peaks. Don't expect anything different this time around.
Sponsors want a return on their big bucks
Nike is shelling out upwards of $25 million in advertising during the World Cup, and FIFA's major partners, like Adidas (OTCQX:ADDYY) and Coca-Cola (NYSE:KO), are paying upwards of $50 million, according to Forbes.
With all this investment, companies must look to gain something in return. In terms of brand awareness, Adidas is by far the most talked about sponsor on Twitter with a peak of over 1250 tweets per minute, or 20 tweets per second. Coca-Cola comes in a distant second with a peak just under 250 tweets per minute.
However, these companies are looking for more than consumer perception -- they're looking for a bump in sales. Does all this spending eventually lead to an increase in sales? Nike is a good example of why the winner of the World Cup probably won't be determined until 2015.
Long-term benefits
Interestingly enough, a World Cup sales bump does not appear until the year after the World Cup. Nike saw at least a 14% increase in year over year revenue growth in the years directly following the last three World Cups. These increases outmatch all other year over year revenue increases in the past 13 years.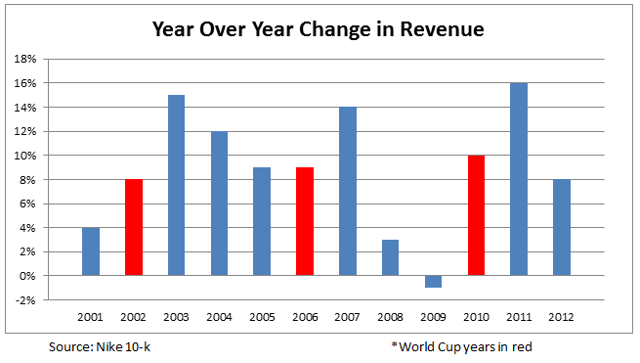 One explanation for the delayed revenue increase may come from companies gaining adopters during the World Cup, and then the adopters become regular customers in the following year.
Don't look for World Cup advertising and sponsorship to pay off until next year.
Future growth
The trend of revenue increases after the World Cup seems to hold true for the past three World Cups. I would expect the same to happen this time around.
Adidas initially made the best inroads at the World Cup this year, but the real winner won't be revealed until next year's likely sales jump. Nike has the consistent financial metrics to suggest superior long-term growth.
First, Nike's year over year revenue growth of 10.9% is outpacing the industry average of 8.4%, and Adidas falls well below. This high level of growth seems likely to continue given the Nike's aforementioned history and big investment in this year's World Cup.
Most importantly, Nike's EPS consistently increased since at least 2010, benefiting from the positive growth in revenue. The trend does not seem likely to stop now. Adidas, on the other hand, is just starting to show EPS growth after stagnating from 2011 to 2013.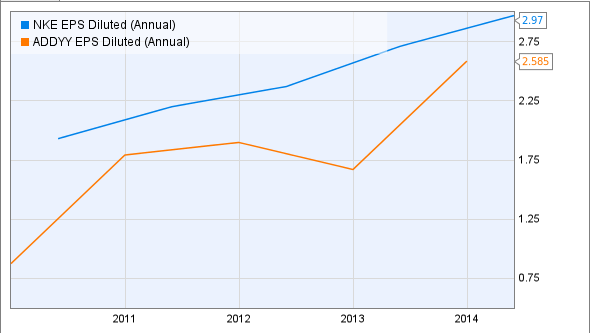 Conclusion
Nike and Adidas, among others, offered up millions of dollars in advertisements and sponsorship during this summer's World Cup. In return, these companies are undoubtedly looking for increases in sales. Do not be alarmed by only a small sales bump during this summer quarter. According to Nike's recent history, the real bump in sales will not show up until next year.
Disclosure: The author has no positions in any stocks mentioned, and no plans to initiate any positions within the next 72 hours. The author wrote this article themselves, and it expresses their own opinions. The author is not receiving compensation for it (other than from Seeking Alpha). The author has no business relationship with any company whose stock is mentioned in this article.
Editor's Note: This article discusses one or more securities that do not trade on a major U.S. exchange. Please be aware of the risks associated with these stocks.