Statista released a new chart detailing the top grossing iOS apps for July 2014. Zynga (NASDAQ:ZNGA) investors should take note that no Zynga-made game made it to the list of the top ten best grossing iOS apps. Supercell's Clash of Clans is still the top earning iOS game with $1.22 million in daily sales.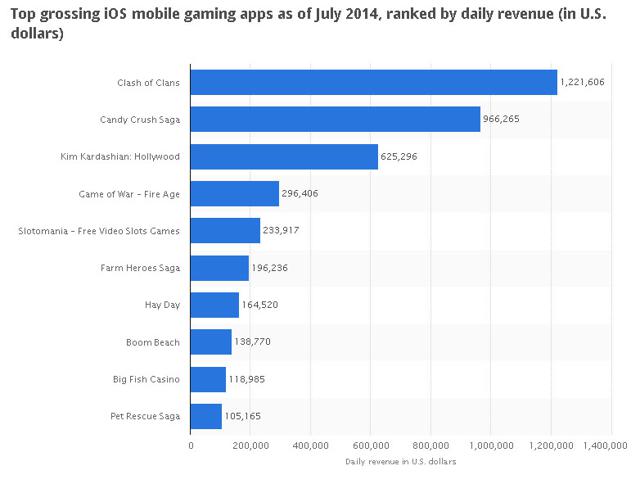 Source: Statista
King Digital's (BATS:KING) Candy Crush Saga is second with $966,265 in daily sales. King's Farm Hero Saga, a game very similar to Zynga's FarmVille, is the sixth top-earning iOS game with daily sales of $196,236.
Glu Mobile (NASDAQ:GLUU) also has a hit game among iPhone and iPad gamers. Glu's new Kim Kardashian: Hollywood is the third-best earning iOS game this month with daily sales of $625,296. GLUU has greatly outperformed ZNGA in the last three months. The Kim Kardashian game is definitely one of the reasons why another contributor is betting a 50% upside for GLUU this year.

Source: Google Finance
The iPad/iPhone Gold Mine
Zynga needs to come up with new games to attract Apple device users. King Digital and Glu Mobile are benefiting from the millions of iPhone and iPad gamers who make in-app purchases. Zynga has to go beyond its FarmVille-mentality to gain substantial following among iOS device owners.
It is very important for the future of Zynga to win the hearts of Apple's iLoyalists. Developers make four times more money from iOS games. The Apple device owner is more generous than Android device users.
Philip Elmer-DeWitt made an ARPU chart comparing Google Play and Apple iTunes customers. The more than $20 ARPU among iOS customers is a gold mine that Zynga has yet to tap effectively.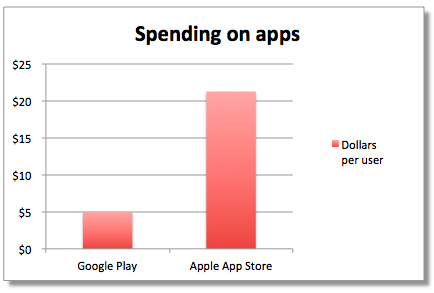 Source: Philip Elmer-DeWitt
Zynga can improve its mobile strategy by focusing first on the iOS platform. NaturalMotion can help Zynga produce imitations of the current top grossing iOS games. Cloning Clash of Clans and giving it a Mafia Wars theme should not be too hard for Zynga's game designers.
A Seeking Alpha user commented in my previous article that Zynga already has a Clash of Clan clone called Ninja Kingdom. However, Ninja Kingdom is still web-based and uses Adobe Flash - which Apple devices do not support.
Ninja Kingdom has less than 300,000 daily active users on Facebook. However, releasing a native version of Ninja Kingdom for iOS devices may help Zynga gain fans among iLoyalists.
I played Ninja Kingdom and I find it very similar to Clash of Clans. One hit game on the iPhone/iPad platform may reverse the declining sales that Zynga has been posting recently. YCharts illustrates how ZNGA's price dropped correspondingly with the decline in revenue over the last 4 to 5 quarters.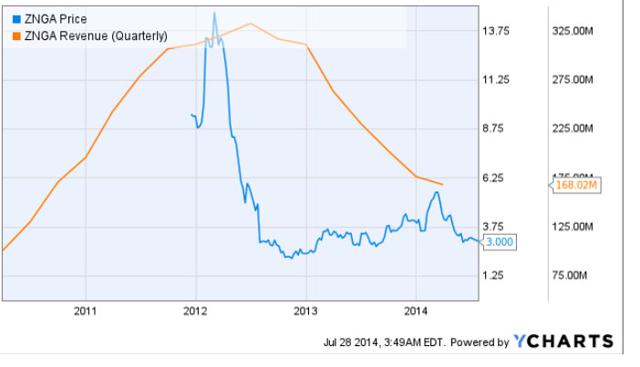 More Acquisitions Please
Zynga can clone any popular iOS games but it will be better if the company uses some of its cash hoard to acquire new companies. Zynga has more than $1.24 billion in current assets. It can fast track its shift from social/web-based gaming toward a mobile-first focus by assimilating successful firms like Glu Mobile.
It would have been great for investors if Zynga made a successful bid for GLUU earlier this year, before GLUU's price shot up significantly.
Softbank (OTCPK:SFTBY) paid $1.5 billion for 51% of Supercell, the developer of Clash of Clans. Glu's management and major shareholders are unlikely to sell for less than a $1 billion. The Kim Kardashian: Hollywood iOS game will probably deliver around $200 million in sales for Glu Mobile this year.
A good acquisition target for Zynga is Machine Zone, maker of the hit iOS game, Game of War - Fire Age. Game of War has been one of the top grossing iPhone/iPad games for almost a year now. As per Statista's chart above, Machine Zone is grossing more than $296,000 every day from the iOS version of Game of War - Fire Age.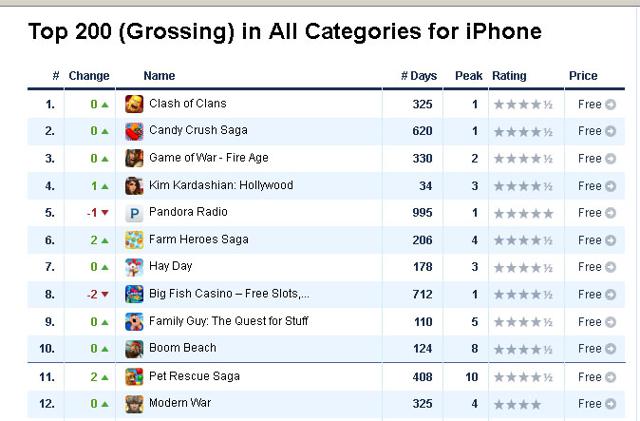 Source: appshopper.com
Conclusion
Zynga's growth potential lies best in making great iOS games. Imitating the successful iPhone/iPad games of Glu and Supercell can reverse the declining fortune of Zynga.
Based on my own experience, the Adobe Flash game Ninja Kingdom offers the same gameplay of Clash of Clans. Porting the said game to the iOS platform will be faster than building a new game entirely from scratch.
For the meantime, it will be best for Seeking Alpha users to avoid investing in ZNGA. Based on technical indicators, ZNGA has an overall average score of 80% Sell. The stock has more downside potential. The stock market is unlikely to allow ZNGA to go back above $5 again anytime soon. Zynga company has been unable to match the success of King Digital and Glu Mobile on the iOS platform.
On a brighter note, two BarChart analysts give ZNGA a Strong Buy rating and 14 analysts give it a Hold recommendation. Zynga has enough money to find or build a winning game for iPhone and iPad users.
Disclosure: The author has no positions in any stocks mentioned, and no plans to initiate any positions within the next 72 hours. The author wrote this article themselves, and it expresses their own opinions. The author is not receiving compensation for it (other than from Seeking Alpha). The author has no business relationship with any company whose stock is mentioned in this article.