The Intro
Considering the fact that I'm Belgian and that my profile here on Seeking Alpha clearly states that I'm sort of an 'ethical' investor, I believed it was time to write an article about a Belgian under-the radar stock that perfectly fits my profile. The company I'm going to present to you, is called Umicore (OTCPK:UMICF), a materials recycling company that has been granted the number one spot on the list of the most sustainable companies in the world by Corporate Knights last year. And I specifically want you to keep this in mind as I belief this is Umicore's unique selling proposition.
The stock
Umicore is a Belgian (surprise) medium sized company with a €4B market cap. The company is currently quoting against a share price of €35,52 and is quoting on Euronext Brussels under the ticker: UMI. Its daily volume is around 500,000 pieces.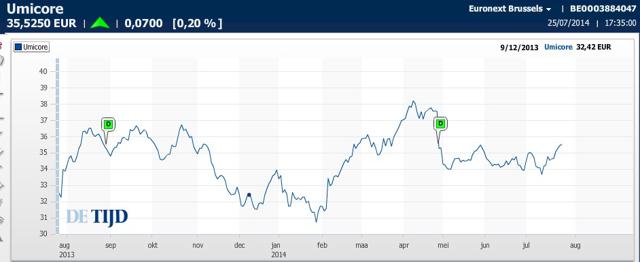 Displayed above, is a graph of Umicore's stock price on a year-over-year basis. As one can see, Umicore's share price recently dropped more than 8% after reporting -as generally interpreted- "disappointing" first quarter results (I and many others believed the drop offered a great entry point, but we'll get to that later).
The ratios
At its current share price Umicore is valued at a price/earnings ratio of 20.9, a price to book ratio of 2.3, a price/sales ratio of 0.4 and a price/free cash flow ratio of 8.8.
Umicore's P/E ratio and the P/B ratio might seem quite high, but are actually in line with its valuation history (see below).
Umicore's 5Y-historic average P/E ratio = 19.44
Umicore's 5Y-historic average P/B ratio = 2.3
Umicore's 5Y-historic average P/S ratio = 0.4
Umicore's 5Y-historic average P/FCF ratio = 8.7
So definitely don't stare yourself blind on these (in this case; meaningless) valuation multiples.
The company
Umicore (until 2001; Union Munière) is a Belgian multinational materials technology company headquartered in Brussels. And to be honest, the group was once "the shame of Belgium" as it was active in a very dirty (in the meaning of: very polluting) mining business in our ex-colony Congo. But once the mining-business was no longer attractive and profitable, Umicore realized that its business model was becoming outdated and that it needed a face-lift. With this in mind, Union Munière's marvelous managers decided to take a whole new route and transformed the dirty mining company successfully into a high-tech, innovative and way more responsible company.
A new company was born: Umicore. A Belgian based recycling firm with 4 main business areas: Catalysis, Energy Materials, Performance Materials and Recycling.
The main division
Umicore's most important division is its recycling division, as it is responsible for more than 20% of its total revenue and half of its net profit. Weak demand, low metal prices (especially gold) -which make it less attractive for customers to engage in recycling- and higher competition from cheaper competitors will consequently have a very high impact on Umicore's bottom line. That's why Umicore spends 4% of its total revenue on R&D while its main competitors only spend 2% on R&D. Umicore is forced to invest this much in R&D has it has to stay on top of its technological advantage.
Latest figures: the bad
For your information: Umicore's profit and revenue have been declining since 2011. But now in 2014 investors were finally hoping to see signs of improvement or at least a stabilization. Unfortunately, the slide in earnings continued during the first quarter of 2014 and management lowered its EBIT forecast for the year from €300M to €250M - €280M. A harsh disappointment for everyone involved. And the stock took an 11% hit at the time.
And as always during the past 3 years; it had been Umicore's Recycling division that was causing the troubles. Revenue in the division fell 16% and margins dropped significantly despite of metal-prices being quite stable (albeit still quoting 14% below their averages of 2013).
Recycled volumes also dropped significantly and this made everyone worrisome.
Latest figures: the good
While everyone was already starting to get concerned about the drop in recycled volume, management cleared a few things out. First of all: The drop in recycled volumes was a direct cause of the underestimated effects of the preparation works of Umicore's Hoboken facility (its brand-new recycling plant) which will be expanded by 40% by the end of 2014.
Secondly: once the works in the Hoboken facility will be completed, Umicore will possess one of the biggest, most advanced and efficient recycling plants of whole Europe. And finally: One must not forget that there are just so many long-term trends in favor of Umicore's core businesses that one should not judge Umicore on one quarter. Last time I checked, Warren Buffett did not become rich after one good quarter at Coca-Cola right? Patience is still a virtue. And in this case I belief we all should be patient.
Also, keep in mind that Umicore's free cash flow remained extremely strong and that debts got reduced even further. So the company is nowhere near financial troubles and will continue to be able to pay a royal dividend of €1 per share.
The 6,6% stake of GBL in Umicore
One of the largest Belgian listed companies on NYSE Euronext Brussels and also the second largest holding company in Europe, with adjusted net assets of €14.9 billion and a market capitalization of €10.8 billion, called GBL (Group Bank Lambert in full) has taken a serious long position in Umicore.
I normally don't think that investments from holding companies are a big deal, but I'm quite excited about GBL investing in Umicore. Albert Frère, one of Belgian richest people and multi billionaire, runs GBL. He is famous for the way he worked himself to the top and how he started from the bottom. He is a typical conservative type of investor and has done some amazing investments over the years.
The fact that particularly this guy has decided to invest over €2.4 billion in Umicore, not only boosts my confidence about the stock but reassures my earlier thoughts that in the long term, Umicore will do you just fine. And probably even better than fine.
The long-term trends
I belief Umicore's future is bright. It could play vital roles in many long-term trends that are on the very edge of serious expansion. I'm not saying we'll see quick and fast growth for Umicore, but there is a high chance that we'll see slow but steady growth over a very long period of time.
The trends I will be discussing are very subtle trends. Trends that take time before they'll show a true material impact on Umicore's bottom line. But still. If Umicore plays these trends the right way, the effects within a few years could be staggering.
First we have the fact that policy makers worldwide are becoming more and more concerned over air pollution. This should increase emission restrictions and could boost sales of Umicore's automotive catalysts products. That's the reason why Umicore recently decided to invest in a new €40 million catalyst facility in Poland. The European automotive market is growing again and Umicore is expecting a lot of demand after the recent introduction of new emission legislation in the European Union.
Secondly we should be aware that we are at the start of an exploding electric-car market. The International Energy Agency sees 20 million electric cars on the road by 2020. And I'm 100% sure that this growing trend will have an immense impact on Umicore's energy materials division that is specialized in storage of these clean energies used in cars. In fact, no less than Tesla's Model S ex-chief engineer Robert Feldmaier beliefs that EV demand will be largely driven by regulation. So regulations could massively speed up the otherwise quite slow transition. On current CAFÉ (corporate average fuel efficiency) standards the ex-chief engineer believes that 30% of vehicles will need some form of electrification. Currently only 3% of vehicles use some form of electrification, so there's plenty of room for growth.
But what's even more interesting is that UBS analyst Joe Dewhurst sees Umicore as a recommended partner for Tesla's (NASDAQ:TSLA) highly speculated Gigafactory. Umicore's stock could blow trough the roof if there would ever arise cooperation between the two. But hey, we are not here to speculate about such an event. So let's not really think about that. What I want you to remember is that Umicore is a world-class player that has so much of know-how that even Tesla would want to work with them. Source.
The next big thing that could help Umicore is the massive integration of solar panels. Solar panels are becoming cheaper and cheaper for private customers, with prices of PV modules declining every year. The European Photovoltaic industry Association predicts that the price of PV modules could decrease by over 50% by 2020 and that it has seen a doubling in the cumulative sold volume of PV modules every time prices dropped 20%. So the total demand of PV modules could rise more than 200% by 2020. Having an immediate positive impact on Umicore's energy materials division that produces photovoltaic cells.
And last but not least, let's not forget that the demand for precious metals will continue to grow at a high rate as smart-phones and other high-tech inventions will continue to see growing demands in all parts of the globe (especially the emerging markets). Umicore's recycling business is vital in providing precious metals used in these high-tech smartphones.
So to wrap it all up: What the precise impact of these developments will be is quite impossible to accurately predict, but I belief it is more than obvious that Umicore will not go out of business any time soon and will -despite some headwinds- most likely experience interesting growth in the near future.
The case for the ethical investor
All too often I come across interesting companies that might have a lot of potential, but are just too irresponsible towards their employees and the environment (paying employees $1 per hour, making them work in unsafe environments, polluting the environment, having bad waste management, and so on).
As an investor and as a person that highly values our economy but also the well being of our planet, I believe Umicore is a wonderful company. Not only is the company producing clean technologies for multiple industries, but it is also retrieving most of its revenue from its recycling operations. Unlike others, it doesn't extract metals from the earth to get its highly needed precious metals for its high-end applications; no, it recovers its metals from the discards of the industrial economy.
For example: Umicore is able to extract 12 kilograms of pure gold with a value of €370.000 from 12,000 recycled telephones instead of retrieving gold from polluting mines.
And I believe this is just marvelous. So if you are an ethical investor like me, Umicore is definitely a stock you might want consider owning.
The conclusion
I didn't wrote this article to convince you that Umicore's stock will triple within a few years, nor that you'll become rich by owning it. I wrote this article to inspire you. I want you to look more at ethical investments and other marvelous companies. Companies, who not only make a decent profit, but are also very aware of how they can contribute to make the world just a little better for all of us.
Umicore is a healthy, strong and unique business with extremely effective management. Its managers successfully transformed the company from a polluting miner to an innovative and environment-friendly group that gets international recognition for its sustainability efforts.
Now seems to be the perfect time to rediscover your morals for a slice of significant long-term success. As a citizen of this planet, I'm not just investing for the financial returns - I'm also looking to reward environmental and social progress made by others.
And don't they always say "make sure you invest in a way so that you can sleep on both ears at night?" Well, during the next big recession or economic crisis, I actually wouldn't mind if Umicore lost 30% of its share price. The company will still be great, management will still be great, and I know that I'll be investing in a wonderful company with many undeniable long-term trends in its favor. And in the meanwhile? I'll still be the one collecting the dividends.
Disclosure: The author has no positions in any stocks mentioned, but may initiate a long position in UMICF over the next 72 hours. The author wrote this article themselves, and it expresses their own opinions. The author is not receiving compensation for it (other than from Seeking Alpha). The author has no business relationship with any company whose stock is mentioned in this article.
Editor's Note: This article discusses one or more securities that do not trade on a major U.S. exchange. Please be aware of the risks associated with these stocks.