AOL reported yesterday and, as expected, announced another steep decline in revenues. It's never a good sign when your competitors are reporting increased ad revenue sales and you are reporting a 27% drop. Now keep in mind that these are being compared to very weak numbers from a year ago.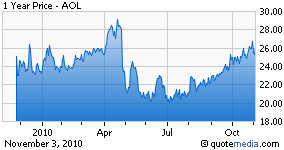 So what is the plan going forward? Tim Armstrong pointed out a number of changes that AOL made during the quarter, including the launch of the company's new advertising system, known as "Project Devil," the relaunch of properties such as AOL Travel and MapQuest, and the redesign of the AOL.com home page, which was then relaunched this week. "Project Devil" is its mobile business strategy that involves a higher level of interactivity.
As Armstrong also said, the 4th quarter is going to be a little bumpy, including year end write-offs as the company continues to clean up the balance sheet and dump nonperforming assets that were acquired over the last few years. Armstrong also believes that by next year, AOL will be in line with industry growth rates. Of course, only with that type of growth will they get back to 2008 ad revenue rates in a few years. By then, though, the dial up business will be half of what it was in 2008.
Disclosure: No positions