Saudi Arabia's Capital Market Authority (CMA), the Kingdom's equivalent to the U.S. Securities and Exchange Commission, announced on July 22nd that they will be publishing rules next month that will allow qualified foreign financial institutions access to their market.
The Saudi Arabian market has an estimated GDP of $745 billion and a stock market value of $530 billion.
A Long Road
Investors have been chopping at the bit since the Kingdom began allowing limited participation by foreigners in August 2008.
At that time, investors were only allowed to purchase swap agreements that gave them indirect financial exposure. Utilizing a participating notes structure that worked similar to an American Depository Receipt (ADR), a foreign investor could gain exposure only to certain investments through counter-parties who actually owned the shares. Prior to this shift in policy, foreign investors were only allowed to purchase Saudi Arabian stocks through mutual fund.
This initial easing did not develop into the buying opportunity that many foreign investors were hoping for as many securities do not offer participatory notes and there have been concerns over counter party risk, which has historically been a concern with similar programs. Cracking the door open a little more in 2010, the CMA allowed for the purchase of Exchange Traded Funds (ETFs) on the Saudi Arabian Stock Market hinting again at further openness in the future.
Proposed CMA Rules
The Saudi Arabian cabinet gave the green light to the CMA on July 21st while also providing it with scope and timing. The CMA stated that it would begin working on the new rules the next day. The CMA intends to speak with investors and other market stakeholders over the next 90 days in order to assess overall markets readiness. Previously circulated draft documents from over a year ago stated that "Qualified Foreign Institutional Investors" would need to have at least $5 billion in assets under management and been active in securities markets for at least 5 years. The proposed rules were designed to limit speculative trading and would also have a cap on foreign ownership of local companies, not unlike China's qualified foreign institutional investor program.
The easing of foreign investment will open up the possibility of Saudi Arabia being included in the important MSCI Emerging Markets (NYSEARCA:EEM) index with most estimates assuming a 2017 inclusion date at the earliest with a weight of 2-4%.
The smaller Middle Eastern markets of the United Arab Emirates and Qatar were added to the index last month.
Banks Anticipate Increased Fee Revenue
Over the next decade, foreign and domestic investment banks will be looking to the region for increased fee revenue as well. The Saudi Arabian market is known to have high equity retail ownership and a strong investment culture among high net worth individuals. This should produce significant secondary trading activity resulting in fee revenue for brokerages.
Current estimates assume the market will grow from an average of nearly $2 billion traded daily today to over $16 billion in 2030. Of the 12 Saudi Arabian based banks, three of them have joint ventures with global investment banks including the Royal Bank of Scotland (NYSE:RBS), Credit Agricole SA (OTCPK:CRARY) and HSBC (NYSE:HSBC).
Booming Economy
Saudi Arabia, the world's largest exporter of oil, has been able to keep its economy growing at an average rate of 6.4% over the past four years, even as its Middle Eastern neighbors have been struggling with political turmoil.
Recently, the International Monetary Fund stated that it expects the Saudi Arabian economy to grow at only 4.6% in 2014, higher than the 3.8% in 2013. Although by current American standards this would appear to be a bonanza, in conjunction with the opening of the stock market they are also planning to spend $130 billion to help boost non-energy related industries as well as the overall economy.
Emerging Market Comparison
Currently, the Tadawul All Share Index (SASEIDX) is up over 22% year to date and almost 33% over the past year and trades at nearly 15 times future 12-month earnings.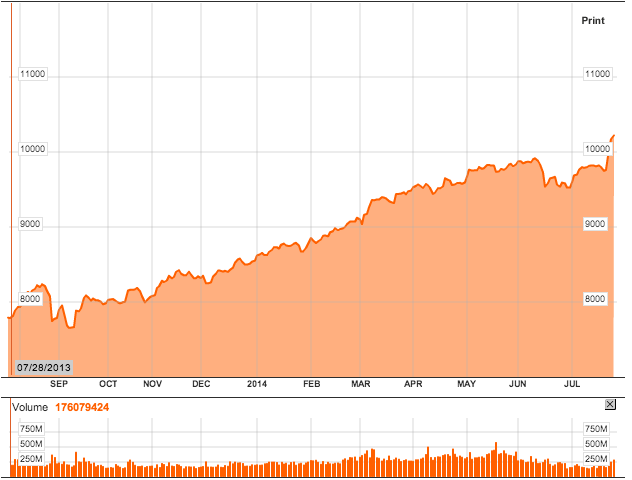 Source: bloomberg.com
This compares to a forward P/E of approximately 11 for other emerging markets.
A comparison of SASEIDX with the iShares MSCI Emerging Markets Fund Index is below. It appears the addition of Saudi Arabia could add significant value for EEM.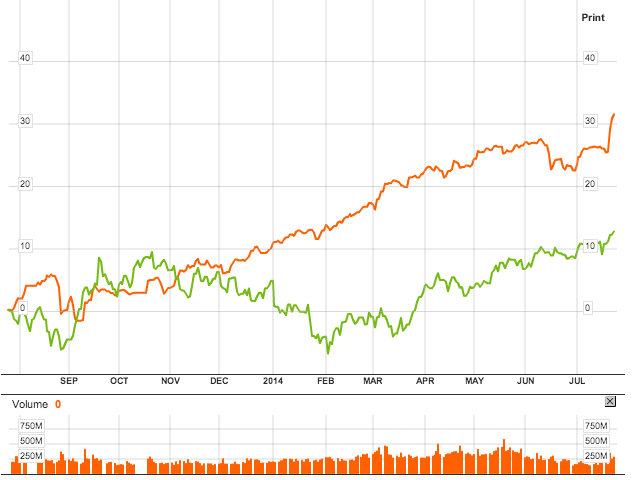 Source: Nasdaq.com
Market valuation may seem high to peers, but in respect to growth, selected investments will most likely do well.
We suggest investors consider buying into EEM in advance of Saudi Arabia's addition.
In addition, this could give an additional boost to the Royal Bank of Scotland, in particular, who reported strong Q2 earnings, and who would also welcome additional support moving ahead in 2014.
We invite readers wishing to join the discussion on Saudi Arabia and emerging markets to click the +FOLLOW button above the title of this article, and those looking for the latest updates to click +Get real-time alerts.
Disclosure: The author has no positions in any stocks mentioned, and no plans to initiate any positions within the next 72 hours. The author wrote this article themselves, and it expresses their own opinions. The author is not receiving compensation for it (other than from Seeking Alpha). The author has no business relationship with any company whose stock is mentioned in this article.