When it comes to tech giant Apple (NASDAQ:AAPL), I've covered the name quite extensively. One item I haven't updated investors on recently is Apple's short interest. Since the most recent short interest update shows Apple's number at a new 2014 low, I figured it was time for a quick update on where things stand.
At the mid-July update, nearly 104 million shares were short. That number seems like a lot, considering the last time I updated short interest, the number was less than 20 million. Well, you have to remember that Apple split 7 for 1, so that has made the actual short interest number jump. The float and outstanding share count are up by a similar factor, so don't be alarmed by this higher number. In the chart below, you can see a history of Apple's split-adjusted short interest going back to April of 2012.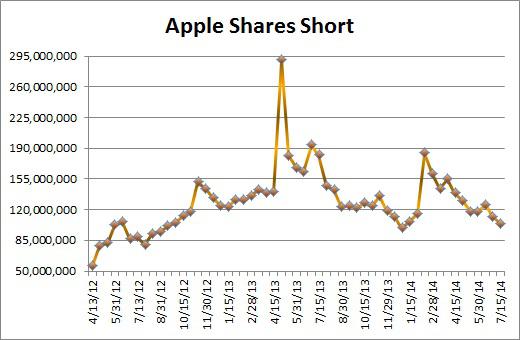 Short interest in mid-July was at its lowest point since the last update in 2013, where the split-adjusted number was around 99 million shares. Before that, the last sub-100 million split-adjusted number was in August of 2012. With Apple shares racing towards their all-time highs, it seems logical that shorts are covering, especially considering the strength of Apple's buyback. Shares have hit a new 52-week high after the latest quarterly report, even though the report was mixed. Investors are buying Apple ahead of the iPhone 6 launch, and shorts are running away. I think that pattern will continue, and Apple seems destined to cross $100 rather soon. Investors should remain long the stock as we approach the iPhone 6 launch and as Apple continues to buy back billions worth of stock each quarter.
Disclosure: The author has no positions in any stocks mentioned, and no plans to initiate any positions within the next 72 hours. The author wrote this article themselves, and it expresses their own opinions. The author is not receiving compensation for it (other than from Seeking Alpha). The author has no business relationship with any company whose stock is mentioned in this article. Investors are always reminded that before making any investment, you should do your own proper due diligence on any name directly or indirectly mentioned in this article. Investors should also consider seeking advice from a broker or financial adviser before making any investment decisions. Any material in this article should be considered general information, and not relied on as a formal investment recommendation.