Westlake Chemical Partners LP (Pending:WLKP), a limited partnership formed by Westlake Chemical to acquire and develop ethylene production facilities and assets, plans to raise $225.0 million in its upcoming IPO.
The Houston, Texas-based firm will offer 11.3 million shares at an expected price range of $19-$21 per share. If the IPO hits the midpoint of that range at $20 per share, WLKP will command a market value of $507 million.
Filing, Underwriting
WLKP filed on April 29, 2014
Lead Underwriters: Barclays Capital Inc; UBS Investment Bank
Underwriters: BofA Merrill Lynch; Deutsche Bank Securities Inc; Goldman, Sachs & Co; J.P. Morgan Securities LLC; Morgan Stanley & Co. LLC; Wells Fargo Securities, LLC
Summary: Formation of WLKP via Westlake Chemical parent company
WLKP is a limited partnership formed by Westlake Chemical to acquire and operate ethylene production facilities and assets. The firm will primarily conduct operations through Westlake Chemical OpCo LP, an LP formed by WLKP and Westlake. OpCo will own a trio of ethylene production facilities as well as a 200-mile ethylene pipeline; the great majority of the ethylene produced at the facilities will ultimately be used by Westlake to create polyethylene (PE) and polyvinyl chloride (PVC).
The OpCo will generate the majority of its revenue through the sale of its ethylene to Westlake via a 12-year agreement under which Westlake will buy 95% of OpCo's ethylene on a cost-plus basis to generate a fixed margin of $0.10 per pound; OpCo's three facilities have an aggregate annual capacity of some 3.4 billion pounds. Westlake will also enter into a separate agreement with the OpCo to provide all of feedstocks required for the OpCo to produce ethylene-most importantly, ethane.
WLKP owns OpCo's general partner, thereby controlling its assets and operations, and holds a 10% limited partner interest in OpCo, the remaining 90% being held by Westlake. Westlake also will hold 55.7% of WLKP's limited partner units. WLKP's 10% interest in OpCo will be its only revenue-generating asset.
A depiction of the process from raw materials to end products is below.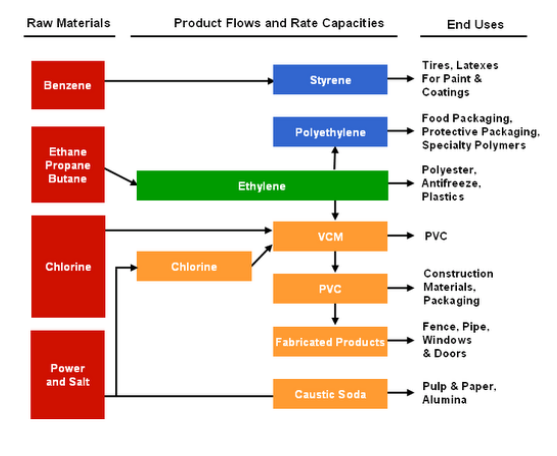 (Source)
Valuation
WLKP offers the following figures in its S-1 balance sheet for the three months ended March 31, 2014:
Revenue: $560,014,000.00
Net Income: $143,874,000.00
Total Assets: $1,020,402,000.00
Total Liabilities: $613,309,000.00
Stockholders' Equity: $407,093,000.00
WLKP plans to make minimum quarterly distributions of $0.2750 per unit, equivalent to $1.10 per unit per year, though it will not make such distributions in full if it does not have sufficient cash on hand to do so. If the firm does pay the full minimum quarterly distribution, the distributions would be equivalent to an annual yield of 5.5% at the midpoint of the proposed IPO price range.
No Current Competitors
Given the nature of its revenue generation and Westlake's agreement to purchase nearly all of OpCo's ethylene at fixed-margin prices, WLKP faces essentially no competition.
WLKP hopes to capitalize on the significant cost advantages currently enjoyed by U.S.-based ethylene producers. OpCo uses ethane to produce its ethylene, and the massive boom in U.S. oil and gas production in recent years has resulted in an equivalent boom in the supply of ethane, which is a component of natural gas liquids. The sudden increase in ethane supply has led to plummeting feedstock costs for American ethylene producers.
Management: Extensive Experience and Credentials
Albert Chao serves as president and CEO of WLKP's general partner and as the sole director of OpCo's general partner. Mr. Chao has been Westlake's president since May 1996 and as Westlake's CEO since July 2004; he served as Westlake's executive vice president from its 1985 founding until he became the firm's president.
He has worked in positions in the Controller's Group of Mobil Oil Corporation, in the Technical Department of Hercules Incorporated, in the Plastics Group of Gulf Oil Corporation and has served as assistant to the chairman of China General Plastics Group and deputy managing director of a plastics fabrication business in Singapore.
Mr. Chao holds a bachelor's degree from Brandeis University and an M.B.A. from Columbia University.
Conclusion: Consider Buying In
We are positive on this IPO in the proposed range.
WLKP should see a steady stream of revenue from its interest in OpCo, which should itself be able to generate consistent profits, through its ethylene supply agreement with Westlake.
If the firm is able to pay its minimum quarterly distributions, the yields alone will make this a worthwhile buy within the expected price range or even slightly above the expected range-a unit purchased for $27.50 would still generate a 4.0% annual yield, assuming that the distributions are paid in full.
OpCo's agreement with Westlake does significantly limit its ability to take advantage of other market opportunities; should the price of feedstocks fall or the margins for ethylene sales rise, OpCo will be unable to capitalize on the shifts.
We suggest investors consider buying into this IPO.
We invite readers wishing to join the discussion on IPOs to click the +FOLLOW button above the title of this article -- and those looking for the latest developments to click +Get real-time alerts.
Note: As a large sample of information sources does not yet exist for WLKP, we have taken much of the information for this article directly from WLKP's S-1 filing.
Disclosure: The author has no positions in any stocks mentioned, but may initiate a long position in WLKP over the next 72 hours. The author wrote this article themselves, and it expresses their own opinions. The author is not receiving compensation for it (other than from Seeking Alpha). The author has no business relationship with any company whose stock is mentioned in this article.