This week, the ETF Pullback model (see Appendix below for explanation and performance data) is manifesting a split personality: Indonesia on the one hand, and income on the other.
Here is the current collection of ETFs.
This is last week's group.
Figure 1 is a screenshot of the performance of the account I use to implement this strategy at FolioInvesting.com (note: I need a low transaction-fee setup like that to cope with the weekly turnover).
Figure 1
click to enlarge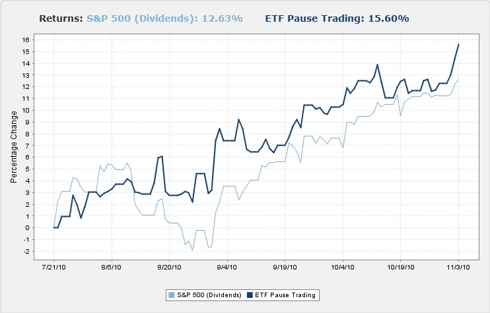 As you can see, the model guessed wrong recently (a zero-coupon ETF reacted especially poorly to increased talk of QE2). Last week's international ETF grab-bag recaptured some lost ground at the end.
Looking at this week's selections, I'll address the income plays first.
The yields are OK, but if I were acting as a conventional income investor looking for ideas for a retirement account, I'd want to do better than the 2.7% to 4.0% range I'm seeing here, and as discussed in a separate income-investing article, I know I can do that. I might accept yields at those levels, or even lower, if they were attached to stocks that offered strong potential for dividend growth, but considering that we're looking at preferred stocks and munis, I just shrug my shoulders. I might be more impressed if I were investing for a taxable account and there was something specific about my tax situation that added appeal to either of these particular muni ETFs, but that's not the case, since the account depicted in Figure 1 is part of an IRA.
The case for these ETFs at this time is purely technical, a one-week effort to catch a bit of positive relative performance from securities that performed well for a while but just suffered a pullback. On that basis, I don't care about the yields. Also, the nature of this particular strategy affords me the luxury of looking the other way when it comes to the prospect that strained municipal finances down the road might lead to particular consternation in this corner of the fixed-income market.
Indonesia may be more interesting. Again, both ETFs may be gone when I rebalance a week from now, but as I discussed on October 21st when I discussed ETFs from India and Latin America, sometimes this model can act like a movie trailer by providing a quick preview of themes to which I might want to pay more attention later on.
Currently, Indonesia is coping with some terrible disasters, a tsunami and the eruption of a volcano, as well as accusations of inadequate government response. Moreover, Indonesia's transition away from military dictatorship has struggled early on, with talk of rampant corruption and lack of legislative initiative. So as is the case in many parts of the developing world, we're looking at a high-risk situation.
The flip side, the potential reward, may be hinted at by the fact that per-capital GDP in Indonesia reached $3,000 (US) this year. Korea's economy surged for 11 years after hitting that milestone, and China has been doing likewise since hitting it in 2008-09.
I don't know that we could cite this as a causal or statistically significant phenomenon (as would be satisfy bona fide economists), but it does seem to at least be an important psychological threshold in Asia, and in Indonesia, it's associated with increasing demand for cars and other consumer durables as well as non-durables typically associated with affluence (fitness centers, skin care products, high-end movie theaters, and expansion by Starbucks).
Putting it all together, Indonesia seems to provide precisely what we expect in the developing world: a lot of opportunity accompanied by significant risk.
APPENDIX
To create this model, I started with a very broad-based ETF screen I created in StockScreen123.com.
Eliminate ETFs for which volume averaged less than 10,000 shares over the past five trading days

Eliminate HOLDRs (I don't want to be bothered with the need to trade in multiples of 100 shares)

Eliminate leveraged and short ETFs (I think of these as hedging tools rather than standard ETF investments of even trading vehicles)
Then I sorted the results and select the top 5 ETFs based on the StockScreen123 ETF Rotation - Basic ranking system, which is based on the following factors:
120-day share price percent change - higher is better (15%)

1-Year Sharpe Ratio - higher is better (15%)

5-day share price percent change - lower is better (70%)
The idea of using weakness as a bullish indicator is certainly not new. But often, it's an add-on to other factors that, on the whole, emphasize strength. Here, the weakness factor is dominant, with a 70 percent weighting.
This model is designed to be re-run every week with the list being refreshed accordingly. I trade through FolioInvesting.com, where I pay a flat annual fee rather than a per-trade commission, so I don't care about the fact that turnover form week to week is often 80%-100%. If you want to follow an approach like this but do have to worry about commissions, the strategy tests reasonably well with three ETFs, or even with one. (Cutting the number of ETFs is far preferable to extending the holding period.)
Figure 2 shows the result of a StockScreen123 backtest of the strategy from 3/31/01 through 10/7/10.

Figure 2
Figure 3 covers the past five years, a very challenging market environment that witnessed the fizzling of many strategies that had succeeded for a long time.
Figure 3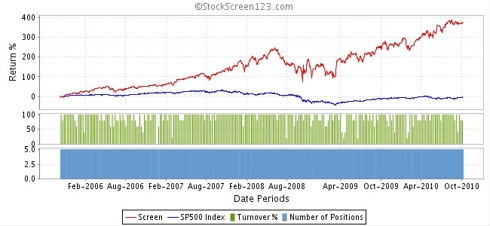 Disclosure: Long EIDO, IDX, MLN, PFF, TFI