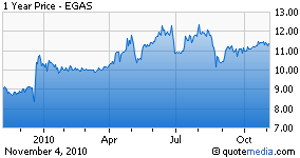 Gas Natural (NYSEMKT:EGAS) ($11.34) announced a new secondary offering and a debt refinancing. This will be the second time in 5 months EGAS has offered a secondary with both the company and its largest shareholder providing the added shares.
While not specifically calling out Mr. Richard Osborne, CEO, as the selling shareholder, it would make sense due to his large position, calculated at 40% ownership as of Jan 2010 when EGAS purchased his Ohio-based privately held natural gas utilities. The purchase price to Osborne was paid in 2 million shares plus assumption of debt. In June, management filed for a 1.5 million share offering, with Osborne selling and additional 1.0 million shares.
This round will see 1.0 million new shares offered by the company and 340,000 from Osborne. After the secondary, shares outstanding will be around 8.5 million shares, up from 4.3 million at the end of 2009 and pre-acquisition, with Osborne's holding about 1.06 million shares, or about 12.5% of the company. While a far cry from the CEO's 40% holding in January, a 1/8 ownership in the company is still substantial and should reassure investors that Osborne's and shareholder's interests are still intertwined. Combined, shareholder dilution, not counting the shares issued for the Jan acquision, will have been about 43% in 2010, but the balance sheet should be heavier in cash by year end.
In addition, EGAS is refinancing about $17.4 million of a total debt of $43 million that is due at the end of this year and pushed the maturities out to 2017, at a floating rate of 300 bp over comparable Treasury maturities. In addition, EGAS is getting an additional $2.6 million in operating cash and increasing the note maturity to $20 million.
Gas Natural is a small-cap roll-up, regulated natural gas utility. A substantial sector of the nation's natural gas distribution is still operated by small, local utilities, and Osborne has been building a business of buying these small local gas utilities. EGAS operates in Montana, Wyoming, Northern Ohio, Western Pennsylvania, North Carolina and Maine. The company services 62,000 customers.
Share prices have done fairly well this year, rising from $9 to its current $11.34, for a 26% gain. EGAS pays a monthly dividend at a $0.54 annual rate, offering a current yield of 4.7%. The dividend represents a payout ratio of about 50% of operating earnings. Based on these dilutions, operating earnings per share should come in around $1.10 to $1.25 over the next two years, or a more modest annual growth of 10% to 12%. EGAS does not offer a dividend reinvestment plan, but shares held at a broker should be eligible for their synthetic drip. Monthly reinvestments of the dividend are a successful method of dollar cost averaging a position over time.
Osborne has desired to acquire Corning Natural Gas (OTCQX:CNIG) of Corning, NY for some time. At one point, he chaired both companies. Several years ago, he offered $21/share and was rejected. Recently, he canceled an offer to acquire the company at around $24/share due to a lack of interest. Osborne was outbid on Florida utility last year.
As of June, EGAS had $7.2 million in cash and marketable securities. With the early 3rd quarter share offering, the company should have generated around $15 million. The current note and secondary offering should generate an addition $12.5 million. When 3rd quarter numbers are reported shortly, make sure review cash on hand. By the end of the year, Osborne may be sitting on upward of $28 million in cash. As share prices have not declined with these dilutions, EGAS shares are becoming more intriguing as an acquisition financing tool. A strong share price and a pile cash – what a great position for a roll-up business model.
As this year is the first operating year after the large Ohio purchase, year-end earnings are difficult to estimate, and the company offers no guidance. Based on these dilutions, operating earnings for 2010 may be around $0.90 to $1.00 a share.
The next few months could be interesting with higher operating earnings from a larger service base, somewhat muted by the share dilution, along with potential acquisition announcements. Supported by a nice yield backed by a reasonable payout ratio and a stronger balance sheet, EGAS shares could offer interesting longer-term opportunities, especially for income-seeking investors willing to take on the small-cap risk of a company with a market capitalization of $68 million.
Keep an eye on Gas Natural's cash balance and earnings over the next few quarters. A growth spurt may be right around the corner.
Disclosure: Author long EGAS