2014 will likely be viewed as a year of recovery in the mREIT sector. After a dismal 2013 in which the Fed's presence in the MBS market plagued mREIT investors, the Fed's exit and the resulting lower bond pricing volatility have not gone unnoticed. The Market Vectors Mortgage REIT Income ETF (NYMORT) is up 12.1% YTD, while industry leaders Annaly Capital Management (NYSE:NLY) and American Capital Agency (NASDAQ:AGNC) are up 13.6% and 22.2%. This is due in part to the performance of their portfolios, and in part to investor sentiment once again turning green on the sector. The days of significant market price premiums to book value and aggressive public offerings we experienced from 2010-2012 are a somewhat distant memory, but likewise, the aggressive share repurchase plans and 20%+ market discounts of 2013 appear to be similarly fading. In this article, we will explore the trends exhibited by the mREIT sector thus far in 2014 and discuss the 2nd quarter performance of Gary Kain's industry leading American Capital Agency in advance of their upcoming Q2 earnings report.
Market Recap
For AGNC and many of their mREIT peers, the turnaround began late in Q4 of 2013 as the Fed began tapering QE3 purchases. The transition in mREIT portfolios is most visibly seen in their hedging composition and the decreased presence of products geared only to account for extreme scenarios.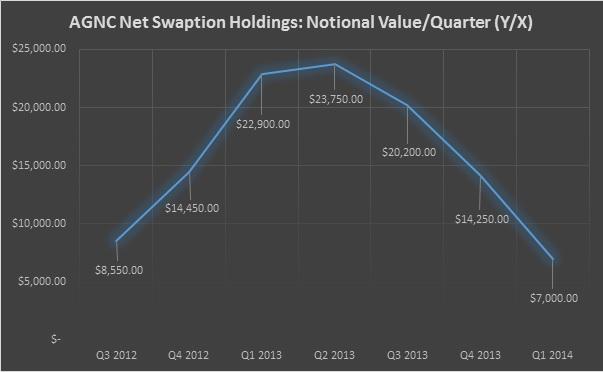 *Notional Value figures in Millions of $
With the Fed expected to fully exit the MBS market by the end of Q3 2014 and with mREIT portfolio compositions trending back to pre-QE3 proportions, we have seen mREIT market pricing exhibit the same normalization trends. With market price/book ratios bottoming around 75-80% for most mREITs in late December, the industry has been trending back to pricing these portfolios in line with book value. After mREITs notched market pricing gains of 6-10% in excess of book value gains in Q1, Cypress Sharpridge Investments (NYSE:CYS) and Hatteras Financial (NYSE:HTS) kept up the trend in Q2, affirming 3-5% excess gains in the prior three months with their earnings report last week. After incorporating earnings adjustments, the two firms reflect 6/30/14 market pricing of 89% and 87% to their respective Net Asset Values (NAVs). Industry leaders AGNC and NLY are habitually a few points ahead of the smaller players, going into the quarter at 88% and 89% NAV discounts while their aforementioned counterparts were at just over 85%. If we assume continual strong performance, these trends suggest that we can expect AGNC's 6/30/14 pricing to reflect around a 91-93% market price/book value ratio.
With the above trend in mind, we will derive what we expect to be the performance Gary Kain's AGNC in Q2 prior to the earnings report. This will set an expectation for the price impact of AGNC's earnings release, and give us the ability to frame our expectations going forward.
MBS Portfolio Movement in Q2
To begin assessing AGNC's position at the end of Q2, we will take a look at AGNC's MBS portfolio at the end of Q1 to get a feeling of how it was positioned and what holdings are the most relevant.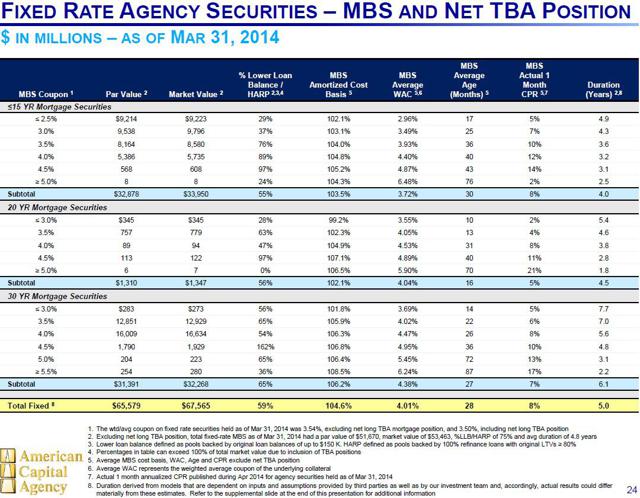 Page 24 of American Capital Agency Q1 Shareholder Presentation, Retrieved July 17th, 2014
If we look at page 6 of AGNC's Q1 presentation, we have the fair value of its MBS as of 3/31/14. If we map that to the market pricing on 6/30/14, we get the following changes.
30-year MBS

3/31/14

Holdings

6/30/14

Δ

Δ%

Projected Fair Value

3

96.53

273

98.53

2.00

2.073%

278.66

3.5

100.59

12929

102.72

2.13

2.116%

13202.61

4

103.94

16634

105.94

2.00

1.922%

16953.67

4.5

106.69

1929

108.19

1.50

1.404%

1956.08

5

109.05

223

110.97

1.92

1.760%

226.92

5.5

110.34

280

111.94

1.60

1.448%

284.05

32268 (total)

32901.99 (total)

15-year MBS

3/31/14

Holdings

6/30/14

Δ

Δ%

Projected Fair Value

2.5

99.92

9223

101.44

1.52

1.519%

9363.071

3

102.72

9796

103.75

1.03

1.003%

9894.227

3.5

104.83

8580

105.88

1.05

0.997%

8665.53

4

105.78

5735

106.09

0.31

0.297%

5752.01

4.5

106.05

608

106.09

0.04

0.041%

608.2508

33942 (total)

34283.09 (total)

*Holdings and Projected Fair Value Figures in Millions of $
While MBS saw material increases at all coupons, we can see that 30-year coupon bonds vastly outperformed their 15-year counterparts in Q2. This is a large root of what will be great disparity in mREIT earnings in Q2. CYS which reported earlier this week saw ~6.5% gains in NAV with holdings comprised of 15-year MBS and 30-year MBS at roughly a 2:1 ratio. Hattaras meanwhile holds exclusively 15-year MBS and ARMs and only saw a rise in book value of ~1.5%. On the other end of the spectrum, roughly 80% of NLY's MBS portfolio is in 30-year bonds and they are in line to have a very nice quarter (although hedge positioning and lower leverage make it unlikely they will outperform AGNC).
Overall, AGNC's MBS asset mix was positioned very well when compared to their peers. With a portfolio comprised ~1:1 between 30-year MBS and 15-year MBS, they are in a position to see a significant impact from the price appreciation. In summing our figures, we derive that the MBS holdings of AGNC held at the end of Q1 would have appreciated by approximately $975M, or $2.77/share.
This quarter was relatively calm and consistent in terms of price movement, and management did not disclose any guidance that suggests the portfolio was going to be positioned in a different direction from where it was in Q1, so there appear to be no significant heuristic biases not accounted for in our derivation. Given that book value was increasing progressively, it is likely that their MBS holdings increased as prices continued to rise and any increase in exposure early in the quarter was exposed to a portion of the price appreciation as well. Our analysis yields that AGNC's likely MBS appreciation was somewhere in the range of $950M to $1.05B (between $2.70 and $2.99 in gains per share).
Interest Income
In Q1, AGNC saw a net spread figure of 1.43% (including the .24% that was not counted as taxable and taken against prior losses). In Q2, the yield curve has flattened a bit with longer term rates dropping downward and shorter term rates increasing slightly. This was a similar rate-change profile to Q1 however, and AGNC's annualized net interest spread went up a basis point from 1.42% to 1.43% as the transition in hedge approach reduced 'other interest rate swap periodic costs' (trend visible in 'Reconciliation of GAAP Net Interest income to Net Spread and Dollar Roll Income/Loss' section of AGNC's Q1 presentation).
With non-transparent impacts in both directions, it is very difficult to predict precisely where net interest spread will be for Q2 simply given the Q1 figures; Given that, we are comfortable assigning a wide range to our expectation for AGNC's net annualized interest rate spread for Q2 (including the non-taxable amount from TBAs) of between 1.35% and 1.50%. It should be noted that the $4.77/share of non-deductible capital losses still on AGNC's books makes this a far less important figure than it has been in the past; generally interest income is pivotal for projecting taxable income, however with AGNC not realizing most TBA returns as taxable income (rather, reducing that carried forward loss figure) then the metric does not carry the same implications. The only use is a sanity check to assure that interest income is greater than the dividend of .65/share in the worst case scenario (which it is).
Based on our derivations, we will place our net spread projections between 1.35% and 1.50%, and the average portfolio value of roughly between $71B and $75B (taking into account the increasing book value through the quarter). Those figures would mean AGNC earned between $238M and $281M, or between $0.68 and $0.80/share in interest income in Q2.
Hedges
As noted in our interest income section, the yield curve flattened a bit in Q2. This can be illustrated by examining the change in swap rates from 3/31/14 to 6/30/14.
| | | | |
| --- | --- | --- | --- |
| Swap Rates | 3/31/2014 | 6/30/2014 | Δ |
| 30-year | 3.54% | 3.32% | -.22 |
| 10-year | 2.84% | 2.62% | -.22 |
| 5-year | 1.80% | 1.70% | -.10 |
| 3-year | 0.99% | 1.00% | .01 |
| 2-year | 0.55% | 0.58% | .03 |
Shorter term swaps meant to hedge against repo costs were neutral to positive for the quarter, while longer term swaps took a bit of a beating. AGNC's swap position at the end of Q1 was as follows:

Page 26 of American Capital Agency Q1 Shareholder Presentation, Retrieved July 17th, 2014
If we aggregate the disclosed swaps into 5 batches mapped to the rates captured above and apply the proper duration calculations, we yield that AGNC's swap portfolio lost roughly $240M in Q2. Additional, AGNC's remaining swaption positions are expected to lose around $25M in Q2.
Additionally, and for the first time in a few quarters, AGNC held materially one sided hedge positions in US Treasuries.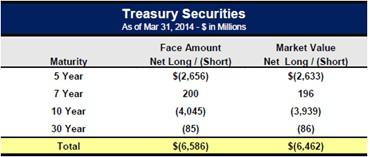 Page 27 of American Capital Agency Q1 Shareholder Presentation, Retrieved July 17th, 2014
These positions are extremely liquid, and management's approach to this area is consistently changing so extreme alterations to this position could have an impact to our estimate. With that as a caveat, treasuries moved similarly to interest rate swaps in Q2 and losses in this area of the portfolio project to $72M. This brings our total projection of losses on hedges to $337M for the quarter.
These assets are extremely liquid, and the duration calculations aren't exact since we had to estimate the exact holdings of in the swap portfolio, so we need to build a bit of extra variability into our range to be comfortable. We will apply the same principle that we did in the MBS section of a rising book value likely leading to increased holdings through the quarter and thereby slightly amplifying the losses. In aggregate, we estimate that AGNC has seen between ($300M) and ($425M), or between ($0.85) and ($1.21)/share in losses from hedging activities.
mREIT Investments
Changes in the value of AGNC's mREIT holdings have had a positive impact in Q2, although much less so than in Q1. Management disclosed $352M in holdings at the end of Q1, and AGNC has been reducing its holdings through the quarter. If we assume the average level of exposure was $150-250M and during the quarter the average appreciation was 8%-12% (based on the quarterly appreciation of most major mREITs + 3% in dividend payouts), we would see between $12M-$30M in appreciation (an additional $.03-.09/share).
So What is Our Book Value Estimate, and What Does it Mean?
If we apply our derived figures above, we arrive at the following figures for quarterly gains in book value through Q2:
MBS Appreciation - Hedge Depreciation + Interest Income + mREIT Investment Gains - Dividend Payout
Best Case:
$1.05B - $300M + $281M + $30M - $232M = $829M
Worst Case:
$950M - $425M + $238M + $12M - $232M = $543M
Those gains would represent $2.20 to $3.01/share in comprehensive income, and a new approximate NAV between $26.04 and $26.85. It is worth noting that MBS prices have fallen in July thus far, and it is implied that AGNC's day-to-day book value is a few percentage points lower than what it reports in its Q2 figures.
Conclusions
Our derivation reflects a very strong quarter from AGNC, consisting of 6.3-9.6% book value appreciation, outpacing the majority of, if not all their peers. We continue to believe that mREIT market/book pricing trends will continue and most players will find themselves pricing near, or fully in line with book value by the end of 2014. Assuming AGNC validates our expectations, they are likely to continue to lead the industry in this metric. Applying our calculations, AGNC's closing 6/30/14 market price of 23.41 reflects a market/book ratio slightly lower than 90% in even our worst case scenario. Based on our figures and the market trends discussed, we believe AGNC has room for a near term pricing adjustment of 1-5% after the earnings release. With more than one of the most respected investors in the market throwing their weight behind AGNC, we firmly agree with their position and rate AGNC a STRONG BUY.
Disclosure: The author is long AGNC. The author wrote this article themselves, and it expresses their own opinions. The author is not receiving compensation for it (other than from Seeking Alpha). The author has no business relationship with any company whose stock is mentioned in this article.