Enterprise Products Partners (EPD) is the leading provider of midstream energy services: natural gas, natural gas liquids (NGLs), crude oil, refined products and petrochemicals. EPD transports natural gas, NGLs, crude oil and refined products through 48,700 miles of onshore and offshore pipelines. With the acquisition of TEPPCO last year, EPD has become the largest MLP. Key assets include:
• 20,591 miles of natural gas pipelines
• 17,033 miles of NGL and petrochemical pipelines
• 5,403 miles of crude oil pipelines and
• 5,704 miles of refined products and LPG pipelines
• 190 million barrels of NGL, crude oil and refined products storage capacity
• 27 billion cubic feet of natural gas storage capacity
• 25 natural gas processing plants
• 18 NGL and propylene fractionation facilities
• 6 offshore hub platforms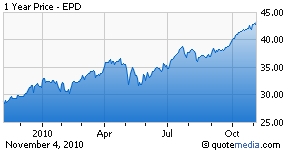 In Q3, net income attributable to EPD was $372 million, 47¢ per unit (fully diluted), above $213 million, 36¢ per unit last year (see earnings call transcript here and earnings results here). EPD had $573 million of distributable cash flow compared to $402 million in 2009. The distributable cash flow for Q3 provided 1.4 times coverage of the cash distributions paid to limited partners. The company will retain $133 million of distributable cash flow for corporate purposes and reduce the potential need to issue additional equity. EPD has retained approximately $1.5 billion (16%) of total distributable cash flow since the IPO in 1998.
EPD increased the distribution in Q3 to 58¼¢ per unit, $2.33 annualized, a 5.4% increase over 55¼¢ last year. This is the 25th consecutive quarterly increase and the 34th increase since the IPO in 1998. However, the distribution is far above EPU (earnings per unit) shown below:
58¼¢..distribution
47¢.....earnings per unit - Q3 2010
36¢.....earnings per unit - Q3 2009
This relationship is routine for MLPs, distributions far exceed earnings. Distributions are paid from distributable cash flow, earnings plus non cash items (starting with depreciation). EPD defines this measure in the annual report, but the description is written by lawyers making it difficult for many unitholders to understand. REITs report EPS figures but they also include funds from operations (FFO), similar to distributable cash flow, which tells stockholders the related earnings numbers used to set dividends. MLPs need to report comparable data for unitholders to better understand how declared distributions are arrived at. EPD reports gross distributable cash flow numbers (measured in millions of dollars), but per unit numbers are needed for the benefit of equity holders.
MLP units are at or very near record levels which is reducing yields to historical low levels. A lack of clarity about "real" earnings used to pay distributions is a risk factor to be appreciated. As the largest MLP, EPD should be a leader in upgrading financial reports with this information. It's especially important now that MLPs have become one of the premier investments, along with gold and APPLE (AAPL).
Disclosure: No positions