Billionaire fund managers seem more prominent than they ever have been. A good portion of this is due to a growing amount of shareholder activism that is even starting to touch huge enterprises like Microsoft (NASDAQ:MSFT). One of my favorite billionaire shareholder activists is David Einhorn who operates through his vehicle Greenlight Capital.
Mr. Einhorn has been extremely successful through the years and I like the way he goes about his business and pushes behind the scenes for shareholder friendly actions at the firms he targets and largely sits out when the company is operating well and just has a stock that is currently undervalued. He lacks the brashness of fellow shareholder activist Carl Icahn or the narcissism of Bill Ackman who has almost descended into a Shakespearean tragedy with his latest and much panned attack against Herbalife (NYSE:HLF) last week.
That does not mean Einhorn cannot be effective in pushing changes to increase the value of his stock holdings, benefiting all shareholders. People may remember Mr. Icahn for publicly taking a ~$4B stake in Apple (NASDAQ:AAPL) and pushing for the company to increase the return of excess cash to shareholders primarily through buybacks. However, it was Mr. Einhorn that was in the stock and helping push for these changes months before Mr. Icahn was involved.
I also find I tend to own some of the same core holdings as Greenlight Capital and my value orientation matches up well with Mr. Einhorn - on a much smaller scale of course. One of core holdings that I still feel has significant upside is Micron Technologies (NASDAQ:MU). I also have some of the same reasons for having it as a core position in my portfolio as does Greenlight Capital. Among these are:
The recent spike in DRAM prices turning out to being more long lasting than the market is anticipating right now. The nature of this business has changed thanks to huge consolidation in the sector. Myriad competitors have been gobbled up leaving the market dominated by just three main players including Micron and Samsung.
Consensus earnings estimates currently are not factoring in the change of landscape in the DRAM market and remain too low.
The sector is not as cyclical as it used to be given greater pricing discipline by the major players. As such, in addition to earnings increasing more than the consensus currently believes - the stock is a prime candidate for multiple expansion due to the greater consistency within its earnings cycle.
Valuation:
Even though the stock has more than doubled over the year, the equity is still cheap. Micron currently goes for just over ten times the earnings it is tracking to in 2014. The stock has a five year projected PEG significantly below 1 (.53). Earnings estimates for both FY2014 and FY2015 have moved up nicely but are probably still too low.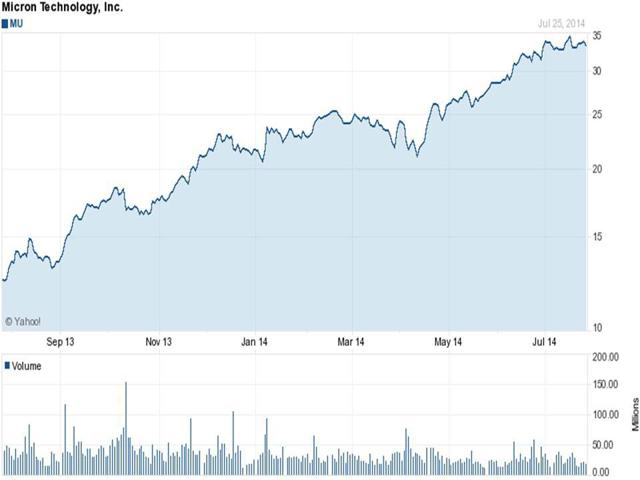 The current consensus has Micron earning ~$3.45 a share in FY2015. Given that Micron has easily stepped over the bottom line consensus by large margins in each of the last three quarters, I believe the more likely number is in the range of $3.75 to $4 a share in 2015. If the market awards a higher multiple of 12-13 forward earnings - still a big discount to the overall market multiple - to Micron that would provide a price target range of $45 to $52 a share over the next twelve months. This range is substantially above the current ~$33.50 a share stock price. BUY
Disclosure: The author is long MU. The author wrote this article themselves, and it expresses their own opinions. The author is not receiving compensation for it (other than from Seeking Alpha). The author has no business relationship with any company whose stock is mentioned in this article.