Better known as the monthly dividend company, Realty Income (NYSE:O) has been a solid fixture in my income portfolio for a few quarters now. While hardly a growth stock, Realty Income does offer an attractive return, thanks to its large dividend of around 4.90% per year. In addition, the company has been a steady performer, posting steady FFO growth, which should allow for the current dividend to be boosted modestly quite frequently.
Q2 2014 Overview
On July 24, Realty Income reported its Q2 2014 results. Below are a some of the key stats for the quarter:
Revenues: $228.6 million, up 22.6%

Net income per common share: $0.23

Normalized FFO: $142.4 million, up 21.1%

Normalized FFO per share: $0.64, up 6.7%

Adjusted FFO: $141.2 million, up 22.1%

Adjusted FFO per share: $0.64, up 8.5%

Same store rents: $130.5 million, up 1.4%

Portfolio occupancy: 98.3%, up 1 basis points from 98.2%

Dividends paid per common share: about $0.548, up 0.7%
Realty Income had an inline quarter, mostly meeting estimates. Adjusted funds from operations "FFO", the key metric you want to watch for in REITs, increased 8.5% on a per share level. Same-store rents, arguable the second most important metric, were up 1.4%, as the vast majority of leases have annual rent increases.
As a result of improved cash flows, Realty Income was able to very slightly boost its dividend. The new dividend is at $0.1827917 per share per month, or $2.194 per year. This is a 0.2% increase (the 76th dividend increase since 1994) from the previous dividend of $0.18248 per month, or $2.19 per year. As noted above, the new dividend yield is around 4.90% at current prices.
Using Realty Income's adjusted FFO of $0.64 per share, the dividend payout ratio was 86%, inline with last quarter. The current payout ratio is slightly below the long-term average of around 90%, likely implying room for further dividend increases.
In terms of its operations, Realty Income is doing quite well. Portfolio occupancy was 98.3%, up 1 basis point from last year and inline with last quarter. As of the end of the June quarter, Realty Income had 4,263 properties with 228 commercial tenants in 47 different industries with about a weighted average 10.6 years lease-term remaining.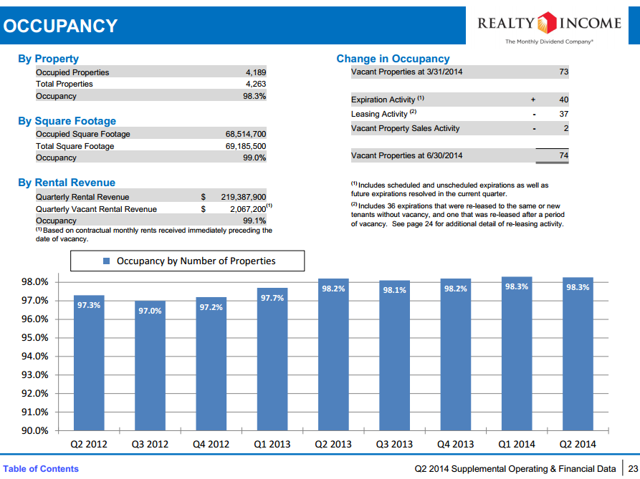 Surprise guidance raise
Realty Income surprised some when it announced an upward revision to its full year guidance for FFO. The company now expects 2014 FFO per share to increase to $2.59 to $2.62, from a previous $2.53 to $2.58. The Adjusted FFO per share guidance was also raised to $2.55 to $2.57, from a previous $2.53 to $2.58.
Using the new guidance for FFO, Realty Income is now estimating 2014 FFO to grow 7.5% to 8.7% from $2.41 in 2013; and adjusted FFO to grow 5.8% to 6.6% from $2.41.
What was the cause for this guidance boost?
Realty Income noted that it was able to complete more acquisitions in the first half of 2014 than expected. This has allowed the company to boost its acquisitions target by $200 million to $1.4 billion.
"Given our robust level of acquisitions during the first half of the year, we now estimate our 2014 acquisitions will be approximately $1.4 billion versus our previous estimate of $1.2 billion."
Given that Realty Income completed just over $1.06 billion in acquisitions during the first half, this implies an acquisition target of around $340 million for the second half.
I think that the company can well afford this without tapping into the equity markets given that its $1.43 billion available on its $1.5 billion credit facility.
Conclusion
Overall, I am happy with Realty Income's Q2. The company performed well, though the stock has sold off as of late, likely reflecting broader market jitters surrounding geopolitical affairs.
Using the midpoint for 2014 AFFO ($2.56), Realty Income's valuation is hovering around 17.50x. At this level I would wait for a pullback before initiating or adding to a position. I would also want the current yield to be at least 5.00% considering similar stocks, such as American Realty Capital Properties (ARCP), yield well over 7%.
Disclaimer: The opinions in this article are for informational purposes only and should not be construed as a recommendation to buy or sell the stocks mentioned. Please do your own due diligence before making any investment decision.
Disclosure: The author is long O, ARCP. The author wrote this article themselves, and it expresses their own opinions. The author is not receiving compensation for it (other than from Seeking Alpha). The author has no business relationship with any company whose stock is mentioned in this article.