This morning, Amazon (NASDAQ:AMZN) announced that it will offer customers the ability to customize and build earrings, bobble head toys, and other items from third-party sellers using a new personalization option on its website. The prices for these products are not obscene, but definitely allow for lucrative margins.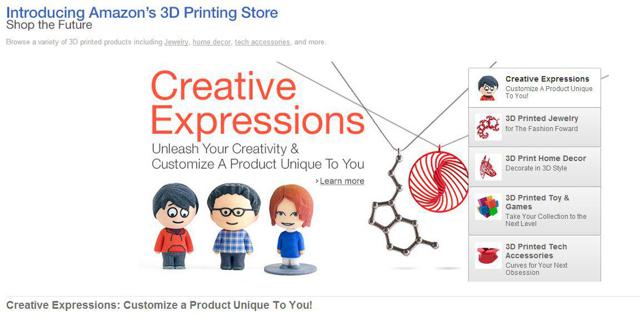 Click to enlarge
Source: Amazon Website
3-D printing and allowing for user customization is a burgeoning trend that Amazon clearly seems to be ahead of. Amazon will have a first mover advantage in the industry and if they can grow this segment and increase its product offerings, it can sustain that advantage. Moreover, this initiative may bring more customers to the site and grow the number of prime members and cross-selling transactions.
In my previous article entitled: "Will Amazon's Drones And Other Novel Initiatives Ever Justify Its Lofty Multiple," I outlined previous initiatives that were unlikely to produce prodigious profits. Amazon entering highly commoditized industries, categorized by exceptionally low pricing power, would never allow it to justify its exuberant P/E multiple. However, with the recent sell-off of more than 10%, coupled with this new initiative, the bear case for AMZN is tempered. I do not think Amazon is a buy at this level, but if it sells off a bit more and enters another market with advantageous margins, it could provide a compelling investment opportunity.
Disclosure: The author has no positions in any stocks mentioned, and no plans to initiate any positions within the next 72 hours. The author wrote this article themselves, and it expresses their own opinions. The author is not receiving compensation for it (other than from Seeking Alpha). The author has no business relationship with any company whose stock is mentioned in this article.