Since my recent retirement, I have been focusing research efforts on refining my retirement income account. Thus in my recent writings on Seeking Alpha I have emphasized retirement income strategies. In addition to that income account, I also maintain a growth portfolio. Here, I take a moderately aggressive stance as I anticipate that the great bulk, if not the entirety, of this portfolio will be passed along to future generations. So while I've been generally focused on income-generating positions, I am also interested in the sorts of investments younger, accumulation-stage investors might find interesting in building their retirement portfolios.
There is a lot of discussion here on approaches to accumulation-stage investing. I find it interesting -- and a bit perplexing, I'll add -- that so many younger investors place so much emphasis on building an income-generating portfolio of dividend-paying stocks at the earliest stages of their investing lives. Certainly this highly conservative approach can lead to a solid retirement portfolio after several decades. But it's my view that this emphasis may often be misplaced, and younger investors could be better served by putting their efforts into growing capital rather than building income.
In my own growth portfolio, I retain similar strategies as I do for my approaches to income investing. The overarching theme is to maintain a well diversified portfolio that is regularly rebalanced at the asset-class level. The bulk of the portfolio is invested in passively-managed index-funds. But I also maintain a portion of my equity allocation in individual growth stocks. These are primarily held in a Roth IRA, where I can invest without having to consider taxes. This allows opportunities for fairly aggressive trading that could be ill-advised in a taxable account. For this account, I am currently overweight financials, technology and healthcare.
Healthcare Biotechnology
I continue to like healthcare, especially healthcare biotechnology, as presenting excellent opportunities for capital growth in the near- to mid-term future. The demographic argument for this is obvious. But I also consider that opportunities in life-enhancing, even life-changing, biotechnologies may far exceed the more immediate issues of healthcare for a rapidly-aging population cohort. With these considerations in mind I hold iShares Nasdaq Biotechnology ETF (NASDAQ:IBB) as a core position among my fund holdings and smaller positions in other biotech opportunities.
Currently, there is a lot of interest in companies with efforts focused on treatments for liver diseases. The clear leader is Gilead Sciences (NASDAQ:GILD), which should be a core holding for any investor in the healthcare and biotechnology sectors. Despite the blowout report for earnings last Wednesday's, GILD moved down by week's end. I am strongly of the opinion that is an aberration that will be corrected in the coming weeks, and took the opportunity to add to my already overweight position in GILD on Friday. GILD is now my second-highest weighted individual-stock position. Perhaps the highest if I fully consider its prominence in funds such as IBB and the closed-end funds, H&Q Healthcare Fund (NYSE:HQH) and H&Q Life Sciences (NYSE:HQL). I am, however, short calls on about half the position and would not be surprised if they are assigned shortly.
Conatus Pharmaceuticals (CNAT)
A more speculative, and potentially highly profitable, play in the liver disease field is Conatus Pharmaceuticals. Conatus's lead product is Emricasan, an oral, pan-caspase protease inhibitor with potential for treating a broad spectrum of liver diseases. Conatus currently has 3 ongoing Phase II trials for Emricasan. These address Acute-on-Chronic Liver Failure (ACLF), Post Liver Transplant (POLT-HCV-SVR), and Nonalcoholic Steatophepatitis (NYNASH). There is one more Phase II trial for Chronic Liver Failure (NYSE:CLF) that is expected to initiate later this year.The company summarizes these in this chart from a recent investor presentation: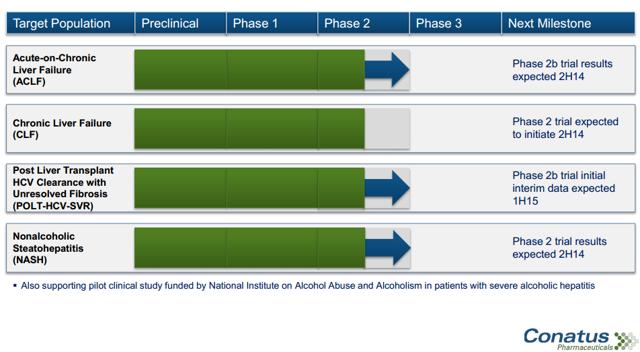 The full presentation is certainly required reading for anyone interested in the company. It includes an overview of the biology of the protease inhibitor and its implications for treating a range of liver diseases.
The company had its IPO one year ago (25 July 2013) and has traded between its low of $5.06 and high of $15.67 since. Last close splits that range: 54% above the 52-week low and 50% below the 52-week high. Here's the chart since the IPO: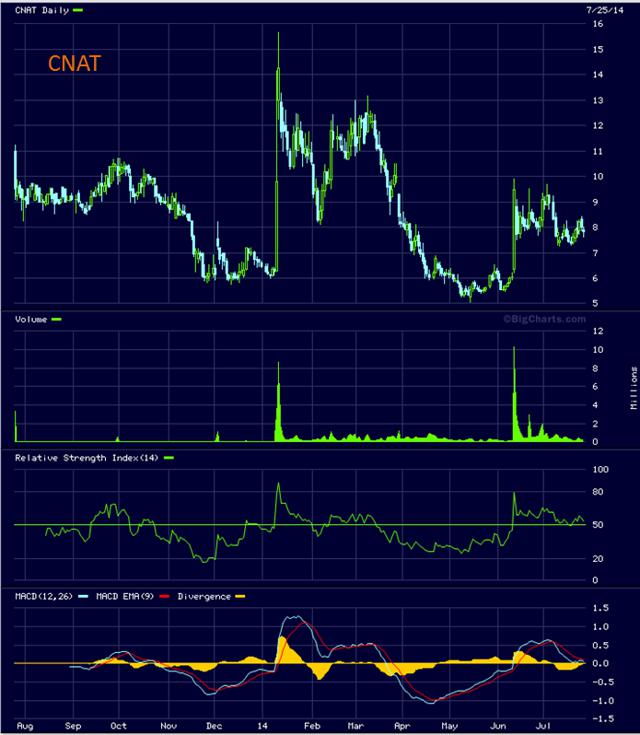 Conatus has a strong cash position, sufficient to carry it through the Phase II studies. Institutional investors hold over 80% of outstanding shares. Four analysts cover the stock, giving it a consensus strong-buy rating and a consensus 12-month price target of $16.5 (range $14-19).
Investment Strategy
An appealing thing about CNAT to this investor right now is that its options carry outsized premiums. These can generate substantial income or serve to moderate risk on the stock. To illustrate, let me describe my history with CNAT. I became aware of the stock in early June when knowledgeable observers were predicting an upward move. I opened a small position at $7.61 and sold $10 July calls at $0.57 giving me a basis of $7.17 after commissions. Had the stock been called, it would have returned a 40% profit in a few weeks. There was a nice run-up in late June and into July. As the call expired, the stock was trading near $9. I sold $12.50 August calls at $0.45. My basis is now $6.73 and should the stock be called in August (unlikely, and certainly not my expectation here) I'll have an 85% profit in less than 2 months. Otherwise I'll roll the call over to September or October.
For the income investor, the $7.61 buy has generated 13.4% in 2 months with the potential to continue to produce income into at least the near future.
Last week closed with a bit of a biotech sell off, and CNAT fell to under $8 again. This looks to be a good point to add to the position (or start a new one). $10 August 16 calls closed last Friday with a bid-ask spread of $0.65-0.80 and open interest of over 1000 contracts. I also like the $12.50 October calls quoted at $1.30-1.65 on Friday. Depending on how these prices hold, opening a new covered-call position presents an attractive risk profile in my view.
Where income is the primary focus, one might also consider selling near-ATM puts, say the $7.50 August, quoted at $0.70-1.20 (open interest = 734), or the $7.50 October puts ($2.00-2.35, open interest = 596). One would, of course, have to be prepared to own the stock at a mid-6 point in August or mid-5 price in October. But in my view neither case would be unreasonable, and I would be prepared to do so going into the Phase II reportings.
My own strategy going forward is not focused on the option income as much as the potential upside in holding the stock. I plan to accumulate shares by adding to my CNAT position through at least October, or perhaps January, by buying on dips, selling short-term OTM calls at purchase to lower the basis, and rolling them over as they expire. It's my view that the high premiums and high profit-potential on the calls create a risk profile that is reasonably attractive for a speculative stock with such strong upside potential.
As the phase II results come in late 2014 and early 2015 I will reevaluate the option positions -- assuming the stock is not assigned following a jump as the results of those trials come in. Successful Phase II results will almost certainly lead to a price spike, and can make CNAT an attractive acquisition target. In such a case, I'll be looking at the stock with an eye to holding on to at least a portion of my position longer term.
The primary risk is, of course, that none of the trials produce positive results. But the fact that there are multiple trials in progress and one more approaching initiation should help to moderate the risks of holding the stock. One might anticipate a deep and prolonged drop in share price being less likely following a single discouraging report as investors will still have the other trials to look forward to. By buying at dips and lowering one's basis with call premiums, it should be possible to have built a position that allows a reasonable, even profitable, exit strategy early in the process.
This summary does not constitute investment advice or a recommendation. Any reader who is intrigued by the potential for CNAT will, of course, want to do his or her complete due diligence before taking any action.
Disclosure: The author is long CNAT, IBB, GILD, HQH, HQL. The author wrote this article themselves, and it expresses their own opinions. The author is not receiving compensation for it (other than from Seeking Alpha). The author has no business relationship with any company whose stock is mentioned in this article.