The US Department of commerce, in an effort to shut down "the Taiwan loophole" issued a Fact Sheet on antidumping tariffs on Friday. The following table shows the summary of the key findings.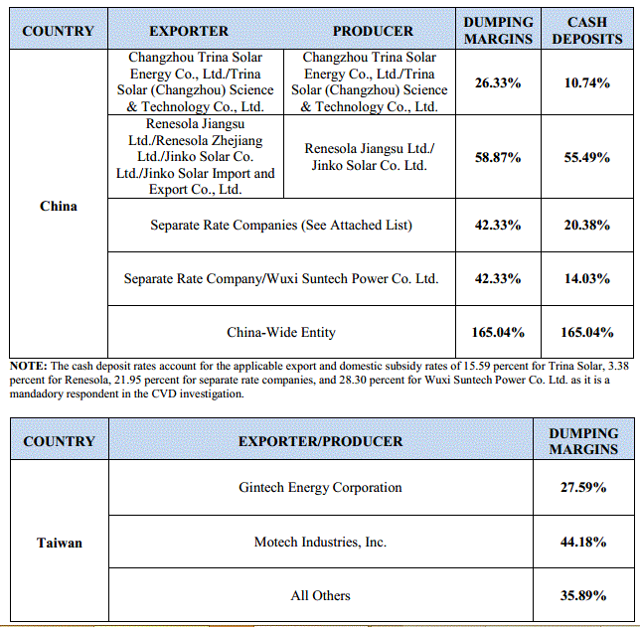 Click to enlarge
Barring a negotiated solution, this finding essentially eliminates the loophole from past trade ruling that allowed Chinese companies to shuffle the cell production across Taiwan border to bypass the tariffs. Such a result, at the first blush may appear unfavorable to Chinese solar companies but the real pain of this finding is likely be felt by the Taiwanese companies.
The reason for this is somewhat complex and has to do with Commerce's earlier finding in 2012. When Commerce finalized the 2012 ruling, it applied only to Chinese solar companies. Chinese solar companies found a loophole in the ruling and worked with Taiwan to outsource their cell production. That was a boon to the Taiwanese solar industry.
Last week's finding only addresses the Chinese/Taiwanese combinations and any solar cells/modules manufactured exclusively in China would not be subject to the new tariffs. For reference, the tariffs per the earlier 2012 ruling are as follows: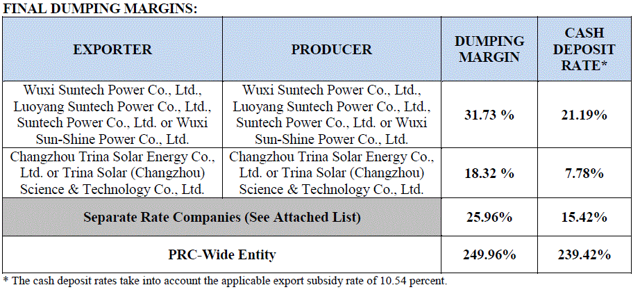 Click to enlarge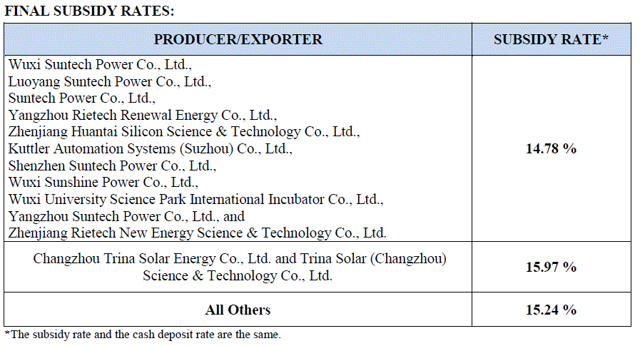 Click to enlarge
In effect, Chinese solar companies that are adversely affected by the new 2014 tariffs can go back to manufacturing cells and modules in China and be subjected to the lower 2012 tariffs. We expect all Chinese solar companies to switch their manufacturing back to China from Taiwan.
So, while these finding taken by itself seems to be detrimental to Chinese solar companies, the real impact including the 2012 ruling is going to be felt by Taiwanese solar players who now have an uncompetitive tariff structure. Consequently, Taiwanese suppliers now have a significant amount of excess capacity for which they will to find a new market. The demand implosion created reduces Taiwanese solar cell prices and the resulting low prices will be beneficial to module manufacturers and installers from other countries.
Even though the finding is preliminary, similar to what happened with the earlier CVD ruling, the Department of Commerce will be instructing U.S. Customs and Border Protection to require cash deposits based on the preliminary rates set in the fact sheet. Given the gravity of the situation, Chinese and Taiwanese solar companies are highly motivated to find a settlement and a negotiated solution is still possible. However, if there is no settlement and the preliminary findings hold, here is a quick summary of impact to some of the major companies we follow:
First Solar (NASDAQ:FSLR) (see thesis): The Taiwanese cell tariffs are likely to hit hard many utility scale companies such as ET Solar who have been using Taiwanese supply to compete aggressively in the utility space. With excess capacity, FirstSolar is likely to benefit the most from this tariff regime. We expect to see a very strong uptick in volumes and ASPs.
SunPower (NASDAQ:SPWR) (see thesis): SunPower is capacity constrained and may not benefit much in terms of volumes but is likely to benefit from increased ASPs.
SunEdison (SUNE) (see thesis): SunEdison has not provided much guidance on how the tariffs impact its supply chain but any impact is likely to be transient. Also, given the very high prices SunEdison can get for its projects from its TerraForm Power (NASDAQ:TERP) Yieldco, any margin impact is unlikely to be significant.
Trina Solar (NYSE:TSL) (see thesis): Trina Solar has the lowest tariffs of the Chinese players and is likely to see one of the lowest impacts due to tariffs. We expect Trina to have a minimum of 7% tariff advantage over all other Chinese players which will help the Company close the cost gap with JinkoSolar. Trina's margins are likely to be pressured in the US market but the Company will likely maintain its market position relative to other Chinese solar companies.
JinkoSolar (NYSE:JKS) (see thesis): JinkoSolar will likely to resort to shipping all Chinese solar content to the US market. This, ironically, may help the Company further reduce its already low cost structure. With about a 7% tariff disadvantage compared to Trina, JinkoSolar is more susceptible to the new tariffs than Trina Solar. JinkoSolar's US margins are likely to be lower starting Q3 2014. However, since JinkoSolar derives a vast majority of its revenues from other parts of the world and given the Company's strong project pipeline, JinkoSolar is likely to see only a minor overall impact in terms of volumes and ASPs.
JA Solar (NASDAQ:JASO) (see thesis): JA Solar is a relative unknown in the US market and derives a vast majority of its revenues from other parts of the world. The Company is likely to see only a minor impact in terms of volumes and ASPs. The Company has a healthy balance sheet and has announced its intent to raise substantial amounts of funding in a recent shelf offering. We believe the Company is likely to announce a new manufacturing location or a partnership in the near future.
Yingli Solar (NYSE:YGE) (see thesis): In light of the Commerce AD finding, Yingli is likely to switch completely to all-China production. However, its disadvantaged tariff position compared to Trina is likely to put further pressure on the Company's margins. Yingli's weak balance sheet also limits its options. Barring a significant uptick in other world's markets, Yingli is likely to significantly underperform its peers.
Canadian Solar (NASDAQ:CSIQ) (see thesis): Canadian Solar has indicated that its Canadian plant can supply modules to the US market but to do so would require sourcing of solar cells from outside of China and Taiwan. We expect it is likely that Canadian Solar will acquire the required cell supply by the end of 2014. In the interim, Canadian Solar is likely to resort to an all Chinese manufactured solar product. Canadian Solar, like other manufacturers, will have about 7% tariff disadvantage compared to Trina Solar.
ReneSola (NYSE:SOL) (see thesis): ReneSola has outsourced much of its production to multiple locations outside of China. In theory, this was supposed to give ReneSola an advantage compared to its peers in the US market. However, the higher OEM cost structure has impeded ReneSola's potential advantage. We do not see much evidence to date the ReneSola has been able to exploit the current tariff situation. It is conceivable that the Company can use Korean or other wafer capacity to fulfill the US market needs in the near term and we look forward to the Company's guidance to gauze its potential upside.
Hanwha SolarOne (HSOL) (see thesis): Hanwha SolarOne does not have much business in the US and its prognosis is not going to be much different under the new tariff regime.
SolarCity (NASDAQ:SCTY) (see thesis): While SolarCity has announced a relationship with REC for module supplies, it continues to be highly dependent on Chinese solar companies. However, the increased costs and the resulting margin pressure could be offset by the low cost financing the Company continues to procure.
RGS Energy (NASDAQ:RGSE) (see thesis): RGS Energy has recently announced SolarWorld as its new supplier. However, SolarWorld is a high cost supplier and we expect that RGS Energy will likely face some negative headwinds on gross margins as result of the switch.
In addition to the impacts to the individual companies, this tariff continue to indicate development of a new supply line in the US market. Over the next year or two we expect to see several alternatives to Chinese solar companies, including companies with production facilities in Malaysia, Korea, India and other countries. We also expect to see substantial new solar cell/module manufacturing in the NAFTA zone.
The Chinese solar stocks have traded down substantially from their peaks due to the Commerce CVD findings earlier this year and, in that context, we see the Friday's antidumping ruling as largely immaterial. As discussed above, the new ruling will not having any meaningful impact on these stocks as the companies shift their manufacturing back to China from Taiwan. Among the Chinese solar companies, we continue to like JinkoSolar, JA Solar, and Trina Solar as being very attractive at the current valuation levels. Any selling off at the current levels would be an even more attractive buying opportunity for these stocks.
Disclosure: The author is long FSLR, JKS, JASO. The author wrote this article themselves, and it expresses their own opinions. The author is not receiving compensation for it (other than from Seeking Alpha). The author has no business relationship with any company whose stock is mentioned in this article.